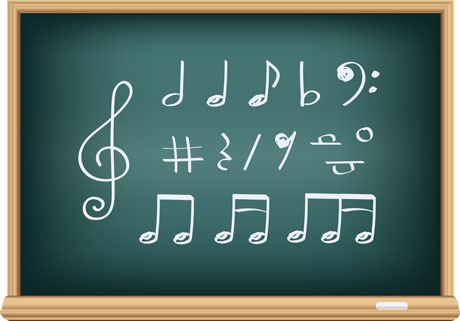 Back to the studies:
Image copyright of Colourbox

Though it is a bit dramatic to say that it is likely to be life changing, there is no denying that the subject options taken at the end of Key Stage 3 are of great importance and need to be considered with the utmost care.
Former Comprehensive School Head of Music, Geraint Davies provides 4BR students with a few guidelines as to how the GCSE Music course is made up, and gives some tips on how to be successful with your studies.
---
Basic Features:

Schools in England and Wales (Scotland follows a different set up) follow the GCSE course set out by one of the four examining boards – AQA, Edexcel, OCR or WJEC.

Though they are different in their details they have the same basic features.

There are three main areas: Performing, Composing and Appraising (listening) - and the emphasis given to the three areas is roughly the same.

Performing:

If you opt for music, you will be involved as a performer in some way. For some this will mean singing, for others playing.
It is even (more controversially) possible to perform in other ways such as beat-boxing and DJing (depending on the examining board).

As a player there is great freedom as to the instrument played (from conventional orchestral and band instruments to the instruments of rock and folk music) and as regards musical genre.

In many schools pupils are now as likely to perform Coldplay as Mozart.
You will have to play as a soloist and probably in an ensemble (group) also. Again there is great leeway for the type of group – rock band, duet, even a full band.

The main point is that you will be the only one playing your musical line (no doubling) and that the music that you play shows off your ability to play in a group.

Composing:

The second area of work is in composing.
Here teachers will set tasks that they will supervise and assess. Much of this work is likely to be done at home as coursework and some form of keyboard instrument is often desirable to do this.

Appraising:

The third area involves listening to music.
This may involve studying certain pieces in some detail. You will learn to recognise certain musical features and to be able to comment on the way that the musical elements are used.
The types of music listened to are likely to vary greatly and, like the other parts of the work, may touch on all sorts of styles including some which will be totally new to you.

This will be assessed by a listening examination at the end of the course.
---
Practical Advice:

Music is often one of those subjects that present a problem for many.

I have heard it described (usually by teachers of 'rival' subjects) as a 'luxury' subject or (even worse) as a 'relaxation' subject.
It will often clash with other subjects in option columns, and parents and pupils will often have to do a lot of soul searching about what 'route' to follow.

Though it is often tempting to follow the same subjects as your mates or to opt for a subject that is taught by a favourite teacher this would probably be a mistake.
Enjoy

Better to think what you are best at and what you are most likely to enjoy.

Remember – it will be taking up a lot of your time for the next two years, maybe longer.

It should go without saying that you should be regularly involved as a performer.
Teacher involvement

In most cases this will mean that you will have some form of individual tuition on your instrument.

Make sure that your teacher is aware that you will need to be prepared to perform for the exam and that the pieces that you play are suitable in terms of difficulty etc. according to the requirements of the course.

Generally speaking there is no need to play music of much above Grade 3 in terms of difficulty to be able to gain the highest performing marks.
There is certainly nothing to be gained by striving to play music of greater difficulty if you are not totally comfortable with it.

Most performances will need accompaniment and/or rehearsal with other members of the group – ensure that this is done in good time and not left to the last minute.

Having done this, always perform it through to a teacher and ask for their advice.
Play

If you have the opportunity, play it in a concert of some sort before the exam.

The composing is often the part of the course that causes students the most concern. This should not be the case if you are conscientious about it.

There is no doubt that it can sometimes be frustrating and the thought of starting off with a blank canvas onto which you need to put ideas can be daunting.
However there are few things more satisfying than hearing your final piece performed, either live or in digital form.

Starting point

Your teacher will provide you with the starting point for your piece.

This may be a musical form such as a theme and variations, a musical style such as blues or something outside the music such as setting a poem to music or writing music to accompany a short film clip.

Composing is a process of trying out ideas based on the advice of your teacher and also using the influence of music that you have heard or performed.

Get used to composing and improvising regularly and do not think of it as a one off task that you do once in a blue moon.

Always ask for advice as a piece progresses.

Common trap

One common trap is to focus too much on the need to notate everything. Many of the most interesting ideas may be difficult to write down and you may prefer to submit your work in recorded form with explanatory notes rather than using notation.

The process of notating can sometimes actually inhibit the act of composing if you are not careful.

Linked with regular performing and composing you will listen to a wide range of music. You will need to understand how music is put together – certain aspects of notation (though the emphasis on this is not as great as some might think), musical forms and styles and their characteristics and much else.
As with the rest of the course you will often learn as much in your music making outside the lesson as in it – make sure that you take every opportunity afforded to you to improve as a musician.
---
Helpful Reading:

A Student's Guide to GCSE Music for the WJEC specification –Alun Guy/ Iwan Llewellyn Jones

Music Composition Workbook: selected projects for GCSE – Alan Charlton

Edexcel GCSE Music Student Book – John Arkell

GCSE Music Core Content Workbook and Answerbook – Richard Parsons

A Student's Guide to GCSE Music OCR – David Bowman/Ian Burton/Michael Burnett/Paul Terry

GCSE Music Study Guide – Pudland/Galley/Marshall

GCSE Music Literacy Workbook – Richard Berkley / Gavin Richards
---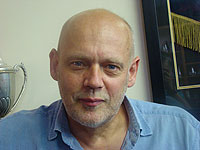 The Author: Geraint Davies

As Head of the Music Department and Arts Faculty of Llantarnam Comprehensive School in South Wales for 27 years, Geraint has been fully involved in all aspects of music education.
He has been particularly involved in training choirs, both in school with a highly successful choir over 20 years, and as Musical Director of Tredegar Orpheus, Caerphilly and Beaufort Male Choirs, and Newport Operatic Society.

He has recently been increasingly busy as a composer and was a prizewinner at the National Eisteddfod in 2010 and 2011 and runner- up in The Times Carol writing competition in 2011.

Geraint is also a regular columnist in the Times Educational Supplement and in The South Wales Argus, as well as contributing to 4barsrest.