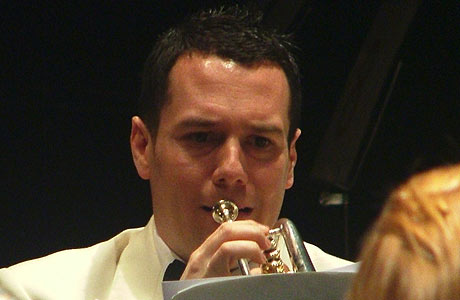 John Doyle in action

4BR's Malcolm Wood catches up with Leyland's soprano cornet dynamo, John Doyle

Malcolm Wood: In July you were a tutor on the National Children's Band of Great Britain. Are you amazed at the standard of playing young performers are now attaining?
John Doyle: Absolutely. To be honest, young people in general amaze me.
The NCBBGB provides a brilliant support network that encourages fun, hard work (on average, the players rehearse for 6 hours each day) and a great environment to learn.
For me, it's not always about the end product with youngsters: It's about the journey they take to get there.
These youngsters are fearless. Unlike adult players, they simply don't have a musical care in the world. They love life and they love music.
---
Malcolm Wood: You have seen many young players develop over the last few years. Are there any stars that we should keep an eye on?
John Doyle: There are a plethora of brilliant young players making their way through the ranks of bands up and down the country.
I believe passionately that these players need to be nurtured and given time to develop in their own time.

The last thing they need when they make a mistake is someone criticising their efforts.
At Leyland we try to actively implement that approach. Our 15 year old flugel star, Romana Halstead is an amazing talent and has been given the opportunity to play solos at concerts ever since joining the band.
I have said it countless times before: Without these young players, bands will not survive, so watch out for the likes of Thomas Fountain, Illiam Quane, Romana Hellstead, Emily Evans, Brendan Caddy, Harry Cunningham, James Whitehead, Jack Fisher, Kieran Johnson and many, many more!
---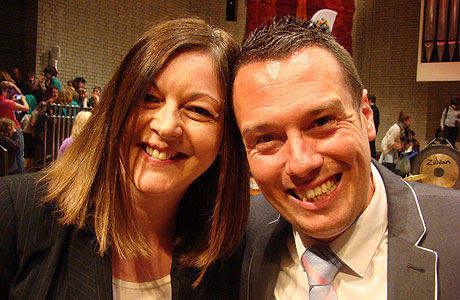 Enjoying life: John with Sheona White at the National Youth Championships

Malcolm Wood: You've played, flugel, cornet and now Eb soprano. Do you have a favourite and do you still perform on the others whenever you get the chance?
John Doyle: I am and always will be a flugel player, although you can be a good all-rounder. I'm currently playing a solo that starts on flugel, moves to Bb trumpet and finishes on a high F# on the piccolo trumpet. I just believe in doing my best for your band on whatever instrument you play.
Leyland needed a soprano as we managed to persuade Iain Culross to join on principal cornet. I've always enjoyed a challenge so I decided to give it a go.

It's a lot of fun and I think I have the right mental approach to make a good go of it!
Thankfully, it seems to have worked so far for both the band and myself.
---
Malcolm Wood: In over a decade at Black Dyke, you won everything there was to win. Is there one victory that stands out above any others?
John Doyle: That's like asking me which one of my children I love the most – although as I haven't got any so far that analogy will have to wait a bit longer!
At present though it has to be the first major win on 'Albion' in 2001 at the National Finals.
It's not often I can say 'I played a blinder', but I was pretty happy with my contribution that day on what was a very tough flugel part.
I also loved winning the European in 2005 by 7 points. There were some serious celebratory beers after that one!
---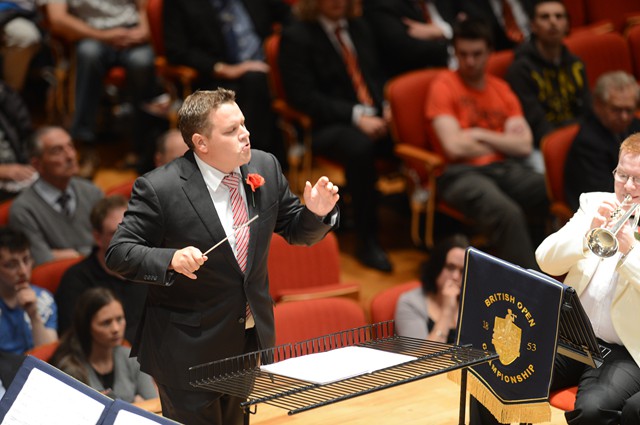 Working with a genius: Michael Bach leads Leyland at the British Open this year

Malcolm Wood: At Leyland you are working with Michael Bach, Leigh Baker and Richard Evans. 2012 has continued where last year finished off. Apart from the hard work, what's the secret to the success?
John Doyle: There are a number of things I think. Michael is simply a genius. He generally arrives on the Saturday before the contest and immediately communicates what the music is trying to say.
His analogies are very witty – and useful!
He once said: "Imagine that you are hidden behind a bush, trying to chase the beautiful girl. Let's play kiss catch everyone". All of a sudden the lads in the band were playing like Titans! It's like he has a bag of magic dust and sprinkles it over the band. The guy will go very far I promise.
Leigh is also superb. I hope he forgives me, but he never lets anything go in the bandroom. He is so well prepared and meticulous about what he wants – essential for a young band like ours.
Richard is of course a very dear friend and is someone who everyone else looks to for advice and guidance. His appearances with us are like a shot of something in the arm!
Overall though, Leyland is a very united team. We receive no sponsorship and is therefore willing to 'work for its supper' so to speak.
We do on average of 40 concerts a year, including many local jobs to reinforce our relationship with the local community.

Players pay their way and do a fair share of fundraising (John recently raised £700 for the trip to the 2013 Europeans by running a half-marathon – Editor).
Members recently loaned money to renovate our new band room (including John's wedding deposit money - Editor) and we are now promoting new musical arrangements from within the band and beyond (Iain McKnight, Gary Westwood and Leigh Baker) to increase the scope and range of our concert repertoire.

I'm proud to say that I'm part of a hard-working, friendly and talented young band that now have a permanent bandroom in its home town and survives on zero sponsorship.

That makes it all the sweeter when we win contests or perform to sell out audiences.
---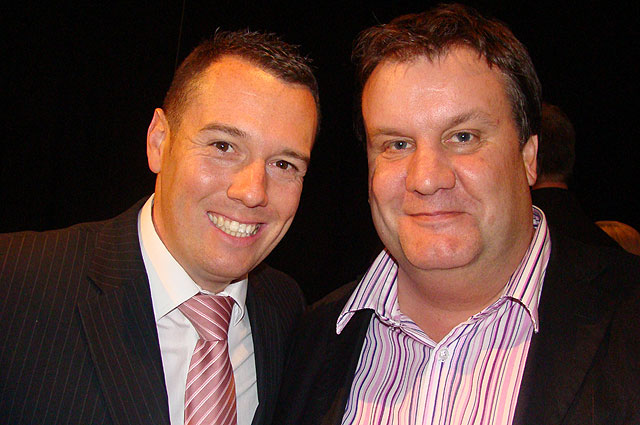 Saying it as it is: John and Ian Brownbill at the Spring Festival this year

Malcolm Wood: You are now also enjoying adjudicating. What was it about judging that got you interested and has it changed your thought process from a playing perspective?
John Doyle: I have to say that I believe most of my friends think I'm mad.
Being an adjudicator is a thankless task. Take the recent Senior Trophy contest. I thought that I would try to be myself and speak honestly about the performances that I heard in a very loud acoustic at the Winter Gardens.
A lot of people praised me for my post-contest speech, whilst a handful hated what I said and moaned on various social media sites calling me 'immature and childish'. You simply cannot win. This is something I have learnt very quickly.
However, I didn't start adjudicating to win friends. I wanted to give something back to the movement and inspire other young musicians to try it as well.
I also believe that giving honest, constructive feedback is essential for performers and the listening audience. How many times have players complained about the amazing comments they get in their adjudication only to end in 8th place!
---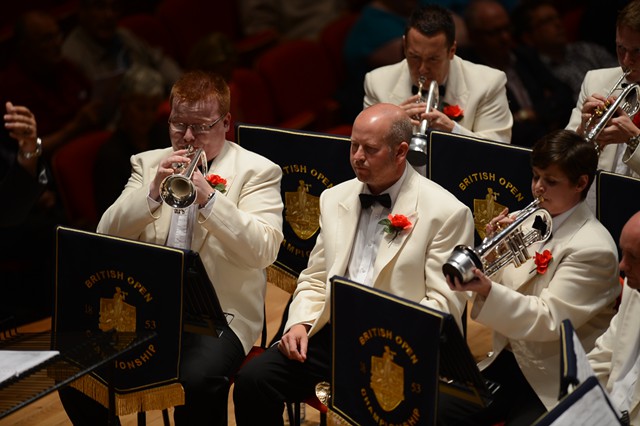 John playing with Leyland at this year's British Open

Malcolm Wood: You play with a smile on your face. Is enjoyment the most important element of your music-making?
John Doyle: 100%. At the end of the day, this is a hobby – all be it a busy, frustrating one at times. If you are not enjoying your banding then something is missing.
How many times do we see players walk on stage with solemn faces? Even if everything is going wrong, I try and smile and gain some positives out of the experience.

Let's be honest, we all have to go to work on Monday morning. Is it really that bad?
---
Malcolm Wood: What's on the horizon for you in the near future?
John Doyle: I have a few things in the pipeline. I'm practising hard on soprano and have managed to get my golf handicap down to 11 as I want to be in single figures by Christmas.
I'm also running a lot, and if I drank and ate less, might be able to fit into those 34" jeans with a little more comfort.
I have a few adjudicating bookings and I'm very busy at work (running a Performing Arts Faculty in a High School is manic).

I'm also getting married to my beautiful fiancée, Rebecca Landon next summer but I'm dreading the stag do being organised the trickster that is Martin Armstrong.
---
Malcolm Wood: Can you give the readers any advice that you have picked up along the way?
John Doyle: Here are just a few phrases that I have picked up along my journey:
1. If you don't blow, it won't go. (Ron Heyes – Lostock Hall Band)
2. Hear it and hit it. (Jim Watson – Black Dyke Band)
3. Breath in time, play in time. (Jim Watson – Black Dyke Band)
4. If in doubt, leave it out. (Nicholas Childs – Black Dyke Band)
5. Fail to prepare, prepare to fail. (Nicholas Childs – Black Dyke Band)
6. If you are going to split, split with conviction. (Michael Bach – Leyland Band)
7. I would rather read, 'a bit too loud' rather than 'what a pity' in adjudicator's remarks. (Michael Bach – Leyland Band)
8. Never eat yellow snow. (Richard Evans – Leyland Band)
---
Malcolm Wood: Thanks for taking the time to talk John and we look forward to hearing you on the contest stage in the coming weeks.

John Doyle: You won't when I play 'Daphnis and Chloe' at the Albert Hall.

There will be tiles falling from the roof!