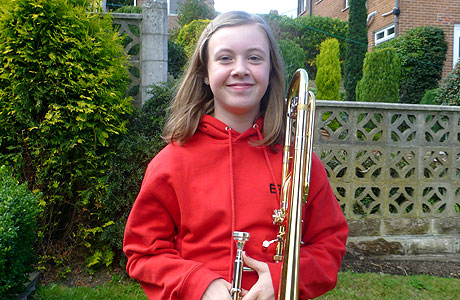 A new generation of Horsfield - young trombone star Charlotte

Name: Charlotte Horsfield
Age: 13
Instrument: Tenor Trombone
Bands: Hebden Bridge , Elland Silver Youth, National Children's Band of Great Britain, Yorkshire Youth Band, Kirklees Music Ensemble, Clifton and Lightcliffe 'B'.
---
The name Horsfield is synonymous with the banding world in Yorkshire, with a lineage that can be traced even further back than the famous former Black Dyke, Brighouse & Rastrick and JSVB player, David, who as well as being a highly distinguished performer and adjudicator, also formed Kirklees Music in 1984.
Even though David (right) is now enjoying an active retirement, the next generation of Horsfield name is sure to be seen in the headlines once again, with the emergence on the banding scene of his grand-daughter, Charlotte.
Talented

At just 13, the talented trombonist has already crammed an extraordinary amount into a playing career that started aged 8.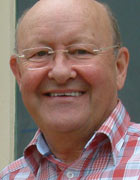 Music is in the genes of the Horsfield family, with Charlotte's father, Graham a fine bass player himself, helping in her development with a little help from a very proud grandfather – and some very special family friends.
Valuable

Charlotte acknowledges how fortunate she has been to receive such valuable guidance from such an early age.
"When I first started my dad and granddad helped me a lot," she proudly said. "Then after a while I started getting lessons with Jonathan Enright, who still teaches me."
She added: "I've also had lessons with William Rushworth (one of her Dad's best friends), Dennis Wilby (her great-uncle), Gordon Higginbottom (her grandfather's great friend from their JSVB days) and other top players like Brett Baker, Chris Jeans and Chris Thomas. I've been very lucky."
Benefit

The teaching link with Jonathan Enright, a professional trombonist and lecturer at Leeds College of Music, has been of huge benefit, as he has encouraged Charlotte to look at various playing styles such as jazz and swing – a move that has seen her thrive on challenging works such as Peter Kneale's 'Blue John', as she explained.
"I like playing jazz mostly because the glissando and vibrato aspects of playing are fun! Also, my teacher Jonathan Enright examines for ABRSM Jazz, so I get to practice the swing idiom quite a lot."
She added: "I like fast and loud music and also jazz. I'm playing Peter Kneale's 'Blue John' in concerts at the moment and really feel at ease with the style of music."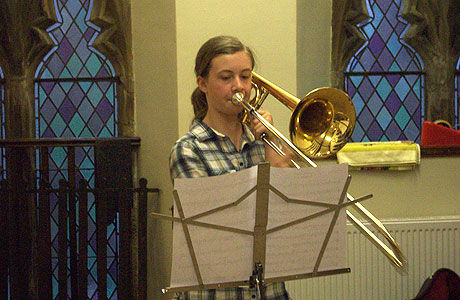 Charlotte in performance mode

Pedigree

That famous brass band pedigree is certainly revealed in Charlotte's personality when she talks - and it's great to hear a young player so enthused by the prospect of playing in individual competitions and brass band contests.
There's a real buzz of excitement in her voice when she says: "I really enjoy playing in competitions because I like to be able to look at a piece that is quite difficult and practice it so it's good enough to maybe win a prize!
I've played a few solos with Elland Youth at Hardraw Scar and the National Youth Championships. I get scared most of the time but I don't really show it because I smile a lot!"
Healthy competition

With her father and uncle both playing with the Clifton & Lightcliffe Band, it should be no surprise that the family enjoys a healthy competitive spirit, with Charlotte revealing that her grandfather is perhaps her secret weapon in helping her prepare for slow melody contests.
She laughs: "He keeps telling me that in the old days everyone used to play in solo contests, so we have great fun when we play duets together."
Charlotte's hard work and dedication is certainly paying off, with her trombone case full of awards - topped by recently passing her ABRSM Grade 5 with Distinction.
Musical side of life

Not all teenagers like studying, but Charlotte clearly enjoys the musical side of life at Rastrick High School.
"So far I've passed ABRSM Grade 5 with Distinction and I'm now studying hard on theory. It's a great school for music and we even have our own Young Musician of the Year Competition. I'm in the brass group, concert band, big band and choir."
When asked how she is getting on she modestly adds: "I've been fortunate to win the Junior Musician Award and the Eddie Noble Brass Trophy which is given for dedication to the school music department and being a good musician!"
National Youth

Successfully auditioning for the National Children's Band of Great Britain has been an equally important part of Charlotte's development, and her eyes light up when she talks about the courses.
"My Dad and Granddad suggested that I could try for it and that I would enjoy it. I went to Salford for an audition and managed to get in. Ever since my first course I thought it was great! It's also really good how all the music and house staff and other band members are so friendly."

Charlotte confesses that she has also enjoyed being conducted by the likes of Robert and Nicholas Childs.
"They encourage you with your playing and by the end of the course you really do feel like you have improved as a player."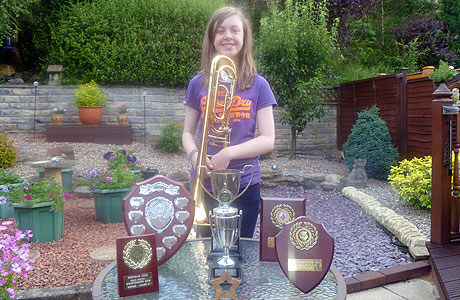 Prizes galore: The Horsfield collection grows

Queensbury ambitions

The Black Dyke conducting team will want to keep a specific eye on Charlotte though after her revelation that one day she would like to emulate her grandfather and play in the famous Queensbury ranks.
"I always think that when I'm older I want to be in the band," she says with a steely determination.
Excellent

With her enthusiasm and appetite for hard work, the current principal trombone at Black Dyke is already a fan. Brett Baker told 4BR: "Charlotte is an excellent player. She is one of the most enthusiastic players I know, and her commitment and joy of playing is pretty much amazing."

Samantha Harrison, MD Elland Silver Youth was also fulsome in her praise of the 13 year old.
"Charlotte is such a natural player," she told 4BR. "Nothing seems to faze her and she plays with so much maturity. She is always keen to listen and take on board suggestions and is also a good team player."
Samantha also reinforced Brett's comment on commitment and joy. "For me, she is a pleasure to work with - always smiling and having fun with the rest of the girls in the band. I look forward to following her progress and to seeing her realise her musical ambitions."
Hard work

Those ambitions see Charlotte work hard on the advice she has been given.
"I've realised the best way of practising is to have a good warm up," she says. "When I'm playing for a long time I have to have a strong lip and I can reach higher notes easier by using these routines."
So what does the future hold for this delightfully determined trombone player?
"I haven't really thought about it that much," before she tantalisingly adds, "But I know that I want to become a professional musician and go to Music College, and be involved in the Kirklees Music. I already do music origination work when time allows – and really enjoy it."
Enough time

Time is something every teenager never has enough of, but somehow Charlotte manages to cram all her practice, school work and hobbies into a busy life that includes another Horsfield tradition that has been passed down through the generations – a love of Huddersfield Town Football Club
Quite how she does it though is something only she can tell us. "I practice every day, although Mum and Dad have to remind me to do it on occasions, and I like reading - I'm a big fan of the 'Hunger Games'.
Then there's going to the cinema and shopping with my friends, listening to pop music in my spare time and brass bands. I'm a Junior Terrier Fan of Huddersfield Town and we had a great win at Wembley recently in the play-off final to gain promotion to the Championship."
It's good to know this is one 13 year old who certainly crams a bit of everything into a splendid young life.
Malcolm Wood