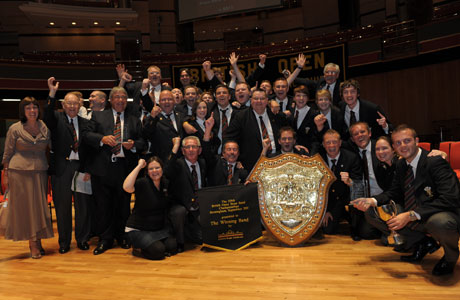 Can Cory repeat their 2011 success?

Beware Greeks bearing anything for free.
At first glance, Martin Ellerby's 'Electra' may not look to be the severest of tests for the very best bands to overcome at Symphony Hall on Saturday; but just remember what happened the last time complacent Trojans looked a gift horse in the mouth.
Just like that equine freebie, this could well be a test piece with quite a few nasty surprises tucked away in its elegantly proportioned guts.

Shake & Vac

Inspired (albeit very loosely he says) on a tale of family regicide and its understandably messy aftermath (not even a boat full of 'Shake & Vac' could get rid of the blood marks on the carpets) it's creative kernel germinates from a small 'screaming Elecktra chord', taken from the score of the 1909 opera by Richard Strauss.
Like all great Greek tragedies, Ellerby's creation is a cultured, darkly complex piece of musical drama – an unfolding 'miniature ballet' as he calls it; complete with the necessary pantomime villains of a scheming wife and cuckolded lover, a returning sibling hero with a penchant for matricide and a mind reading heroine with a death fixation.
Scratch beneath the soap opera surface though and the pitch black political machinations are revealed in each of the three colourfully interlinked movements - 'Lust for Revenge', 'Laments' and 'Dance to Death'.
Smashed in

Any conductor who believes their underprepared band is invulnerable to defeat is in for one heck of a shock – a bit like King Agamemnon in the original story, who on his return from Troy, and on what looks like a promise of a bit of post battle hanky-panky, follows his beguiling wife through the doors to their marital home only to have his skull smashed in by her axe wielding lover.
As free gifts go, that knocks a 2 for 1 deal on a barbeque set from Argos (where all good Greek kings shop) into a tin hat – along with the gory contents of his bashed in head.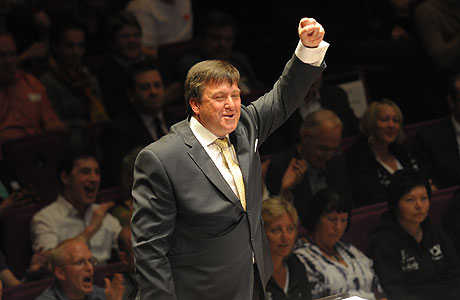 Will Black Dyke and Nicholas Childs triumph?

17 contenders should therefore be very wary of the temptation to win something for nothing, but which one will ultimately walk away from Symphony Hall clutching the magnificent British Open Gold Shield?
Bookies upset

The bookies will be hoping that there may be something of an upset on the cards, given that Black Dyke are the types of odds favourites that would make Frankel look like an each way bet at best at the Troy Derby.
They have beaten the best on offer in Yorkshire, England and Europe so far this season, and aided by the arrival of Robert Childs to help in the contest preparation, Nicholas Childs could well be celebrating his third Open triumph, and his band's first since 2006 come Saturday night.
Despite there being no such thing as sure fire dead cert in a major contest, it is harder than usual to come up with a list of bands that could beat the Queensbury outfit, although, like Achilles, a well aimed arrow from a rival may could deliver a mortal blow.

The man with Swiss arrow - Michael Bach

Mercurial

It may well be Leyland that fires it too.
The mercurial Michael Bach has been inspiring the North West Area champion to produce some intoxicating performances – and this piece, with its generous amount of interpretative latitude could be the perfect vehicle for his free flowing musicality to flourish.
If things click then the title could well be won for the first time since 1994: Even if it doesn't, it shouldn't be a performance to miss at any cost.
Extra level

The other North West heavyweights of Foden's and Fairey should also be confident of battling it out for honours – although both will know that they may need to find an extra level of musical inspiration to go with their undoubted technical excellence.
Russell Gray may well be licking his lips in anticipation of getting to grips with the liberal musical qualities of the Ellerby score, whilst Allan Withington will surely be determined to capture some glory with Foden's in a tenure that has yet to strike gold.
Scrutiny

Reigning champion Cory will be under intense scrutiny as they prepare for their first major contest in over a decade without Robert Childs at the helm.
Philip Harper has one heck of a hard act to follow (the band was never out of the top-six here under their former MD).

However, with a settled stable of top class performers allied to a steely determination to prove doubters wrong, you sense any rival will have to break Cory fingers with a crow bar to loosen their grip on the famous trophy. Don't bet against them all failing either.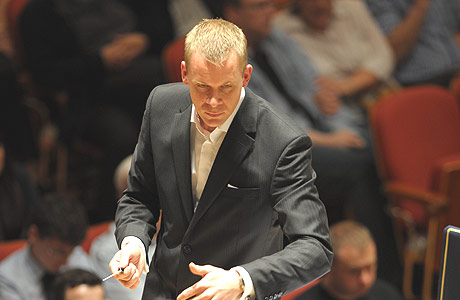 The man to lead Cory in the new era - Philip Harper

Major performer

Tredegar's impressive credentials should stand them in good stead to push their rivals close, as Ian Porthouse and his band look to secure another top-six finish here.
The 2010 champion is a bold and confident major contest performer, and whilst a second win in three years may just be a long shot, they should be in and around the top end of the results table once again of they play to form.
Rumour mills

It may seem strange that a pair of former Open winners in Grimethorpe and Brighouse & Rastrick are not attracting more investment at the bookies, but nobody really knows what form either will bring to Symphony Hall on the weekend.
As always, the rumour mills of Yorkshire have been churning out gossip and hearsay by the loomful.
At their very best, either could win in considerable style, but given their last triumphs were back in 1991 and 1978 respectively, and in the past couple of years neither has really quite hit top form here, they may well have to wait another 12 months at least, despite being led by two of the most successful conductors of the modern Open era.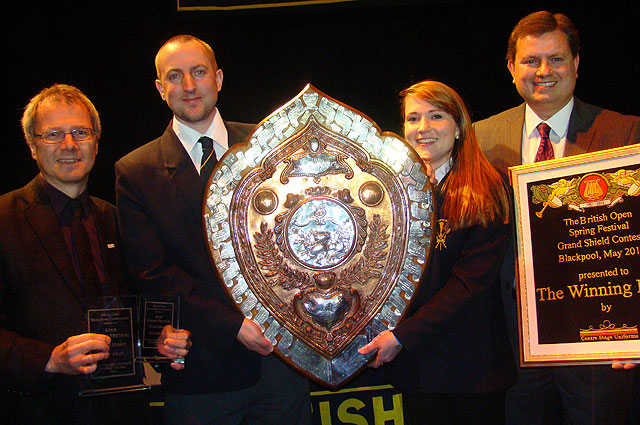 Showing their quality at the Grand Shield - Hepworth claim victory at Blackpool

The margin between success and failure may be more marked this year than in the past, but you would be hard pressed to squeeze a piece of Bronco paper between the cheeks of those bands that look destined to battle for the midfield places.
Intuitive

Carlton Main Frickley and Desford have performed very well here in the past couple of seasons (Carlton Main ending 3rd last year and Desford being placed 7th in the last three) and with two intuitive MDs in Phillip McCann and Nigel Seaman, should have enough quality throughout their ranks to make it into the top 10.
Close on their heels though could be the likes of Rothwell Temperance, who is due a bit of a contest revival after the disappointments of 2011, and Co-operative Funeralcare, who has been going about its contest business with a fair degree of confidence of late – both at home and abroad.
Threat and teeter

An inconsistent Reg Vardy will know that they need to up their game if they are to stave off any threat of a Grand Shield return for 2013 after coming 13th last year, as will the rebuilding Kirkintilloch, who are teetering on the edge of a Blackpool return after last year's 16th place finish.
Virtuosi GUS is another band looking to regain contesting consistency after a run of variable form of late.

They will be looking over their shoulders to ensure they don't get drawn into a relegation battle, although they have some leeway to fall back on after coming 8th last year.
Grand Shield challenge

That leaves the two promoted bands from the Grand Shield, with champions Hepworth showing real quality in taking the title at the Winter Gardens, whilst Seindorf Beaumaris once again shut up their critics with a fine qualification performance off the number 1 draw to ensure they made their Open debuts this weekend.
Both bands should be confident of making an impression on a whole batch of rivals this weekend, even if a top 10 finish may be just beyond them.

Iwan Fox
---
As to a winner?
Hard to look further than Black Dyke on the form they have been showing of late. The addition of Robert Childs in the pre-contest conditioning room gives them an extra edge that will take some blunting even by these high class rivals.
Leyland under Michael Bach could well be inspired to produce their best finish since returning to the contest in 2008, whilst Foden's may just have the edge against a well match pack of heavyweight rivals in Fairey, Cory and Tredegar.
The best dark horse tips come in the shape of Grimethorpe and Brighouse for us.
4BR Prediction:
1. Black Dyke
2. Leyland
3. Foden's
4. Fairey
5. Cory
6. Tredegar
Possible top 10: Grimethorpe Colliery, Brighouse & Rastrick, Carlton Main Frickley, Desford Colliery
Probable midfield battlers: Rothwell Temperance, Co-operative Funeralcare, Hepworth*, Reg Vardy, Seindorf Beuamaris*, Virtuosi GUS, Kirkintilloch

*Cannot be relegated due to 2012 promotion from Grand Shield