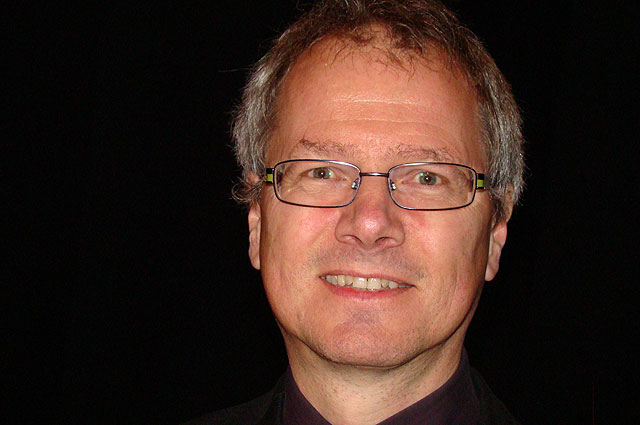 Electra composer - Martin Ellerby

Martin Ellerby's 'Electra' is the product of a ceaselessly inventive musical mind: a mustard seed of a conceptual idea nurtured to full blown maturity through inquisitive exploration.
Higgs Bowson

In his hands it grows from a personal interpretation of a single musical chord, via a 5th century Greek tragedy and Strauss opera into a symphonic miniature ballet for brass band: It is composition constructed from an understanding of how the Higgs Boson particle can be made into a test piece.
Ellerby's generosity as a composer sees him bestow elegantly wrapped musical gifts to conductors and performers alike – not all of which are at first easily understood or appreciated.
Perhaps it's because he likes to sanction a degree of intellectual license to interpret his writing, yet frowns upon crass self indulgence from those who believe they can over-embellish his clearly defined musical prose.
Essential reading

His quixotic programme notes make for essential reading; demanding a thorough appreciation of his complex musical mindset.

They are a delight - expansive, extensive and detailed – yet opaque enough to keep any conductor guessing to their exact definable meaning.
For instance, he writes that 'Electra' can be 'looked into by all concerned without rigid restriction' – a lovely, cultured turn of phrase that is essentially a subtly engineered bear trap that can snap the legs off a egotistical MD accompanied by sickening sound of razor sharp metal on crushed bone.
Ballet

As a 'miniature ballet' there are echoes of the raison-d'être used by Joseph Horovitz for his own 'Ballet for Band' almost 30 years ago – a ballet for the thinking mind, free of specification but loaded with characterization.
Inviting liberalism

Ellerby's inviting liberalism does not lead into a laissez-faire free for all however – even though he has declined to use tempi marking for each of the three sections of the work.
The MDs must therefore make what they feel fit of the opening 'Lust for Revenge' - Fast: with ceaseless energy ; the central 'Laments' - Relaxed: with great expression and appropriate rubato; and closing, 'Dance to Death' - Very fast: with great rhythmic vitality – even though Ellerby categorically insists on 'taste and refinement not self indulgence' with an adherence to HIS given dynamics and articulation.
Even the penultimate bar of the piece – a tacet 3/8, is to be played with his clearly defined intentions in mind – a move that should ensure there is no misplaced egomaniacal inchmeal climax, as has become the norm to the conclusion of his 'Tristan Encounters'.
Complex

The opening movement is a highly complex piece of technical engineering – a maelstrom of rhythmic dislocations that bubble with fission, friction and purposeful intent.
Those MDs seeking a mathematical cheat out of the plethora of fast moving time signatures (from 7/8 & 7/16 to 5/16 & 11/16 in a blink of an eye) will have been searching in vain (although it will not stop some from trying to beat whole chunks in a broad stroke 3/4) as the very pulse that gives the opening its 'ceaseless energy' has a very specific meter.
Energy

That energy comes from the ability to command the pace of the ensemble mass – not an uncontrollable desire to thrill though speed.

Listen closely and any lack of precision will avail itself (much of the detail comes in the form of short, sharp off beat elements) – a death knell to chances of lifting the Open title.
The lust for revenge is always better served with ice cold blood running through the veins.
Malleable

The central 'Laments' demands a degree of lyrical malleability from the MDs and leading soloists that balances on a very thin tightrope between inspired musicality and saccharin coated mush.
Ellerby exploits the poetic lyricism of the properties of the 'Electra Chord', yet is clear in his belief that he doesn't want the music to become a piece of Hallmark greeting card slush either.
'Rubato is essential' he states – but tellingly adds, a rubato of 'taste and refinement not self indulgence'.
Artistic nuance

The obvious points of expression are clearly sign posted, yet it will still require an intuitive understanding of artistic nuance to shape the solo lines with a natural free flowing sense of elegant lyricism.
The principal cornets are required to show off the skill set accordingly, whilst there are equally subtle interludes for the horn, flugel, euphonium and solo trombone.
The twin cadenzas for the brace of Bb tuba, (keep an ear out for Eb camouflage work), Eb tuba and euphoniums are essentially a bridging tool to accelerate into the finale, although Ellerby's dark wit comes to the fore with his inventive use of accompaniment textures in the form of muted trombones and distorted percussion.
Schizoid

The finale itself is 'Dance to the Death' – not a waltz as in the Strauss opera, but more a fearsome schizoid scherzo – if that is possible!
It's exciting, familiar, detailed and pulsating – with the all essential elements of controlled aggression ensuring that 'Electra' doesn't top herself before exhausting every last ounce of searing passion through her flying feet in her doomed cause.
Live fast die young

Live too fast and die too young and a band's chances of glory will end in a suicidal mess of spent energy:

Pace it just right and she can fly off the edge into oblivion with the panache of a Greek version of Thelma & Louise.
It should draw to a close a winning performance that has brought out the very best in an intriguing, engrossing, elegant work of liberal inventiveness from a composer who continues to explore the cavernous recesses of his musical intellect with an inventiveness we should all cherish.
Iwan Fox