Emily Evans
Age: 16

Instrument: Eb Horn
Current Bands: Lanner & District; National Children's Brass Band of Great Britain and National Youth Brass Band of Great Britain
---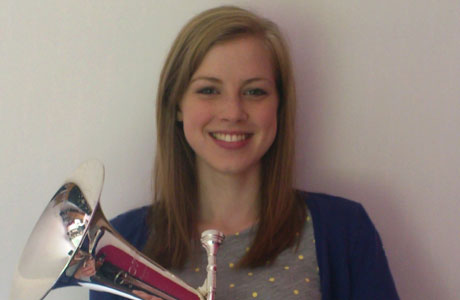 Nice smile! Rising tenor horn star Emily Evans

Emily Evans is still coming down to earth after enjoying two truly memorable weeks of her young musical life.
First of all, the 16 year old lapped up seven days of music making as part of the National Children's Band of Great Britain. However, that was topped by the amazing experience of performing with the National Youth Band of Great Britain under Bramwell Tovey, which concluded with their acclaimed Proms appearance at the Royal Albert Hall.
Sibling sandwich

As the middle child sandwiched between two equally talented sisters, Emily has always enjoyed exploring her musical abilities – starting on cornet aged just 5, before taking up the piano a couple of years later.
Emily was hooked by the musical bug, and even overcame the very early loss of her front teeth!
However, that misfortune was really something of a blessing in disguise, as Emily moved to tenor horn – and hasn't looked back – especially now she has a wonderful set of brilliant pearly white teeth too!
She told 4BR: "When I was 7 my two front teeth fell out around about the same time, so I temporarily switched to tenor horn. I then decided to stay there after they'd grown back because I loved the sound of the instrument and really enjoyed the parts the horn section has within a brass band."
Potential

Loving the unique sound, the youngster has gone on to become a real star talent, helped in her development by invaluable lessons from Stuart Chappell at Lanner & District Band, close to her home in Cornwall.
Her potential was aided with the encouragement of her parents, who persuaded Emily to audition for the National Children's Brass Band of Great Britain.
Turning point

The successful audition was another turning point, as she has blossomed in the band ever since, becoming its principal horn aged just 11 - something she is understandably extremely proud of.
"My parents encouraged me to audition when I was 9, as I had been playing in a brass band since I was 5," she said. "I really enjoyed it, so I've been back every year since, keeping the principal position since I was 11, being a mentor in 2011 and a senior mentor in 2012."
It has also given her the opportunity to be tutored by the likes of Owen Farr, Sheona White and Helen Williams, three inspirational influences, whilst the opportunity to play under Nicholas and Robert Childs has seen Emily soak up invaluable banding knowledge.
Owen told 4BR: "It's been a pleasure to see Emily develop over the years. She has become a performer of real maturity and has a great future ahead of her."
Helen added: "She's a lovely person and one of the most secure and confident young players I have come across."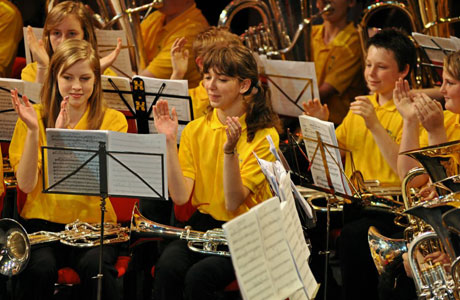 Emily (left) in action with the National Children's Band

Mentor

That lovely level headedness has also seen her become of the band mentors herself – a position she relishes as she passes on her own tips and advice to some of the youngest new recruits.

"I've really enjoyed being a mentor and a senior mentor," she said proudly. "I remember being on my first course and being absolutely terrified of everything, so being someone that the children can talk to and come to for help is such a good experience, and feels so rewarding when they tell you how much they've enjoyed the course."
Not surprisingly, Emily openly encourages anybody thinking of auditioning for the National Children's Band to do so.
"I think anyone considering it should give it a go. It's a brilliant opportunity as the music staff is outstanding. A lot of the children are coming away from home for the first time, but everyone is taken care of by such a good team of house staff too."
Sibling support

So much so that younger sister Hannah has joined Emily in the band (in addition to Lanner) whilst older sibling, Georgie, joined Cory earlier in the year, as she starts her own studies at the Royal Welsh College of Music & Drama.

The trio are very supportive of each other and Emily reveals that the nearest they ever get to a fall out is when they squabble over who gets to use the Arban Exercise book first at home!
She chuckled: "My practise is now part of a daily routine. When I was younger I had to be encouraged, but now I'm much more interested in making time to do it. We all want to practice at the same time so if we are at home things get a bit hectic!"
Matured

In 2010, Emily experienced the National Youth Brass Band for the first time, and has just completed her fifth course. Her playing has matured, and she is very conscious of just how much after playing under the likes of Bram Tovey.
"Yes. I think my playing style has changed a lot over the years as I've learnt so much about different styles of playing from Owen and both Nicholas and Robert Childs. My playing has improved and become more confident through playing more challenging music under the brilliant Bram Tovey."
As a result her banding musical tastes have also become much more sophisticated (although she still loves pop music), especially after being exposed to major works such as, 'St Magnus', 'The Power of the Soul' and 'Blitz' .
"I enjoy playing and listening to test pieces, especially some that I've played with the NYBB, like 'Blitz' and 'St Magnus'," she added.
"I've also really enjoyed playing 'The Power of the Soul' and 'Shine as the Light' through past NYBB courses and my favourite test piece with Lanner is 'Sounds' by John Golland."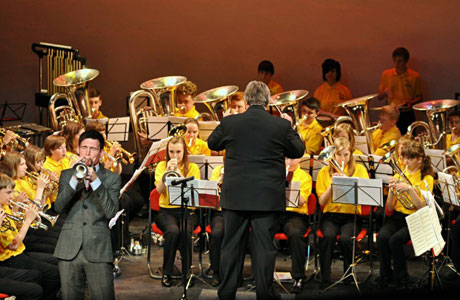 The National Childrens Band enjoy the music making with Paul Duffy

Relish

However, whilst the challenge of contests and rehearsing test pieces is something the teenager relishes, Emily does admit to enjoying concerts as well, although a few nerves do appear in solo spots.
"I like playing in contests as I find them exciting. I've played solos and do get quite nervous, but I've never been as nervous for any contest as I was when the NYBB played at the BBC Proms!"
Future

Emily is also looking forward to what promises to be an exciting future.
"I passed Grade 8 ABRSM on tenor horn with distinction when I was 14, and have taken the first 7 Grades on piano and hope to have Grade 8 in the next 2 years before I go to university. I enjoy playing the piano for fun alongside taking the exams."
Options

Emily may still be weighing up all her options, but whatever she does and wherever she goes, the tenor horn won't be far away from her side.
"At the moment I think I'd like to study music at university, but haven't fully decided yet. I would like to carry on playing in a brass band alongside whatever I decide to do though."
Malcolm Wood