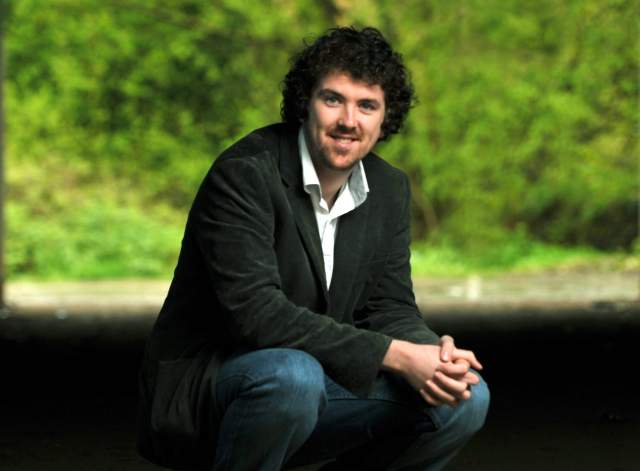 Picture courtesy of Media Wales

Malcolm Wood: Could you first tell us how your National Finals commission 'VIVAT!' came about?

Tom Davoren: I was approached by the Kapitol Selection Panel earlier this year through one of their newest members, Paul Holland.
Paul discussed their creative vision for selecting a set of original works and arrangements, up and down the sections for the 2012 National Finals.

The Panel asked if I had anything suitable in my catalogue, but at the time my only works of typical test piece duration were scored for wind orchestra.
I passed on some examples of my concert music and much to my delight the response was a commission for a First Section test piece.
---
Malcolm Wood: The score states that the music was commissioned in celebration of Her Majesty Queen Elizabeth's Diamond Jubilee, so was the subject matter an easy one to decide upon?

Tom Davoren: Perhaps through the success of Philip Harper's area test piece 'Olympus', which certainly whets the appetite for the 2012 London Games, Kapitol decided that they would also like to commission a work to celebrate a historic Jubilee year too.
I certainly think they have done that with the selection of the other inherently celebratory compositions of 'Three Ancient Customs' and 'British Isles Suite'.
---
Malcolm Wood: The three sections of your composition are 'In Memoriam', 'Coronation' and 'Jubilate', with themes derived from Sir Hubert Parry's anthem 'I Was Glad'.
Could you enlighten us further on their significance?

Tom Davoren: As far as the subject matter goes, I was given carte blanche to commemorate the occasion.

As an initial point of reference I felt it important to explore the circumstances in which Elizabeth II came to the throne: An elegy to her father, George VI, seemed an appropriate way to start.

Ceremonial aspects of British monarchical life are famous the world over.

Our most prominent royal events are without question coronations and weddings, so Elizabeth II's Coronation was again something I felt I should try to capture.

The word jubilate is defined as 'a song or an outburst of joy and triumph', so given the year long celebrations for the Queen's Diamond Jubilee I could think of no better way to draw 'VIVAT!' to a close.

I hope that conductors and bands manage to capture some of the spirit of these 'pictures' in their performances.
---
Malcolm Wood: 'I Was Glad' seems to permeate the work?

Tom Davoren: 'I Was Glad' was initially composed by Parry as an anthem for the Coronation of Edward VII, but later revised for the Coronations of George V & VI, Edward VIII and of course Elizabeth II.
It has also been performed at numerous Royal weddings, the most recent being that of the Duke and Duchess of Cambridge.

Since this piece has seemingly permeated the ceremonial life of the British monarchy over the past century, it seemed only right to use the music as a foraging ground for material for 'VIVAT!'
Quotes small and large can be found throughout the piece, from the opening baritone solo to the final voicing of Parry's original theme.
---
Malcolm Wood: Did you find it easy to write a First Section test piece within a specific time frame?

Tom Davoren: I have tried to approach the piece outside any musical limitations imposed by the test piece genre.
I like to think of 'VIVAT!' as a piece of music with appropriate content for a First Section band, rather than a specific test piece work.
In terms of time constraints, I owe a great deal of thanks to my friends Harmen Vanhoorne and Glenn Van Looy, both of whom have been incredibly kind and flexible in our current projects to allow me the time to work on 'VIVAT!'
---
Malcolm Wood: What advice would you have for the competing bands as they work on the piece for the Cheltenham Final on 23rd September?

Tom Davoren: As I'm not in the box I'm a little unsure about how useful any of my advice will be in contesting terms: Everyone will have different ideas about the music.
The one thing I can say is brass banding is a massive team effort, and if a band works hard to achieve a conductor's interpretation then it has every chance of impressing the adjudicators.
I know that I'm looking forward to hearing a range of different interpretations in Cheltenham.
---
Malcolm Wood: Are there any other compositions in the pipeline?

Tom Davoren: I feel really fortunate to have received some great first performances recently from Kristy Rowe together with Brass Band Oberösterreich and the Central Band of the Royal Air Force.
I am working on some new projects at the moment for brass band, wind band and some solo instrumentalists, all of which people can find out about on www.tomdavoren.co.uk as they happen.
---
Malcolm Wood: Thanks for talking to 4BR Tom and we look forward to hearing 'VIVAT!' in Cheltenham later in the year.