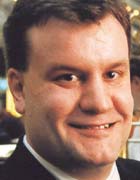 Given the opportunity, the wish list, the ability to mess about with the Space-Time Continuam like Doctor Who, and the skill to cook like Heston Blumenthal, who would you like to invite around to your place to enjoy a meal and chin wag with?

4BR started it all off a few days before Christmas 2007 with our 10 dinner guests, so we thought we had better ask a few more brass band personalities who would be on their all time dinner list too..

Mover and shaker

This month we have asked Ian Brownbill, one of the most influential movers and shakers around with a life long passion for brass bands - from adjudicating to concert promotions, large scale theatre production to occasional banding playing performances!

It's been a hard task though, as he told 4BR:

"I'm going to limit my invitation to dinner on this occasion to just cornet players, as trying to select ten people from all of my friends in banding is just too bloody difficult!
My wife Ruth might be persuaded to conjure one of her amazing roast beef dinners providing she was presented by guests with large bouquets of flowers and a bottle of wine or two, but there's no way she'd share in an evening of banding talk!
The dinner would be in honour of a cornet player and remarkable servant to the brass band movement and I'll come to him at the end of my guest list."
---
1. Ian Broadbent
Ian is currently enjoying a second spell in top flight banding with Brighouse, but I spent three years with him at Black Dyke where he was already a bit of a stalwart in his mid 20's.
I've never come across a better 3rd cornet player, a cracking bandsman, but as a glory hunting Man United 'supporter', who hails from Bradford, Ian would be the butt of a few my jokes once the wine started to flow.
2. Phillip McCann
I loved hearing him play as a youngster and it was a treat to bump him up at Leyland for a year - and it really built my stamina up too!
Phillip is not just one of the all time great cornet players, he is another passionate bandsman. After a couple of reds he can make lively company as well.......honestly!
3. Jimmy Leggatt
I've known the Fairey Band legend that is Jimmy for years, but have always wished I'd played in a band with him. He's such a character and a laugh a minute.

There are few if any more dedicated bandsmen than Jimmy anywhere in the banding world.
4. David King
He would have to be there, as he's more like a brother than a friend.
I would insist on us all having a game of Trivial Pursuit as after dinner entertainment, because he is absolutely bloody useless at it!

He's also not very good at drinking too, so I would have to make sure that Jimmy kept an eye on him!!!
5. Graham Hetherington
'Uncle' Graham is next on the list, and he is certainly good at drinking! A colleague of my Dad's at the old Cammell Laird Band, he is best remembered for his nut shaking at Granada Band of the Year with Yorkshire Imps in the early 80's!
Another fantastic character and a ridiculously funny man, Graham would have enough stories to keep us all amused for hours.

He may be an Evertonian but I love him to bits anyway.
6. Lode Violet
Dinner parties are always good occasions to meet and make new friends and so I would extend an invitation to the superbly talented principal cornetist at Willebroek.
I have only met Lode briefly before but I think he's a fantastic talent. With Lode being so much younger than the rest of the party, I'd have to promise his Dad he'd be well looked after, so it's another job for Jimmy!
7. Louise Hough
I couldn't stand an evening of all men talk, so to ensure a level of decorum was maintained I'd invite along Louise who is the conductor of the Liverpool Youth Brass Band.
We've done some exciting projects together in recent years and we go back a long way as we were both part of the cornet team in the hugely successful Bedford Leigh Band in the early 80's .
A proper Scouser with a great sense of humour, she'd more than hold her own once the banter has kicked in.
8. Phil Chalk
A brilliant bumper up to Brian Taylor at Fairey for many years, Phil is one of the strongest players I've come across.

Since we both stopped playing and competing against each other(!) we've become good friends and work together on interesting projects outside of brass bands.
Phil's also got a bob or two so he could provide the wine – Australian of course!
9. Malcolm Brownbill
I'd have to invite my Dad, as he'd turn up anyway if he knew who was coming!
He keeps telling me he was a good cornet player once upon a time, and he'd be able to tell us all our shortcomings as players, conductors etc during the evening.

He would be great with David King as he can't drink full stop - so another one Jimmy would have to keep an eye on!
10. Arthur Gillon
A very special guest as I have known Arthur since I was a young boy.

When I was learning to play I used to go to Prescot Band with my Granddad and I always remember Arthur encouraging me and the other youngsters – and him being a very good player too.
He has been a member of The Parr Band (St Helens) for many, many years, and he has always been prepared to help out other bands at a moment's notice.
Into his eighties now, Arthur still attends all of Parr Bands rehearsals and he will be with them when they attend the National Fourth Section Finals in a few months time.
Arthur Gillon is not a household name amongst the banding public but he is one of the unsung heroes of the movement and our dinner would start with a toast to him.
---
Previous dinner guest lists:

Previous guests have included the 4BR selection; Chris Wormald; David Read; Pete Meechan; Alan Jenkins; Derek Broadbent; Philip Harper; Peter Roberts; Frank Renton; James Shepherd; Dr Roy Newsome; Paul Lovatt-Cooper; Bramwell Tovey; Kevin Crockford; Morvern Gilchrist and Lesley Howie; Richard Evans; Simone Rebello; Ian Porthouse; David Daws; Alan Morrison; Alan Wycherley; Mark Bousie; Steven Haynes; Simon Dobson; Ian Buckley;, John Roberts; Cai Isfryn; James Stretton; Harmen Vanhoorne, Bad Ass Brass, Lewis Musson, Tom Hutchinson, Jeremy Wise, Mark Harrison and Brett Baker.