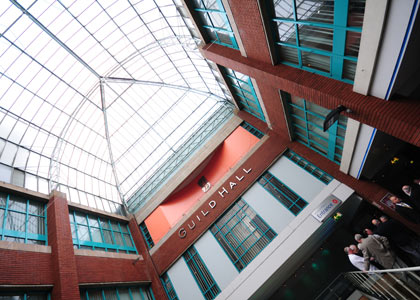 Looking up...

All roads lead to Preston Guild Hall on Saturday; including the ones which will see the crowds gather on mass to witness the arrival of the Olympic Torch just a few hours before the English National Championship starts at 10.00am.

With its never ending train of no-nonsense police outriders and chubby evangelical cheerleaders dishing out free bottles of sponsored 'healthy' Coca-Cola, it resembles a 21st century commercialised version of Eleanor of Castille's Stations of the Cross.

Nightmare

However, it also means that getting to the Guild Hall to hear eight top class bands battle for a place in Oslo next year could be a bit of a logistical nightmare if you leave your own travel arrangements a bit late.

If it's fine, Preston's high streets could be jam packed for a celebratory parade for the first time since the football team won the double in 1889.

Make sure you leave home early then.

Long way

Hopefully, quite a few of those people will also make the trip over to the Guild Hall to enjoy an English National contest that has come a long way since its inception in 2006.

The BFBB has done a great deal to try and make it an attractive event – including the decision to copy the European format of set work/own choice.

Unfortunately though, it still remains a contest that has yet to fully spark the imagination of English brass band punters.

Once more it finds itself between something of a financial rock and a hard place, as many bands start weighing up the benefits of attending what they believe is nothing more than an irrelevant qualification round for a contest they ultimately cannot afford to compete at.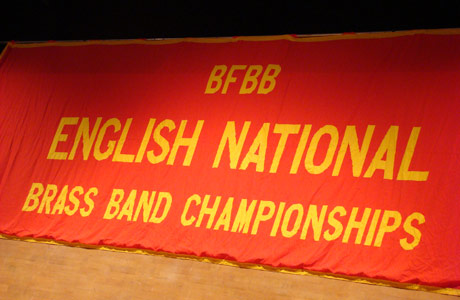 The BFBB is working hard to make its presence felt in Preston

Relieved

The BFBB will have therefore been relieved that Black Dyke took the admirable decision to defend their title despite claiming the European trophy in Rotterdam a few months back.

Whether or not they will be joined in Oslo by a newly crowned English Champion next year, or a band that has ended as runner up here, is open to debate.

At around £25,000, the European trip is a financial expense few of Dyke's competitors can afford nowadays, despite the £4,000 first prize and £1,000 of sponsors help.

Perhaps the happiest band in Preston (if the contest goes to form) may well be the one that comes third.

Time and money

That would be a pity, as the BFBB has invested a great deal of time, energy and money into keeping this event alive.

Despite the setbacks (from fair weather sponsors to England's 2006 fair weather World Cup exit), they have battled to give the contest an identity and purpose that is more than a side show to a main event – even the Olympic Torch.

Coverage

4BR will in Preston to cover the action as it unfolds, with our live coverage coupled to out tracker feed and Twitter, images, interviews, results and post contest analysis and debate.

The format will see the eight competing bands take to the stage at 10.00am to perform the set work, 'Masquerade' by Philip Wilby, with the own choice selections starting 1 hour after the last band has played.

Entrance admission for Adults is £15 with children at £5. The box office will open at 9.00am.