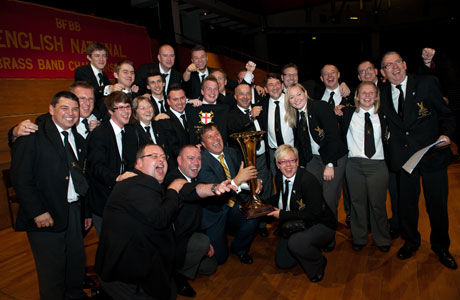 Defending champion Black Dyke

It's not just England's footballers who will be feeling the pressure this weekend in the qualification stakes.

Thankfully, the game against Italy doesn't take place until Sunday, so unlike 2006 when events in a distant land saw the team crash out in the quarter finals of the World Cup, any football disappointment may not be felt until the destination all of the English National Championship is done and dusted.

In a neat sporting comparison, there is a 'last eight line up' of competitors battling for glory in Preston, with the defending champion also looking a good bet to hold onto its title against a high class field of rivals that include some usual suspects as well as a couple of outside bets.

Game of two halves

To use the old football analogy: It will be a game of two halves at the Guild Hall.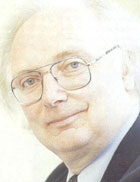 The first will see the bands tackle Philip Wilby's (right) treacherously difficult 'Masquerade'; a piece that was once considered almost impossible to play, and even now remains only within the musical grasp of the very best in the business.

For the MD, the key lies in unravelling the multiple layers of forensic detail to reveal the wonderful dry wit as well as the luscious beating heart of a glorious score: Euphonium players in particular will certainly feel the pressure of being put under the blazing spotlight.

Sweat

As Shakespeare writes in Henry IV about the eponymous musical hero: "Falstaff sweats to death, and lards the lean earth as he walks along."

Some will indeed achieve greatness, whilst others will have greatness thrust upon them.

Many though will be glad to get through the whole business without making a diaphoresic arse of themselves.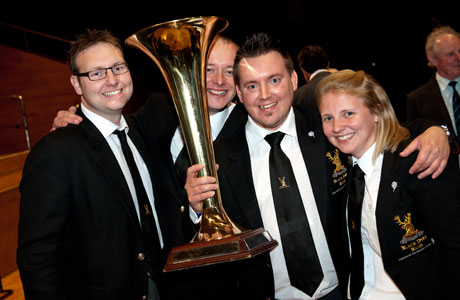 Will the trophy head to Queensbury again?

Sweet sounds

Two highly respected Members of the British Empire, in David Read and Nigel Boddice will certainly enjoy deciding upon which conductors '..hath no music in himself, Nor is not mov'd with concord of sweet sounds, Is fit for treasons, stratagems and spoils' – and which ones do, on this piece.

Blockbusters

After a short break the showcase blockbusters are unveiled – and real eye popping pulverisers they are too.

A brace of scorching, 'Audivi Media Nocte' are up against a pair of pile driving 'Rococo Variations', a storming 'Extreme Makeover', sledgehammer 'Revelations', humongous 'On the Shoulders of Giants' and a whizz bang 'Harmony Music'.

Chris Wormald and Stephen Roberts will need a darkened room, soothing green tea and a Japanese head massage to relax after that lot, otherwise their noggins might explode like the bloke in the film Scanners.

It's not a bad way to go though if they are all played brilliantly – although that is a mighty big if.

Contenders

As for the contenders?

Black Dyke is the odds on favourite: Victories in 2012 that bear an unmistakable stamp of deep seated drive and ambition mark them out from even their closest rivals.

At the European in Rotterdam they were on exceptional form, and whilst they were beaten on their own choice selection, that was more down to a matter of personal preference in the box rather than any quantifiable errors.

If they perform like that again the title will be safely in their grasp once more.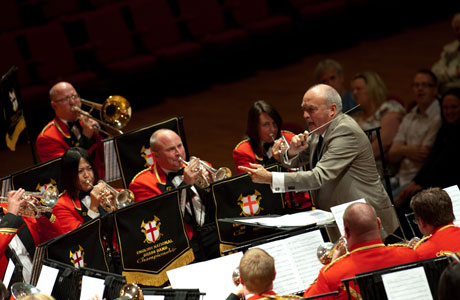 Can Withington finally click with Foden's?

North West heavyweights

Behind them come a trio of North West heavyweights in Foden's, Fairey and Leyland – all more than capable of producing the type of performances that could completely derail their Yorkshire counterpart's plans for world domination.

Whether or not they can maintain a level of structured brilliance over two major works in one day is a big ask though: None really came close last year and Dyke is a significantly better band than it was 12 months ago.

Top drawer

Allan Withington, Ian Porthouse and Michael Bach are all considerable top drawer talents and will certainly draw out every last ounce of musical sophistication from their bands as they seek to be crowned English Champions.

Intriguingly though, Foden's has a point to prove after a frustrating period of period of contest inconsistency, whilst Fairey has promised so much but has yet to ultimately deliver.

Meanwhile, Leyland's intoxicating musical approach draws a very fine line between the inspired and the misplaced.

Any of them could win this contest and win it well – but they will all have to rid themselves of the merest hint of fragility to do so.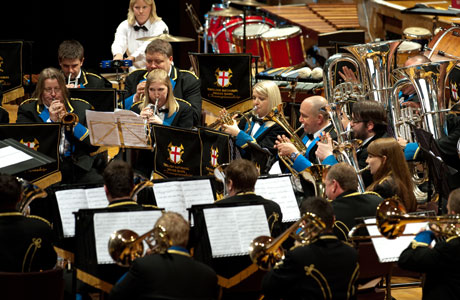 Hepworth are in impressive form coming to Preston

Contrast

In contrast, a supremely confident Hepworth delivered one of the classiest Grand Shield winning performances for many a year at Blackpool.

This is a different level of opposition though, and mere excellence may not be enough to claim this particular title.

However, Russell Gray is on inspired form at present, and if his players match their technical execution to his musicality then a podium spot or better could well be in their grasp.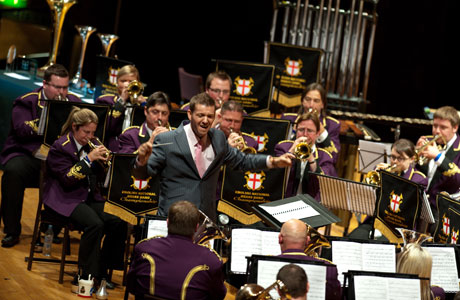 Not outclassed: A vibrant Pemberton and their MD

That leaves a high class trio seemingly playing catch up.

Pemberton Old Wigan DW, Reg Vardy and Virtuosi GUS all failed to make it to the Albert Hall this year and so come to the contest with points to prove for themselves if not others.

Not far off

Mark Bentham's young band hasn't been too far off the pace in the past two years here despite coming last on each occasion, whilst Reg Vardy was unlucky last year and will certainly be champing at the bit after the shock of their defeat at the Areas.

Virtuosi GUS meanwhile has been enduring one of those seasons that encompass the good, the bad and the ugly when it comes to contesting luck.

All three are quality bands when hitting top form, but they will know they will have to perform with a heady mix of technical brilliance and musical elan if they are to really do more than battle it out for the final top six place.

Iwan Fox
---
As for a winner?
The bookies are rarely wrong in these parts and they have long since closed the ledger on Black Dyke retaining their title.

Only a major contesting catastrophe – the equivalent of England losing on penalties against Italy on Sunday night can deny them.

Mind you ...

The good value eachway money is on Fairey and Foden's to fill the podium places with Leyland and Hepworth just behind.

Reg Vardy should just get the nod over the two dark horses of Virtuosi GUS and Pemberton Old Wigan DW for the final top six place.

4BR Prediction:

1. Black Dyke
2. Fairey
3. Foden's
4. Leyland
5. Hepworth
6. Reg Vardy

Dark Horse: Virtuosi GUS & Pemberton Old Wigan DW