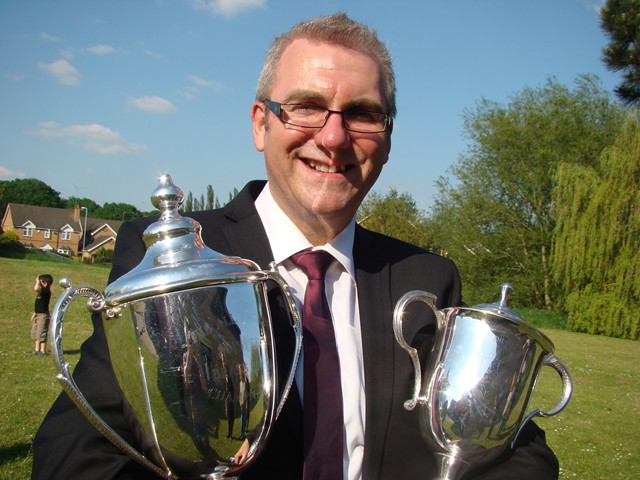 Smiling in the sun for Tredegar's winning MD, Ian Porthouse

A formidable display of the basic tenants of cultured comedy material saw Tredegar retain the All England Masters International title in Kettering.

Slick, polished and with an innate understanding of an expertly placed punch line, they delivered both the acerbic as well as lyrical elements of John Ireland's score with the well rehearsed élan of Les Dawson reeling off mother in law jokes.

Open mike

In comparison, many of the other 19 comedic contenders for the £4,000 first prize sounded like nervous 'open mike' stand ups at the local Kettering Jongleurs night club.

Even if tastes have changed over the last 78 years since the work first appeared at the National Finals, basic 'Comedy' values certainly haven't – something the judges David Read MBE, Derek Broadbent and Stephen Roberts certainly pinpointed in their acute observations of the day's competition.

Class apart

The defending champion was 'a class apart' they said – an opinion reinforced by their written remarks, which included the liberal use of adjectives of the highest praise for the last band of the day.

Stephen Roberts summed up the collective adjudicators opinion: 'The best was saved for last. Outstanding – a clear winner!!"

Gulf

You wouldn't have found many in the small but appreciative audience that disagreed either, after Tredegar's winning rendition under Ian Porthouse certainly captured the elegance, poise, style and charm that David Read for one remarked in writing he was looking for.

If victory itself wasn't a surprise – the Welsh band came to the Lighthouse Theatre as a well backed short priced favourite, the gulf in standard between them and the rest of the 19 band field certainly was.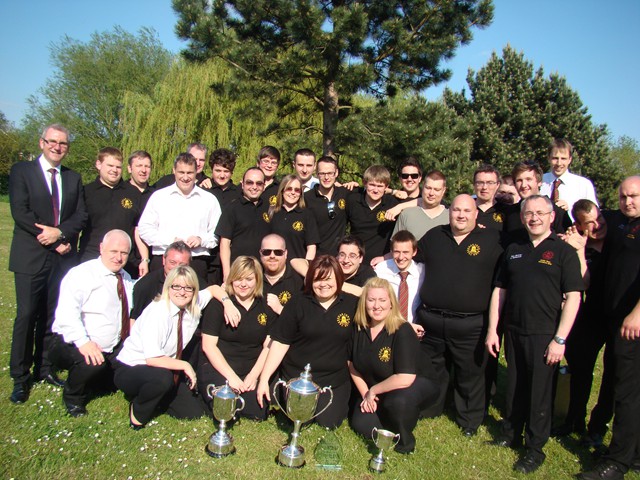 Double top for Tredegar as they take the 2012 Masters title back to Wales

Exception

The exception was Brass Band Buizingen, who delivered an intelligently structured account of 'Comedy' that could well have been written by the same script writers the defending champion employed.

It certainly sounded as if Luc Vertommen and Ian Porthouse had a mirror image understanding of what constitutes an interpretation of warm balances and precise ensemble delivery.

As a result the Belgians deservedly picked up the BBC Shield and £2,000 as runner up.

Subtle

Both emphasised the musical lines with subtlety; enhancing them with stylistic appreciation and understanding.

The opening was evoked with a foggy air of mystery, whilst the chirpy clippy announced the 'Piccadilly' stops with just the right cockney sparrow lightness of enunciation.

In addition, the unrequited love interest was played with tenderness and a sense of lyrical flow, the return ticket back home sounded controlled and even joyful, whilst the up tempo finale was delivered with a sensitive thump of class.

It also meant they shared the main individual prizes on offer too: Tredegar's Steve Turton becoming the first recipient of the Maxwell Thornton Memorial Trophy as 'Best Trombone' and Harmen Vanhoorne getting his hands on the 4BR 'Best Soloist' Award.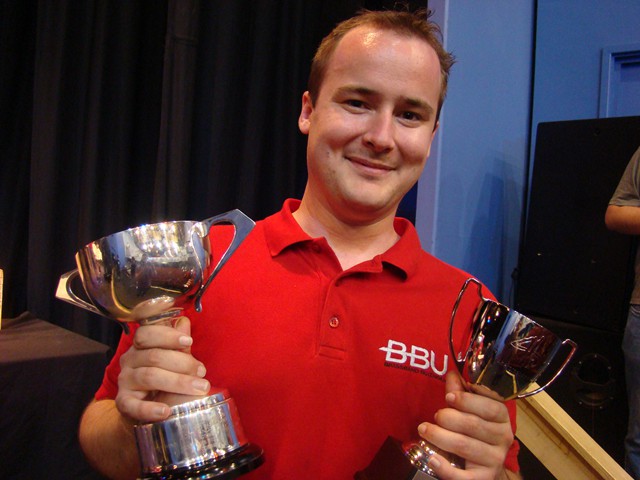 4Barsrest Best Soloist Winner Harmen Vanhoorne of Brass Band Buizingen

Quartet

A good length behind came a quartet of competitors that certainly had the integral comedy material in place even if they couldn't quite manage to deliver it with the same degree of nonchalant panache.

Both Marsden Silver and Carlton Main Frickley produced accounts that were based on solid no nonsense virtues thanks to MDs who certainly knew how to make the most of a tasty bon mot or two.

Glyn Williams and Michael Fowles have been nurtured on this type of Edwardian music most of their playing lives, so it was little wonder they were able to shape their performances with a more intuitive understanding of style than found in the interpretations from MDS further down the results table.

Whilst the occasional lack of cohesive balance just rubbed at times and the odd stutter in delivery chipped the musical patina, both retained an authentic feel of tasteful refinement.

Willebroek fruits

So too Willebroek, who showed that they are starting once more to enjoy the fruits of the intensive labour of MD Frans Violet in what has been a long rebuilding process. Theirs was a performance rich in character if a little more brittle in execution.

Meanwhile, Hammonds Saltaire also left for home buoyed by further confirmation of their growing emergence under Morgan Griffith's intelligent direction.

Both based their comedic delivery on ensemble warmth and secure soloists, leaving themselves just enough interpretative scope to mould the music without recourse to bluntness.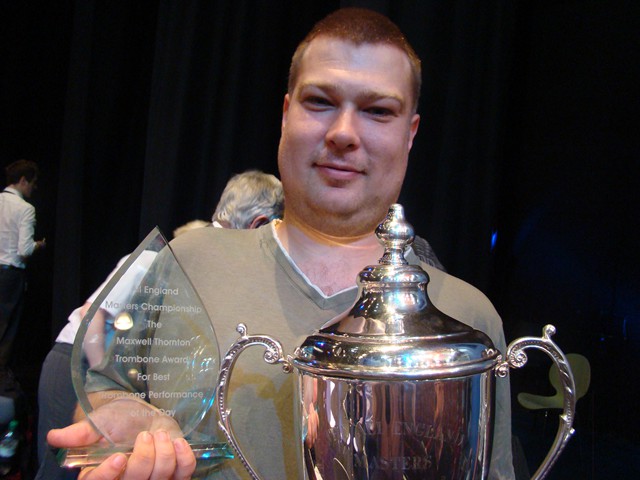 Top trom: Steve Turton of Tredegar was the first recipient of the Maxwell Thornton Award

Halibut thud

Unfortunately, the dull thud of tactless interpretation and misplaced intent which slapped you around the ears like a wet halibut in the airless confines of the Lighthouse Theatre, blighted many of the performances that ended up occupying the lower reaches of the results table.

Harsh, almost percussive articulation, overwrought emotion, tempos that varied from the banal to the bonkers and dynamics that ranged from the sublime to the ridiculous, sunk the chances of bands who's MDs either failed to understand the composer's intentions or simply found them alien to their personal taste.

There were exceptions.

Cultured

Richard Ward's cultured approach with Zone One may have just lacked a little in ensemble warmth to have forced its way into the top six for the judges (although it was close they later admitted), but was perhaps the most coherent interpretation of day, whilst Jeremy Wise certainly elicited a feeling of Edwardian refinement with Redbridge.

Their performance promised much after a fine start, but never quite broke free of its deliberately compact starch collared embrace to have flowered into a commanding top six contender.

In contrast, Virtuosi GUS never sounded at ease off the early number 2 draw as they rather disappointingly failed to make the most of John Berryman's sharply defined interpretation, whilst Gwyn Evans opted for the heart on sleeve, shirt, tie and collar emotional approach with Seindorf Beaumaris, which in the end clogged up the free flowing arteries.

Both will look back on a missed opportunity to have shown their true qualities.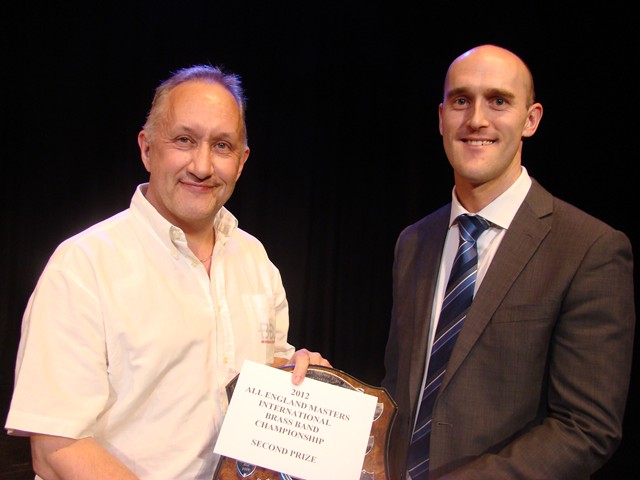 Runners up Brass Band Buizingen

Surprise

The surprises came with Aveley & Newham, who certainly shut up their critics (the 4BR Editor chief amongst them it must be said) in ending 8th, with a structured performance that certainly caught the ear of the men in the box.

Also, showing a return to form was NASUWT Riverside who benefitted greatly from David Roberts insistence on putting the basics in place from start to finish to end 9th.

Melange

Meanwhile, David Johnson's confident, if overtly quirky approach with Aldbourne was too much of a confused melange of idiosyncratic ideas to have come any higher than a rather fortunate 11th: It was 'Comedy' in the manner of a Barbara Cartland take on 'Brokeback Mountain'.

The contrast in the approach of the less flamboyant Chris King and John Roberts, who certainly made the most of their resources with Friary Guildford and Skelmanthorpe to end up where they perhaps expected was stark to say the least.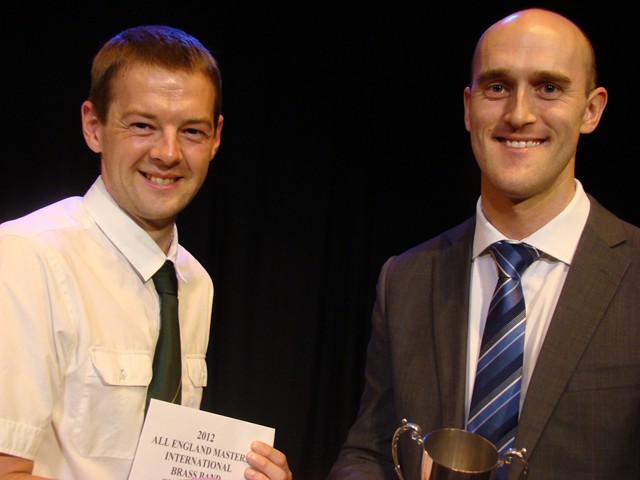 Third place for a delighted Marsden Silver

Unlucky

EYMS meanwhile could count themselves a little unlucky that their solid account under Allan Morrison didn't quite climb a few extra places up the results table.

For a variety of basic problematic reasons the quartet of Newstead Brass, Kortrijk, Sovereign and Staines never came close to sounding comfortable with either the style or execution of the score as they delivered poor performances of a work that should have been well within their grasp.

They will have had little to complain about, but much to ponder after ending up where they did.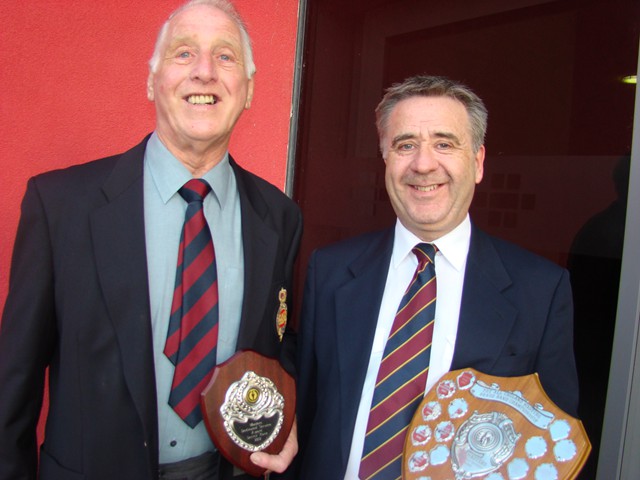 The Masters Dedicated Service Award went to Derick Kane (right)

Masters niche

The 2012 Masters may not have been the most memorable contest in its history, but it was still an intriguing and engaging one.

Philip Biggs and Richard Franklin are taking deliberate steps to grow the event with a solid foundation of long term support – and the signs are starting to show that despite the rather utilitarian venue, it has now found its niche once more as the midway point of the contesting season.

There was an increase in numbers for the Gala Concert, there was a welcome and very enjoyable contribution made by Youth Brass 2000, and a wonderful presentation made to Derick Kane by Trevor Groom of the Masters Dedicated Service Award, for his superb musical contribution to the ISB for close on 30 years.

Tredegar has also found its niche here too – one that on this form could well see them return in 2013 as an even shorter priced favourite to claim a Masters hat-trick.

Iwan Fox