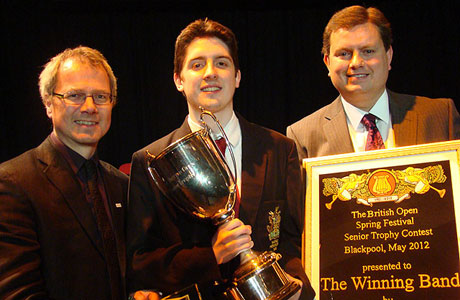 Wakefield worked out the problems to claim the Senior Trophy

More images at:
www.4barsrest.com/articles/2012/1313d.asp#.T7tNLPVAe1k

It's not often a degree level understanding of the Newtonian principles of integral calculus comes in handy at a brass band contest.

However, a passing acquaintance of trying to work out how a big space can be filled successfully with the volume of a brass band would have given quite a few of the competitors a better chance of claiming a qualification place in the Senior Trophy.

Old barn

In non scientific terms, the Empress Ballroom is a barn of a place – even when divided into two by the type of sight screens usually seen in car insurance sales offices.

Making the floor space half the size of the original doesn't make for half the acoustic problem though – as far too many of the competitors on 'Chivarly' soon found out to their cost.

However, it doesn't take a Nobel prize winner to work out that giving it welly isn't the best way of going about things though.

Noggins

It wasn't an ideal acoustic by any means (the hissing PA system was an added handicap), but it doesn't help when MDs don't use their noggins: There were some pretty brainless performances on show.

For whatever reason a number of bands came to Blackpool with dynamically inspired renditions totally unsuited to the environment they were to perform in. Some MDs would have been new to the experience, but looking at the line up, not many.

A bit more pre-contest care and consideration could have turned low midfield finishers into possible top six contenders.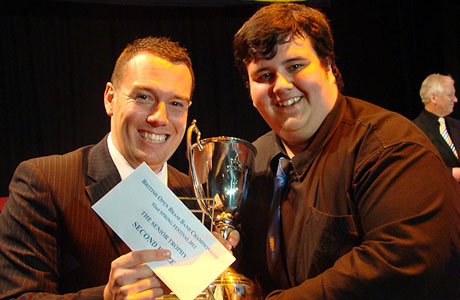 Promotion for Burry Port in second place

Stigmata

No wonder then judges Ian Brownbill and John Doyle felt that at times they were being nailed up against the back of the wall.

They did have their work cut out in an oddly positioned box it must be said, but even that wasn't an excuse for bands to try and impersonate Black Sabbath at their raucous best.

At the results presentation the duo could have made a case for claiming industrial injury compensation for stigmata.

John's analysis was witty and very accurate: It hit the nail very much on the head so to speak.

Understanding

Michael Howley's cleverly realised understanding of physics and medieval honour made sure Wakefield Metropolitan never threatened to overwhelm the witty detail of Martin Ellerby's score.

A descriptive, clearly defined reading took the Senior Trophy back to Yorkshire, helped by secure solo contributions (particularly from 'Best Instrumentalist' winner Myron Thomas) and a disciplined ensemble that was kept under a tight dynamic leash from start to finish.

It was a winning performance moulded with a great deal of intelligence by a talented MD. The music flowed with purpose and passion, contrast and subtlety.

Application

The same applied to the three bands joining them in the Senior Cup in 2013.

A trio of Mensa qualifying conductors in Michael Thorne, Gary Davies and Allan Ramsay with Burry Port, Tylorstown and Lochgelly respectively, used their musical nous to bring out the all important detail of the score, without recourse to bludgeoning bombast.

Michael and Gary had recently played the work in an equally unforgiving barn of a place at Ebbw Vale Leisure Centre, so used the experience to their obvious advantage, whilst Allan has both played and conducted in any space from a car garage to the Albert Hall over the years, so knew exactly what was required in the Winter Gardens.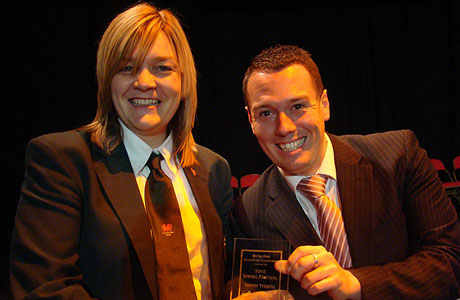 All smiles for third placed Tylorstown

Enjoyable brace

Behind them came a highly enjoyable brace of renditions from Sovereign Brass and St Dennis that were as excitable as a puppy dog with a new ball – bouncing about in places with fun loving abandon, without ever inflicting a nasty bite in return.

With just a little bit more dynamic control they may have forced their way into the qualification places, but by heck, David Maplestone and Darren Hawkin drew the colour and vivacity out of their performances in cinematic 3D.

Comparison

From then on the results table started to read like a volume control price comparison site.

The likes of Oldham Lees, Wantage, Longridge and City of Cardiff (Melingriffith) just let enthusiasm get the better of them as they strived a little too hard to make an impression on the men in the box without realising that perhaps less was more in the circumstances.

You suspect their MDs won't make the same mistake a second time if the contest takes place here again next year.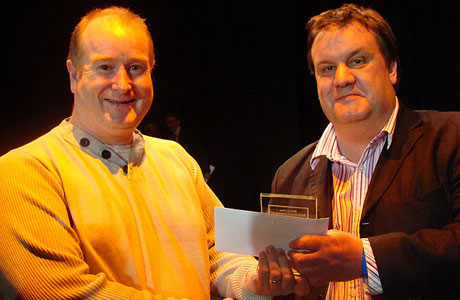 Scots promotion for Lochgelly

Colourful

Meanwhile, Bournemouth's colourful interpretation never found favour with the judges, despite some of the most secure playing of the day, whilst much the same applied to the midfielders of Easington, Newtongrange, Hatfield, Bon Accord and Drighlington – all of whom had all the essential elements in place but perhaps lost a little clarity in execution due to their fruity dynamic levels.

Ponder

The bottom four of Hade Edge, Barton Town, Johnstone and Wrexham Brass Glyndwr were left to ponder performances that could have come higher in a different acoustic, but were on this occasion was not what the judges wanted to hear.

The bold application of colourful interpretations was just a bit too vivid for John and Ian on this occasion.

No such problems for Wakefield though – or for Burry Port, Tylorstown and Lochgelly, who can all now look forward to a return here in 2013.

Everyone else may want to take a gander at an Open University course on integral calculus.

John James