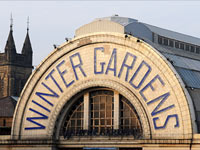 Senior Trophy
Ballroom
Draw: 10.00am
Start: 11.00am

Test Piece: Chivalry (Martin Ellerby)

First Prize: £600 plus framed pennant presented by Centre Stage Uniforms
Second Prize: £400
Third Prize: £300
Fourth Prize: £200
---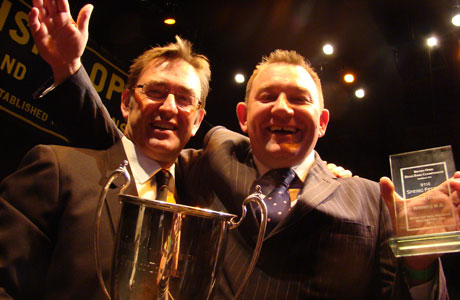 Heading upwards: Last year's winner Aldbourne

You suspect there's not a lot of particularly chivalrous behaviour going on in the flesh pots of the Golden Mile on a Blackpool weekend.

Stag Night lads tend to think with contents of their underpants rather than the grey matter between their ears when it comes to impressing the fair game maidens with their Tango coloured make up and alcohol heavy Garfield eyelids.

Respect

Hopefully the same approach won't work with Martin Ellerby's (right) wonderfully colourful test piece either.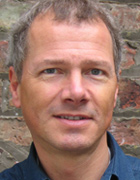 Treat 'Chivalry' with the respect it deserves and you will be rewarded tenfold as a band: Try to stick your tongue down its throat in a bid to warm its passions and it's got the claws to give you one heck of a slap across the face for your impertinence.

The MD's will have to hold back on the testosterone fuelled approaches for sure.

Popular

'Chivalry' has proven to be a very popular work ever since it was first used at the All England Masters Championship back in 2003. No wonder: It's a tone poem of daring do; Errol Flynn in tights.

It's also a work that enables bands to showcase style and precision, balance, artistry and well crafted musicality.

And it takes some playing.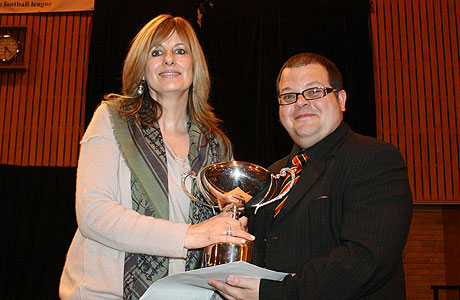 Can Barton add another quaification entry on their CV?

Celtic nations

The four bands that will eventually gain the nod from the men in the box will deserve their promotion to the Senior Cup.

Those who struggle may well deserve to hung drawn and quartered.

The Celtic nations are out in force, with the Welsh represented by a solid south Walian front row trio of Burry Port Town, who won the First Section Area title in Swansea this year and the competitive debutants of City of Cardiff (Melingriffith) and Tylorstown.

All three are well prepared outfits that have successfully played the test piece at the recent Ebbw Vale contest. No arguments about match fitness here then.

Their North Walian counterparts Wrexham (Glyndwr) return to the contest fold after their short Area hiatus and could be a determined force to claim honours under the baton of Stephen Curtis.

The Scots

The Scots meanwhile send down a raiding party that is made up of top section challengers Lochgelly and Newtongrange who recently ended 5th and 9th respectively at the Scottish Championship, and Johnstone and Bon Accord who came 3rd and 5th in the First Section at Glenrothes.

All four are more than capable of making a real mark against the opposition here if they can play to the top of their form.

Yorkshire

As always there is a strong contingent from Yorkshire making their way over the Pennines.

Hade Edge and Wakefield Metropolitan delivered solid performances against a very strong field of rivals in the top section in Bradford in March, whilst Drighlington tasted success in the First Section at Butlins.

Hatfield meanwhile showed tantalising glimpses of their emerging form under Graham O'Connor at St George's Hall.

Brimming with confidence

Barton Town will travel brimming with confidence after their historic qualification for the National Finals at the North of England Championship in Darlington in March still fresh in their competitive minds, whilst Easington is another band from the area that is growing in contesting potency under the baton of Chris Bentham.

West

The West of England challenge is also headed by an Albert Hall finalist in Bournemouth Concert Brass who will certainly be looking to carry on their fine 2012 form under the baton of Dave Barringer.

They are joined by the youthful St Dennis, who also enjoyed a fine 5th place return at Torquay.

Sole and lone

The sole London representative is Wantage Silver A, who didn't enjoy a great deal of luck at the Areas in Stevenage in ending 7th, whilst the lone Midlands representative is Sovereign Brass, relegated from the Senior Cup last year but determined to build on a highly encouraging 5th place finish at Bedworth.

Return

That just leaves the local favourites with Longridge making a welcome competitive return after failing to make it to the Area starting line up earlier this year, whilst Oldham (Lees) may be something of a dark horse on their debuts this year under the baton of John Collins after their success at the Tameside contest.
---
As for a winner?

A very evenly matched field this – with two London finalists up against an eclectic mix of solid third tier Championship outfits and plenty of emerging First Section contenders.

The test piece may be harder than the bands may imagine, but if they play to form the quality that saw Bournemouth get to London should prevail, with the likes of Sovereign Brass, Hade Edge and Wantage Silver A claiming the other qualification places.

Barton Town and Burry Port could well push into the top six just ahead of our dark horse of (Oldham Lees)

4BR Prediction

1. Bournemouth Concert
2. Sovereign Brass
3. Hade Edge
4. Wantage Silver A
5. Barton Town
6. Burry Port

Dark Horse: Oldham (Lees)