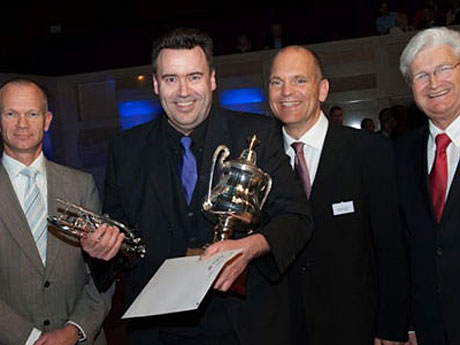 Champions again: Uwe Koeller and his magnificent Austrians take the title

Goldy Solution images of the B Section can be found at:
4barsrest.com/articles/2012/1310m.asp
www.pbase.com/troonly/2012_ebbc

After the excitement of the set work on Friday evening, the Saturday morning in the main De Doelen Hall saw four talented B Section bands go head to head in what was an enjoyable high quality contest.

It was also puzzling too, as the original intention of this event has now been seemingly lost forever.

Overhaul

The countries the competitors came from may well have a developing banding culture (although even that no longer applies to the Netherlands or Northern Ireland) but the bands themselves are certainly not.

As it stands, the B Section is in need of an overhaul.

Good news

The good news though is that EBBA have accepted that things need looking although with Oslo on the horizon in twelve months time, some reorganisation will have to be done to entice bands to dig deep into their pockets to compete.

However, the current standard of playing on show remains very impressive indeed, with the four contenders providing excellent performances on demanding repertoire.

The judges who oversaw the set work in the Championship Section on Friday evening, Andrew Berryman, Arsene Duc and Frans Violet, all returned to the box the following day and had no problems in picking a winner.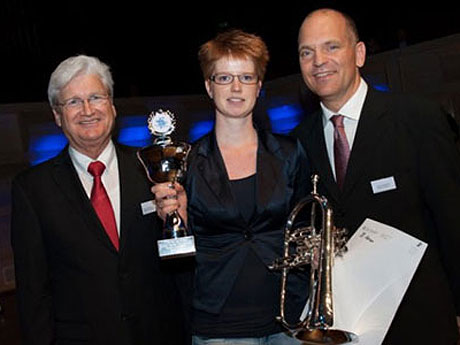 Second place for Brass Band Heman

Class apart

Austria Brass Band of the University of Music and Performing Arts Graz conducted by the magnificent Professor Uwe Koeller, was a class apart in taking the title for the second time.

The Austrians chose just two pieces for their challenge.

The set work, 'Light in the Darkness' by Joop van Dijk was based around a delightful hymn tune that tested all the basics of good band playing.

Charlie Cairoli

Led by their MD in fantastically multi coloured footwear, they produced a rendition full of crystal clear musical intent aided by impressive ensemble and solo lines and an intuitive understanding of the composer's intentions.

In addition they also delivered a sparkling, if occasionally over excitable 'Music of the Spheres', which really was at times as colourful as the MD's Charlie Cairoli shoes.

There was no shortage of confidence or stamina as the adrenaline surged through the veins to take them to the line with the help of a rousing final section.

Debate

With the winners in a different sphere so to speak, adjudicator Andrew Berryman later confirmed to 4BR that he and his two colleagues had plenty to debate over the positioning of the other three bands.

In the end, the runners up spot went to the home nation's representative, Brass Band Heman directed by Anne van den Berg, courtesy of a vibrant and engaging programme, tailored to their strengths.

'Intrada Ein' Feste Burg' got things off to an excllent start, and after a composed reading of the set work, Heaton's tone poem, 'Just As I Am' was full of reverence and controlled dynamics.

To close, they performed Downie's 'Dance Fever' based around the Scottish tune 'Dashing White Sergeant' with great enthusiasm.

High octane

Brass Band Wiptal last appeared in this section in 2010, but Martin Gruber's band relished the opportunity to deliver a high octane performance of Philip Sparke's 'A London Overture'.

In addition they gave an equally thrilling rendition of the set work, with some lovely individual solo lines illuminating the solid ensemble work.

Free flowing

Despite ending fourth, 1st Old Boys, who appeared in the A Section here in 1991 and at Birmingham in 2000, produced two well constructed accounts of the set work and their own choice selection of Edward Gregson's 'Dances & Arias' – both played with free flowing musicality under the baton of Stephen Cairns.

'Dances and Arias' in particular benefitted from a good understanding of the score from the conductor, full of understated nuance and the ability to link the musical lines together.

Quality winners

There was no denying the quality or the deservedness of the winners however.

The Austrians would not have been out of place at Grand Shield level in the UK – and were not far off the pace of the bands competing in the Championship Section here either.

And as much as that was a joy to hear, it also gave EBBA one hell of a problem to sort out for 2013.

Malcolm Wood