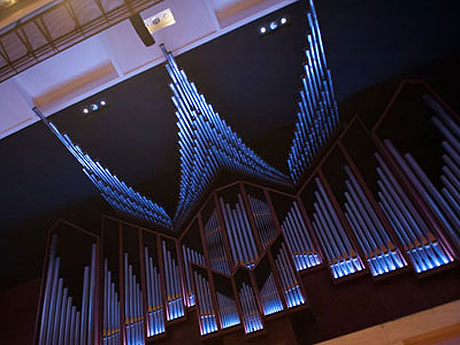 The refurbished organ at the De Doelen Hall

More Goldy Solution images can be seen at:
www.pbase.com/troonly/2012_ebbc

After the splendour of Montreux came the sensibility of Rotterdam.

However, despite the troubled financial times these were not austerity championships –more a 'living within our means' festival. We were all in this one together.

Cloth cut

It meant that the opening ceremony may have lacked the pomp of twelve months ago, but it also ensured we were not kept waiting for a paddle steamer to take us back to the hotel via a sightseeing trip around Rotterdam docks.

Wolter Lommerde and his organising team knew what they could and couldn't afford on their budget and cut their cloth accordingly.

Shows of indulgence were out; hard graft and an emphasis on putting the spotlight on the music making was the overriding ethos of a highly enjoyable event.

Excellent job

They made an excellent job of it, with the refurbished De Doelen Hall providing a large user friendly hub of activity for the hundreds of fervent (and we do mean fervent) brass band lovers who came here in amazing numbers to enjoy the entertainment.

They brought with them a remarkably supportive attitude towards all the competitors too. The main hall buzzed with expectation before each band played: When they finished it was bedlam.

It made for a fabulous atmosphere, helped in no small part by Frank Renton's informed wit and indefatigable stamina.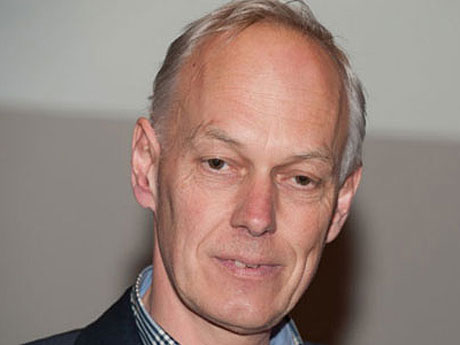 Composer Ed de Boer - or Alexander Comitas...

Excellent compositions

The compositions they got to hear as the set works were excellent, with the side events and attractions a joy (especially the contribution of Philip Cobb), even if EBBA must surely act to overhaul the B Section once and for all.
It has become nothing more than a highly enjoyable anomaly.

Of greater interest however was the outcome of EBBA Annual General Meeting, which confirmed that Britain may be part of Europe, but is certainly not at its heart anymore.

Entitlement attitude

A lackadaisical entitlement attitude finally caught up with them in Rotterdam as EBBA's Executive Committee became a British free zone of influence.

The highly professional attitude of European brass band administrators will take these championships forward into the second decade of the 21st century led by an outstanding President in Ulf Rosenberg.

The event will continue to develop and change, with the B Section, registration rules and even hosting requirements under consideration. The aims and objectives are now very much for the long term.

Multi talented

The new EBBA executive is multi lingual, multi faceted and multi talented: The English in particular will need to reassess their expectations as the Scots concentrate on Perth in 2014 and the Welsh look to start building their own national body of influence.

The exception is Northern Ireland, as their representatives Allan Davidson and Joe Cassells, who was elected President of the Music Commission, are shining examples of European integration.

Joyful

Rotterdam was a joyful event, based on realistic ambition, intelligent thinking and excellent organisation.

You could even forgive Wolter Lommerde for losing his sensibilities to run onto the stage to accept the prize for third place on behalf of his own band Schoonhooven. A lovely bloke deserved it.

Oslo in 2013 will provide us with another memorable championship we are sure, but in the years to come Rotterdam will also be able to hold its head up high with the very best of them too.

Iwan Fox