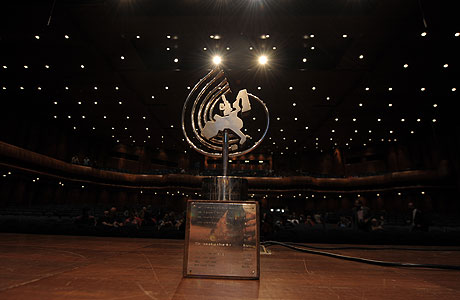 The ultimate prize in banding awaits...

This could well be brass band contesting in its most elemental pugilistic brilliance.

It is hard to think of a line up as strong as this in the 35 year history of the European Championships.

Those lucky enough to be here this weekend will surely have a tale to tell their grandchildren if all 11 heavyweight contenders play to their full potential.

Only one

Only one band will be crowned champion – and without doubt in doing so will become the undisputed champion not just of Europe, but arguably the entire banding world.

Black Dyke, Nor Pas-de-Calais, Oberosterreich, Schoonhoven, Co-op Funeralcare, Cory, Eikanger, Valaisan, Lyngby Taarbaek, Manger and Noord Limurgse: It's the brass band equivalent of having Muhammad Ali, Joe Frazier, George Foreman, Rocky Marciano, Larry Holmes, Joe Louis, Mike Tyson and a few others in a last man standing contest.

These are true, gimlet eyed heavyweight bruisers; all of them more than capable of knocking their rivals blocks off with a killer blow.

Kitchen sink

For those who love a good old scrap, there will be musical claret spilled by the bottle full over the two days of intensive competition.

These leviathans will be chucking the proverbial kitchen sink at one another. The winner's may have to accept the European Trophy from the comfort of a hospital bed.

It promises to be simply fantastic entertainment.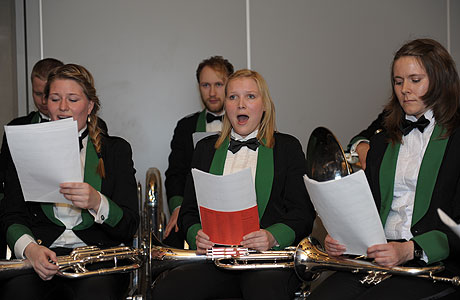 Will the girls of Manger be singing in celebration this weekend?

Weighing in

Weighing in with the most impressive credential is the defending champion - 'Marvellous' Manger Musikklag, led by one of the most charismatic conductors ever to set foot on a brass band stage.

Peter Sebastian Szilvay conducts like a man possessed; and his band responds in kind.

If they are at the very top of their game, and not undone by imbibing too much on the intoxicating high octane adrenaline mix that flows through their veins (as was the case in missing out at the Norwegian Championships this year), then they could be nigh on impossible to beat.

They reek of championship winning class.

Beserkers

If one marauding Viking wasn't enough, the 'Bergen Beserker' Eikanger Musikklag returns under the best European corner man in the business, Professor David King.

In the past 12 months or so they have put their Norwegian rivals on the seat of their contesting pants, not once, but three times in their battles for domestic supremacy. They will surely be short priced favourites to do so again here – as well as knock out a few lantern jawed challengers from across the North Sea too in the process.

At the moment they are in frightening form, with an air of swaggering confidence not even Muhammad Ali could better. It ain't misplaced either.

Queensbury Rules

The English haven't rejoiced in a winner at this contest since 2005, but hopes are high that 'Queensbury Rules' Black Dyke could give Tykes cause for celebration as they return to the fray under the command of their ruthlessly determined MD, Dr Nicholas Childs.

As ever the rumour mills have been working overtime with tales of special training regimes and the like, but they know that they have ground to make up on their rivals after failing to go the distance in ending fourth in 2010.

They showed in winning the Yorkshire Area title that they are close to being back to their best – with a lethal mix of precision and power that could mean trouble for any band that comes within striking distance.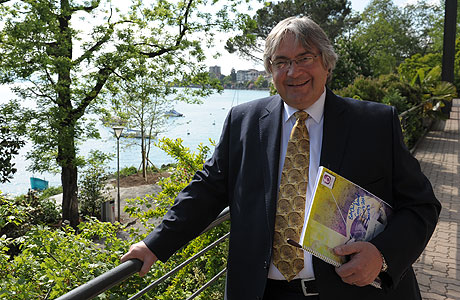 Dr Robert Childs prepares for a final bout with Cory

Rocky Balboa

Will Cory give their great corner man Dr Robert Childs the type of emotional send off that couldn't be bettered in a Rocky Balboa movie script we wonder?

The triple champion lost their crown to the Norwegians of Manger last year after coming to the contest bloated in personnel and weighed down by an armoury of talent that couldn't be used to its full potential.

Leaner than of late, and as forensically prepared to perfection as a Heston Blumenthal steak fillet, they will be determined to send their MD into happy semi retirement as an unbeaten champion. What a story that would be.

Walnuts

Meanwhile, the most impressive heavyweight to come out of Austria since Arnold Schwarzenegger started to look like a balloon toy filled with walnuts, Brass Band Oberosterreich is the band everyone fears – even the cold blooded Norwegians.

In Bergen a few months ago, they gave an exhibition bout that featured the full array of their immense talents. It took the breath away: The Norwegian banding public wore the expression of punch drunk fighters. The Austrians were sensational.

Exhibition bouts are one thing though – raw brawling in the contest ring, quite another.

If they can finally deliver under the glare of the more intense competitive scrutiny, not once, but twice in the same weekend, then the title could be theirs.

It would be the ultimate confirmation of their greatness as a world class band.

Freak punch

These five contenders seem to have the edge over their rivals on paper, but as with any heavyweight bout there is always the element of unpredictability or a freak knockout punch being delivered.

The Belgian's of Nord Limburgse and the Scots of Co-operative Funeralcare may well be the two contenders who are able to deliver just that on the weekend – especially as they have two of the most talented conductors in their corners dictating the tactics.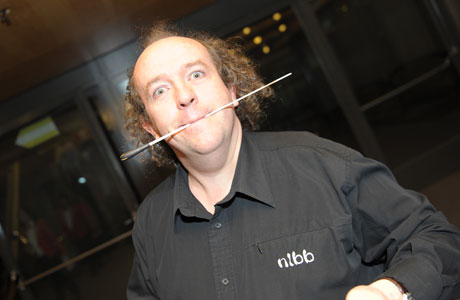 A heavyweight the size of a flyweight - the great Ivan Meylemans

Impressed

Limburgse impressed everyone last year in Montreux in coming fifth under the direction of the mercurial Ivan Meylemans, who is certainly a heavyweight talent, even if he's only knee high to a middleweight's jockstrap in height.

He is a real artist with the baton in his hand though, allowing his band to impress time and time again with its lucid musicality.

The test piece may just be up their street, so another top six finish or even better could be well within their capabilities.

Defy the bookies

Allan Withington has already tasted success at this event – although that was over a decade ago now with Brighouse & Rastrick.

He's come close since, and remains perhaps the most potent musical force in this line up, although he will have to defy the bookies odds if he can lead Co-operative Funeralcare to the title.

The Scottish representatives have played the part of hapless punch bag sparring partners at this contest over the last few years, but Co-op has an impressive European pedigree to fall back on.

They will need to draw on that experience and perform well above expectation to make a real mark, but they are returning to something close to their best form of late, so don't be surprised if they take out a few unwary rivals will a well aimed musical uppercut or two.



The future is bright - the future is Schoonhoven orange

High class cruiserweights

Ensemble de Cuivres Valaisan and Brass Band Schoonhoven shouldn't be underestimated – although both seem to have the look of high class cruiserweight contenders in this company.

The Swiss certainly punched above their weight in claiming their National title late last year with a purposeful musical approach under the talented Jean Francois Bobillier that floated like a butterfly and stung like a bee on the noses of their rivals.

A win here is a bit of a long shot, but not so a top six finish for a band that has a classy finesse about its contest work.

Bigger and beefier

The same applies to the Dutch champion Schoonhoven, who surprised many in coming a well deserved fourth last year.

They return bigger and beefier in the power stakes (they retained their National title with a real stamp of authority late last year), although their top notch MD Erik Jannsen really does have the delicacy of touch that can wipe a bead of sweat from the forehead of a charging rhino.

Another top six finish is well within their capabilities if they deliver above expectations once again.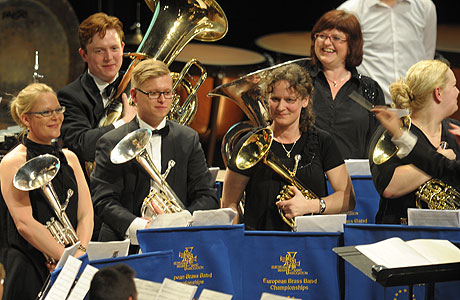 Wily campaigners Lyngby Taarbaek

Wily campaigners

That leaves the vastly experienced Danish challenger Lyngby Taarbaek and the French contenders, Brass-Band Nord Pas-de-Calais.

The Danes are wily campaigners at this level, invariably picking own choice selections that highlight the strength of their raw power, even if the finesse is at times lacking.

Selmer Simonsen is also a very intelligent MD, who also knows how to play the power game to good effect.

Sometimes it works, sometimes it doesn't, but on this weekend in particular Lyngby will have to show more than just a brave heart if they are to make a mark on the top six places.

Never know

You never quite know what you will get with the French of course – bluff pride and a show of misplaced bravura before a weak surrender to superior firepower, or a hard bitten determination and real flashes of Gallic flamboyancy in a bid to overcome the odds.

Russell Gray certainly knows who to marry together both contrasting elements, so beware the French on this occasion – they could well be the surprise package of the whole contest.

Iwan Fox
---
As for a winner?
Now you are asking.

Somehow you get the feeling that the Norwegians are the bands to beat – with Eikanger in particular sounding more and more impressive each time you hear them under David King.

He knows just what it takes to win this event – and has a band that appears to have few, if any, weaknesses. Their hearts beat as slowly as their walk onto the contest stage – even under the most intense of pressure.

Manger on the other hand has a collective heart rate that rattles along like an express train – although in doing so they can deliver performances that can boil the blood in the veins of listeners.

They live and die by the sword – and wouldn't have it any other way. They will give it their all in defence of their title.

Cory and Dyke will provide the greatest threat to another Viking victory, although you sense that both will have to deliver something exceptional to deny them. It may just be beyond them.

The Austrians will of course thrill your pants off, but may just fall short too, whilst Limburgse and Co-op should be good enough to battle it out for the final top six place ahead of the other contenders.

4BR Prediction:

1. Eikanger Musikklag
2. Manger Musikklag
3. Cory
4. Black Dyke
5. Brass Band Oberosterreich
6. Nord Limburgse

Dark Horse: Co-operative Funeralcare