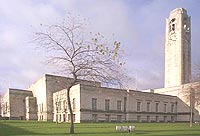 Saturday 17th March

Adjudicator: Steve Sykes

Test Piece: Cross Patonce (Goff Richards)

Commences: After Third Section results
---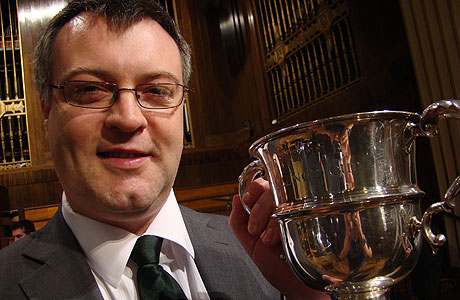 Can Llwydcoed retain its title this year?

The Welsh love a good bit of non conformist religion to bring the best out of them.

Those brought up in the Sunday School tradition will know a good fire and brimstone story when they hear one - although the Biblical 'Three Kings' were not Barry John, Phil Bennett and Gareth Edwards.

Musical cross

That said, the Welsh have also fallen out of love with all things chapel over the last couple of decades, so it may be about time their reacquainted themselves with a stiff musical cross or two.

However, as well crafted as Goff Richards's 'Cross Patonce' is, this particular test piece may not be the calling card for all things great and glorious that these bands may have hoped to have had to play this year to get to Cheltenham.

It has been nailing up contest winning aspirations around the country quicker than a 'Buy One Get One Free' crucifixion sale in ancient Judea.

Very difficult

Technically it has proven to be very difficult for bands – from the treacherous opening euphonium cadenza and lyrical sweetness of the central interlude, to the lightweight, breezy joyfulness of the finale. Not many bands have been able to play it – and play it well.

Hopefully that will change on Saturday as a strong set of contenders seek to head to Cheltenham where Wales has a remarkable recent record to maintain.

Fine record

Despite last year's qualifiers coming 7th & 15th, the nation can still boast four successive wins up to 2011, whilst last year was the first time in five that at least one band hasn't ended in the podium places.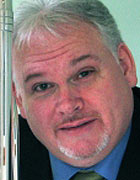 Plenty to aim for then if they can catch the ear of Steve Sykes (right) in the box.

Contenders

The list of contenders is headed by Blaenavon Town, who last qualified in 2008.

5th last year, they are making solid progress under Andrew Protherough-Jones, coming 5th at the Welsh Miner's Entertainment contest and 3rd in the First Section at their home town event late last year.

Hat trick

Meanwhile, Goodwick Brass will be looking to make it a hat-trick of Area wins after retaining the Third Section last year.

Matthew Jenkins has a wonderful bunch of maturing youngsters under his command, who continue to make remarkable progress.

They were unlucky not to have claimed the National title in Cheltenham where they posted their second successive podium finish, whilst they also won the Blaenavon contest in some style late last year.

This may be another step up in class, but you suspect they will be well prepared and determined to add another title to their CV.

Living memory

Colin Hogg will direct the well prepared assault of Gwaun-Cae-Gurwen, as 'GCG' as they are universally known look to claim their first qualification finish in living memory.

Nobody quite knows when they last appeared at the National Finals, so a return is long overdue for a hard working band that showed good form in coming 6th at the Welsh Miners Entertainment contest and in claiming a podium finish at Blaenavon.

Talent

The talented Paul Hughes brings the solid looking Llanrug down from North Wales as they seek to build on last year's encouraging 4th place finish.

They will come in decent shape too with a good win in the Second Section at the North Wales BBA contest late last year.

Defending champion

Second Section Welsh League champion Llwydcoed should be one of the short priced favourites to return to Cheltenham after winning this title last year and going on to come 7th at the Finals.

Gary Davies has a very strong band under his wing that will fancy their chances on this piece.

The winners of the Second Section at Blaenavon should be in the mix if they play to form once more.

Mid Wales

The purposeful Mid Wales challenge will come from Newtown Silver, as Steve Edwards continues to build a very capable contesting outfit under his baton.

6th last year was an encouraging return for a rebuilding band, so perhaps a bit more is expected this time out after coming 2nd in the Second Section at the North Wales BBA contest.

Cracking job

Alan Bourne continues to do a cracking job at RAF St Athan, especially at a time when the air force base is under threat.

They last qualified in 2005, but with encouraging performances at Blaenavon in the top section and at the Welsh Miners Entertainments contest where they came 3rd, they could well fancy their chances of returning this year.

Return

So too Royal Buckley Town, as they look to claim a Finals place for the first time since 2009 and build on the fine performance they gave here last year in coming 3rd. They could be a bit of a dark horse once more.

Finally, promoted Treherbert makes its second successive appearance after ending a four year absence last year when they came 2nd in the Third Section.

An impressive runner up spot at the Miners Entertainment contest and 11th place at the National Finals indicates that they are once again on the up.

Iwan Fox
---
Who will win?
Two bands stick out this year for us in the increasingly impressive Goodwick and the very solid Llwydcoed. We think these two should be favourites to claim the qualification places although Llanrug could be a real threat.

Royal Buckley and Newtown should do well, with RAF St Athan filling the top six places. Our dark horse is Treherbert.

4BR Prediction:

1. Goodwick
2. Lywdcoed
3. Llanrug
4. Royal Buckley
5. Newtown
6. RAF St Athan

Dark Horse: Treherbert
---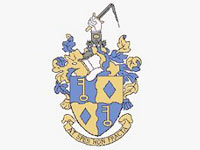 Blaenavon Town
Conductor: A. Protheroe-Jones

Last 16 Years:
2011: 5th (A. Protheroe-Jones)
2010: 5th (A. Protheroe-Jones)
2009: 6th (L. Price)
2008: Winners of Third Section (L. Price) (prom)
2007: 6th (A. Jones)
2006: 4th (A. Hathaway)
2005: 9th in Second Section (M. Jones) (rel)
2004: 10th (G. Edwards)
2003: 4th (B. Davies)
2002: Winners of Third Section (B. Davies) (prom)
2001: 4th (B. Davies)
2000: 6th (B. Davies)
1999: 2nd in Fourth Section (prom)
1998: N/K in Fourth Section
1997: DNC
1996: N/K
---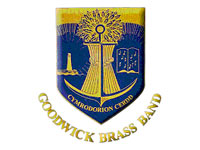 Goodwick Brass
Conductor: Matthew Jenkins

Last 16 Years:
2011: Winners of Third Section (M. Jenkins) (prom)
2010: Winners (M. Jenkins)
2009: 6th (C. Hogg)
2008: 5th (G. Ritter)
2007: 3rd (G. Ritter)
2006: 4th in Fourth Section (G. Ritter) (prom)
2005: 8th (G. Lane)
2004: 2nd (D. Wheeler)
2003: 9th (D. Wheeler)
2002: 8th (D. Wheeler)
2001: 7th (D. Wheeler)
2000: DNC
1999: 15th
1998: DNC
1997: DNC
1996: DNC
---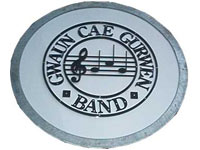 Gwaun Cae Gurwen
Conductor: Colin Hogg

Last 16 Years:
2011: 9th (G Davies)
2010: 6th (G. Davies)
2009: 4th in Third Section (G. Davies) (prom)
2008: 4th (G. Davies)
2007: 3rd in Fourth Section (G. Davies) (prom)
2006: 5th (G. Rhys Davies)
2005: 5th (R. Williams)
2004: 6th (R. Williams)
2003: 10th (R. Williams)
2002: 10th (R. Williams)
2001: 10th in Third Section (T. Charlton) (rel)
2000: 7th (T. Charlton)
1999: 12th
1998: 10th in Second Section (rel)
1997: 8th
1996: 11th
---
Llanrug
Conductor: Paul Hughes

Last 16 Years:
2011: 4th (P. Hughes)
2010: 4th (P. Hughes)
2009: 8th (P. Hughes)
2008: 8th (B. Connolly)
2007: DNC
2006: DNC
2005: 5th (T. Wyss)
2004: Winners Second Section (G. Saynor) (prom)
2003: Winners (G. Saynor)
2002: 3rd (P. Hughes)
2001: 3rd in Third Section (P. Hughes) (prom)
2000: 2nd (P. Hughes)
1999: 7th
1998: Winners of Fourth Section (prom)
1997: 11th in Third Section (rel)
1996: N/K
---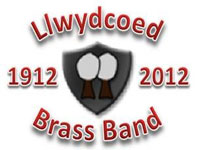 Llwydcoed
Conductor: Gary Davies

Last 16 Years:
2011: Winners (G. Davies)
2010: 2nd in Third Section (G. Davies) (prom)
2009: DNC
2008: 6th (R. Griffiths)
2007: Winners of Third Section (A. Davies) (prom)
2006: Winners of Fourth Section (A. Davies) (prom)
2005: 2nd (A. Davies)
2004: 12th (A. Davies)
2003: DNC
2002: DNC
2001: DNC
2000: DNC
1999: 14th
1998: N/K
1997: N/K
1996: N/K
---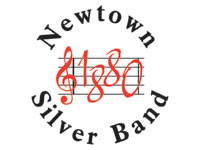 Newtown Silver
Conductor: Steve Edwards

Last 16 Years:
2011: 6th (S. Edwards)
2010: 10th (S. Edwards)
2009: 5th (S. Edwards)
2008: 4th (S. Edwards)
2007: 9th (S. Edwards)
2006: 4th (S. Edwards)
2005: Winners of Third Section (S. Edwards) (prom)
2004: Winners of Third Section (S. Edwards)
2003: 8th in Second Section (H. Gibb) (rel)
2002: DNC
2001: DNC
2000: 4th in Third Section (S. Edwards) (prom)
1999: 6th
1998: 2nd
1997: 10th in Second Section (rel)
1996: 9th
---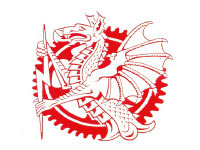 RAF St. Athan Voluntary
Conductor: Alan Bourne

Last 16 Years:
2011: 8th (A. Bourne)
2010: 12th (A. Bourne)
2009: 6th in First Section (A. Bourne) (rel)
2008: 8th (A. Bourne)
2007: 8th (A. Bourne)
2006: 3rd in Second Section (A. Bourne) (prom)
2005: 2nd (A. Bourne)
2004: 3rd (A. Bourne)
2003: 6th (A. Bourne)
2002: 11th in First Section (A. Bourne) (rel)
2001: 5th in Second Section (A. Bourne) (prom)
2000: 4th (A. Bourne)
1999: Winners of Second Section
1998: 8th
1997: 9th
1996: 5th
---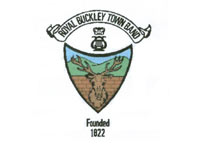 Royal Buckley
Conductor: S. Lloyd

Last 16 Years:
2011: 3rd (M. Bousie)
2010: 7th (J. Doyle)
2009: Winners of Third Section (P. Lovatt-Cooper) (prom)
2008: 7th (D. Beckley)
2007: 5th in Second Section (P. Lovatt-Cooper) (rel)
2006: 7th (P. Lovatt-Cooper)
2005: 8th (S. Tighe)
2004: 2nd Third Section (G. Thomas) (prom)
2003: 5th (D. Roberts)
2002: 4th (D. Roberts)
2001: DNC
2000: 5th in Second Section (G. Thomas) (rel)
1999: 9th
1998: 6th
1997: 6th
1996: 3rd
---
Treherbert and District
Conductor: Craig Roberts

Last 16 Years:
2011: 2nd in Third Section (C. Roberts) (prom)
2010: DNC (rel)
2009: DNC
2008: DNC (rel)
2007: 2nd in First Section (G. Shepherd)
2006: DNC (rel)
2005: 8th in Championship Section (G. Sheppard)
2004: 10th (G. Sheppard)
2003: Winners of First Section (G. Sheppard)
2002: 5th (G. Sheppard)
2001: 2nd (G. Sheppard)
2000: 8th (G. Sheppard)
1999: 5th
1998: 3rd in Second Section (prom)
1997: 2nd in Second Section
1996: DNC
---
Past Qualifiers:

2011: Llwydcoed, Lewis Merthyr
2010: Tylorstown, Deiniolen
2009: City of Cardiff (Mellingriffith), Deiniolen
2008: Point of Ayr, Tylorstown Arriva Trains
2007: Newbridge (Celynen), Beaumaris B
2006: Newbridge Celynen, Tylorstown
2005: Deiniolen, RAF St. Athan Voluntary
2004: Llanrug, Markham
2003: Llanrug, Penclawdd
2002: Penclawdd, Rhyl
2001: Royal Oakley, Ammanford Town
2000: Rogerstone, Rhyl
1999: RAF St. Athans, Pontardulais Town
1998: Pontardulais, Deiniolen
1997: Rhos, Treherbert and District
1996: Burry Port, Rhos
1995: Burry Port, Rhos
---
Welsh bands at the Finals:

2011: 7th, 15th
2010: 1st, 16th
2009: 1st, 14th
2008: 1st, 5th
2007: 1st, 2nd
2006: 3rd, 12th
2005: 12th, 16th
2004: 4th, 16th
2003: 12th, 14th
2002: 10th, 17th
2001: 1st, 16th
2000: 13th, 14th
1999: 5th, 12th
1998: 5th, 10th