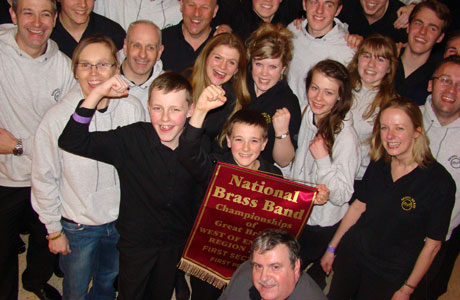 A journey no yet over for Brunel Brass

The overriding emotion on show from Brunel Brass after the announcement of the results was of calm purposefulness.

The initial celebrations had given way to a realisation that their remarkable contesting journey was still far from finished as MD, John Winterflood gathered his players together and read them the judges remarks.

New identity

They were no longer the National Second Section Champions of Great Britain.

This victory brought them yet another new identity – this time as West of England First Section champion. It was thoroughly well deserved.

Remarkable

The latest peak to be conquered in a remarkable ascent that will surely only plateau when they reach the Championship Section, was claimed with a performance of outstanding musical maturity.

No one in the hall could have disagreed with the decision of adjudicator's Jim Davies & Chris Wormald in a contest that was won with a rendition of 'Mountain Views' that was a class apart.

Tensing

Jim Davies gave a light-hearted, but pin pointedly accurate address prior to the results.

Having conducted the piece a week earlier in Yorkshire, he knew it very well indeed – especially its unassuming pitfalls and traps.

Bertrand Moren's test piece may not have been Everest like in its challenges, but it was like listening to Sherpa Tensing giving a 'how to' guide to fellow musical mountaineers on what to watch out for on their way to the summit.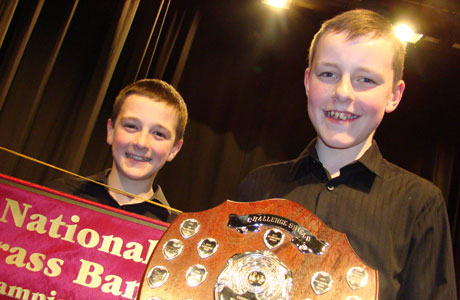 Brunel's likely lads

Brunel's composed assault was led by their MD with a sense of authority that ensured that his players set off with the right musical equipment.

As a result they never put a foot wrong as they gradually put increasing distance between themselves and their rivals on each upward step towards Cheltenham.

Colourful, vibrant, beautifully balanced – and all played with a control of dynamic and tempo that was as good as any heard at any Area contest this year, they claimed their fourth Area title since 2007.

John Winterflood may have been temporarily lost for words, but it wasn't from high altitude oxygen deprivation – just sheer head in the clouds joy.

Right old scrap

The chase for the other qualification spot proved to be a right old scrap, with four of the first seven bands finding their way into the top six.

Equally ecstatic in their post results celebration was Chalford.

Under the direction of Steve Tubb, they will make the short journey to Cheltenham after delivering an atmospheric account of their mountain vista from the number two draw.

Once again, the slow burning precision of their opening (just as Jim Davies had started with Drighlington) gave them an impressive platform to build on.

Toe hold

Lanner & District Silver sent the judges to their mid contest comfort break with a rendition that just lost its toe hold in the Cheltenham summit camp with Brunel's penultimate performance that followed.

Melvin White is a master at coercing solid musical performances from the bands he conducts.

Beauty

Knowing exactly what was required, he laid out a persuasive account with Michelmersh Silver that although lacking the drama and precision of the qualifiers still evoked the beauty of the Swiss Alps without ever resorting to chocolate box musical imagery.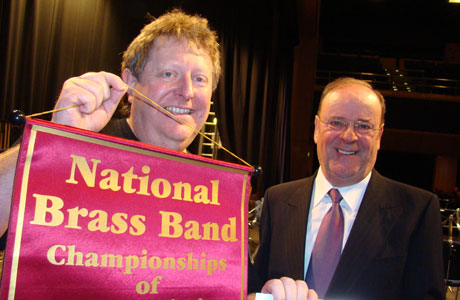 Heading to Cheltenham for Chalford

Well managed

Just behind them came a trio of well managed performances from Camborne Brass, Shrewton Silver and Filton Concert Brass.

The youthful Camborne Brass (although they now contain more than a sprinkling of mature experience) delivered a performance that oozed confidence and composure especially in the atmospheric opening.

With the loss of a player due to a family bereavement just days before the contest, Alan Pope covered the loss of parts with sympathetic camouflage work. In the circumstances, fifth place was a fine achievement.

Robust

Shrewton Silver's account under Michael Dunford was a more robust account, full of drama and colour, although it did get a little edgy in places as the cornet section scrabbled on the loose musical screed.

Meanwhile, Tom Davoren's Filton Concert Brass seemed on track to claim a possible qualification spot only for a lack of stamina as they approached the summit to undermine their chances.

The decision to set off at a pulsating pace very nearly came off – but not quite, as they were left just gasping for air by its close.

These seven bands certainly showed the ensemble quality to conquer the technical challenges of the set work, even if some of the musical approaches were a little more questionable in their ambition.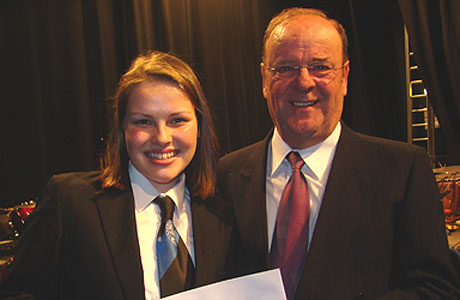 Just missing out for Lanner & District in third

Different story

Behind them, it was a slightly different story.

Both St Keverne and Yeovil made far too many unforced errors to have given themselves any real chance of pushing for a podium finish.

Both Gareth Churcher and Ian McElligott drew richly coloured musical accounts from their bands, although each was scarred by technical flaws that just blighted the landscapes.

It was like seeing the odd burnt out car half way up Ben Nevis.

Exciting

The same applied to Hyde, despite an exciting interpretation from Helen Kinder and her band.

In the end, the desire to impress the judges by providing ever more colourful vistas left everyone exhausted.

Contrast

In contrast, Helston Town's pastoral musical imagery seemed to evoke a peaceful bucolic beauty under John Hitchens. It may have lacked raw power, but its sense of control and reflection was a lovely antidote to some feverish interpretations.

They can count themselves more than a little unlucky to come where they did.

Struggle

For the bottom three bands, a bit of a struggle.

Verwood Concert Brass and Poole Borough never really settled after nervous starts, whilst Forest of Dean's rather peculiar seating arrangement, which saw the trombones on the left and the cornets on the right gave a puzzling balance to the ensemble that certainly didn't find favour in the box.

The day and the contest belonged to Brunel Brass. Another summit conquered in Torquay, another awaits in Cheltenham.

They have got their climbing boots on already.

Malcolm Wood