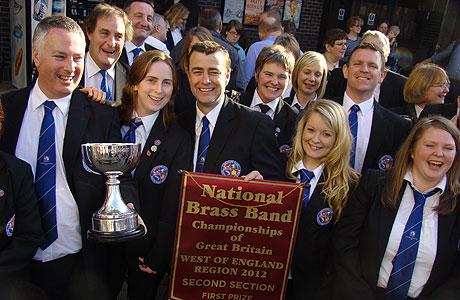 A long wait over for Lympstone

In years to come brass band historians will look at the record books and see the bare facts.

They won't tell half the story of the horrendous problems bands faced up and down the country on 'Cross Patonce'.

Headstones

The eight Area winner's names will be engraved upon the various trophies from Torquay to Glenrothes: Countless others will be chiselled into the headstones of endeavour in the banding graveyards at all stops in between.

Not even the Appian Way was lined with as many musical crucifixions as could be found on the roads back to bandrooms after Second Section Area contests.

Whoever took the role of Pontius Pilate from the Music Panel can't wash their hands of responsibility on this one.

Battle

16 good quality Second Section bands battled in vain in Torquay to overcome a test piece that was simply far too hard for them to master.

That said, some MDs will have to shoulder a modicum of blame for helping to string their bands hopes up like Spartacus, but the vast majority were powerless to try anything other than use their experience and knowhow to keep their chances of a possible qualification place alive as long as they could.

Admirable efforts

It made for a disappointing contest, despite the admirable efforts of players and conductors to overcome the demanding technical hurdles that they faced from almost the word go in Goff Richards' set work.

Lympstone South West Telecoms and Otterbourne Brass headed to Cheltenham with contrasting performances that benefitted from every last morsel of experience MDs Charles Fleming and Gareth Prichard had gained in their varied careers.

Neither will have worked so hard for such rewards though.

The celebrations from both bands were a heady mix of joy and relief. Charles in particular seemed like a man who had just won the National Lottery jackpot on a pick and mix ticket.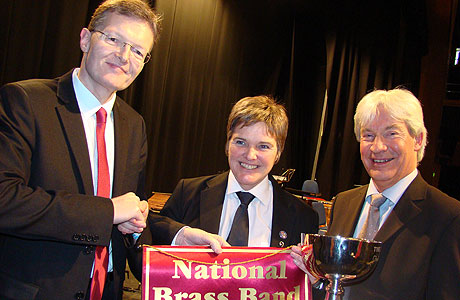 Congratulations for Lympstone from the judges

Deserved success

Both deserved their success.

Lympstone's excitable account was full of pace and colour – especially in the outer movements (something which adjudicators Tony Swainson and Chris Wormald picked up on).

It was edge of the pants stuff at times, but played with a lightness of touch and neat style it just about came off, with a fine solo euphonium contribution the key to settling early nerves.

Reflective route

Otterbourne meanwhile choose a more reflective route.

Less colourful and excitable, Gareth Pritchard ensured that it was the central lyrical section that bore the hallmarks of excellent ensemble delivery – also aided by strong solo contributions.

Neither band came through unscathed, but they were not beaten by the demands of a work that tested technique and musicality to the very limits.



Success for Otterbourne

Notable efforts

There were notable efforts from the bands that came behind them in the results table – although none were performances that really sounded at ease.

Pendennis Brass and Sidmouth provided the judges with two early markers under the direction of Steve Thomas and Adrian Harvey respectively.

Pendennis overcame a nervous start to build in confidence in what became an exciting account, whilst Sidmouth also built from early nervousness with a less secure but more refined appreciation of the lyrical qualities of the score.

Benefit

The remaining top six places were taken by Phoenix Brass (Crewkerne) who benefitted from a fine euphonium lead to start, but who just fell away as tiredness crept into the final movement, and Weston Brass.

They also opened confidently and seemed to be on course for a possible podium finish only for a scrappy finale to cost them a few too many lost points.

Hard task

In the box, Tony and Chris would have had one heck of a task in comparing and contrasting the performances that filled the midfield places.

City Bristol benefitted from a fine reading from Ceri Thomas but couldn't quite put his intentions into practice to end seventh, whilst St Pinnock can count themselves more than a little unlucky.

Their promising performance was struck a fateful blow as their fine euphonium player had to try and perform on an instrument that literally fell apart in her hands.

It was a bitter twist of contesting fate for a young band full of potential.

Bold

A bold Soundhouse Brass, led with animated intent by Simon Badge claimed ninth, whilst Ocean Brass produced a breezy account that was just blighted by a high error count in the main solo lines.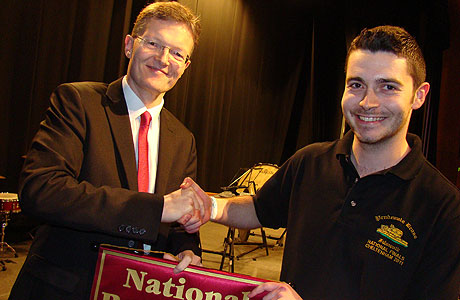 Just missing out for Pendennis

Problems

The bottom six bands encountered real problems.

Cinderford (who had the best sop of the day) just got over excited dynamically to rob their bold approach of control, whilst Bugle (with a fine euphonium) saw their chances undermined by poor ensemble tuning.

Resplendent

Swindon Pegasus, resplendent in what looked like replica Black Dyke uniforms, couldn't quite match the neatly shaped musicality of the second movement with secure technicalities in the outer ones, whilst the youngsters of Heyl gave it their all in an enthusiastic rendition under the direction of ex Dyke man David Loukes.

Wotton struggled and so did Bath Spa on a piece that asked a few too many questions of their abilities, despite some notable individual efforts from around the stands.

The record books will record Lympstone's victory and Otterbourne's qualification for Cheltenham.

The pity is that they won't record the difficulties they, and all the competing bands here, had to unnecessarily try and overcome to get there.

Iwan Fox