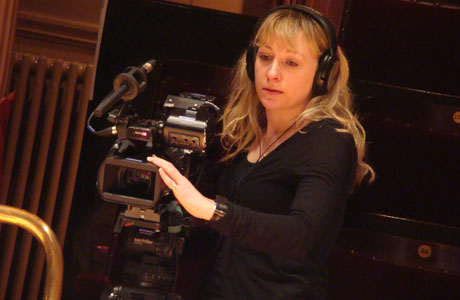 Lights, camera, action...

The crowds of people waiting to get in to find their favourite seats at St George's Hall told the story: The Yorkshire Area contest in Bradford still remains the place to be if you seek brass banding in the raw.

Either that, or like 'Songs of Praise', the usual contesting congregation is swelled in numbers when the cameras arrive.

They were packed in for the Championship Section finale (over 900 tickets were sold) like those open mouthed goldfish hymn singers you see on a Sunday tea time.

It made for a great atmosphere though – and not a single 'Sunday best' hat in sight.

Winners

This time it was an independent programme maker who was putting together a show called 'Winners', which will be hopefully aired sometime in June or July on Sky 1.

They followed a number of the competing bands – Grimethorpe, Horbury Victoria, City of Bradford and Dinnington Colliery amongst others, and unlike the 'Band for Britain' series which was aired with a patronising sneer of middle class disdain, the producers told 4BR that they hoped this one hour programme will show the movement in a much more positive light.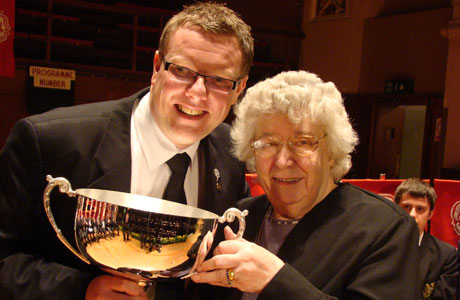 A great lady and a great player: Muriel Newsome and Richard Marshall

Devil Incarnate

Unfortunately, for Sky's Devil Incarnate, James Murdoch, the title may have to be changed, as all four found that their luck was out – with Grimey in particular wondering if their old MD Frank Renton had decided to send them to hell in a handcart.

There can't have been too many people in the hall on Sunday night who was left wondering if Frank wasn't auditioning for a role as the Devil's Advocate.

His well disguised pre-results address to the faithful turned out to be nothing more than an eloquent unfulfilled prophesy when Brighouse was announced in second place.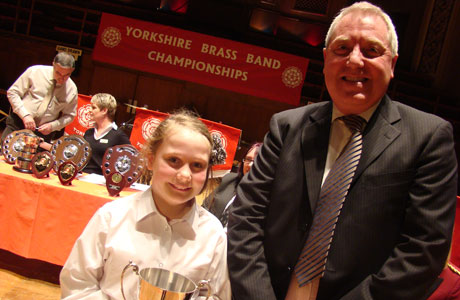 Youth and beauty: Youngest player Frayer Mallinson meeets Mike Kilroy...

Intrigue

It wouldn't be Bradford though if the contest weekend, which was once more expertly run by Peggy Tomlinson and her tremendous team of helpers, didn't have the extra bit of intrigue and Devilish mischief making.

In contrast, it was wonderful to see Muriel Newsome presenting prizes in the Championship Section, especially after there was a heartfelt show of respect to the memory of her late husband before the contest with a prolonged round of applause, which spoke louder than a thousand misplaced words.

Goff Richard's widow Sue also made the trip to hear one her late husband's finest works played in the Second Section too.

The Yorkshire Regional Committee deserve a great deal of praise for ensuring that it is just the memories that gradually fade from view over time – and not the people who have contributed so much to making this a great event.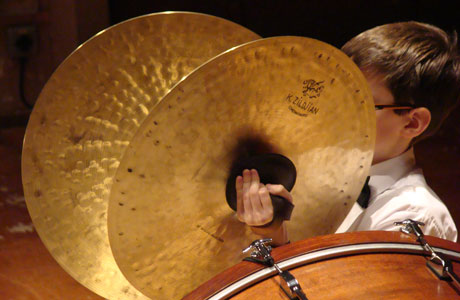 Watch your head!

Encouraging signs

Elsewhere, there were signs that the lower echelons of Yorkshire banding are very much on the up, with a fine Fourth and Third Section events providing qualifiers who could really make a mark come the finals in Cheltenham.

The Second and particularly the First were packed with strong sounding bands too, although the Championship Section remains in desperate need of a well managed cull.

If there 13 true top section bands in these parts then the Devil himself is behind the master plan – either that or Rupert Murdoch or even Frank Renton...

Iwan Fox