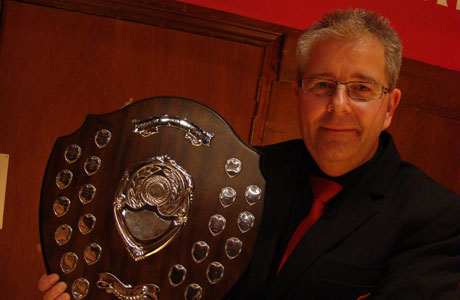 United I stand! Unite the Union's rep takes the glory by himself...

Sunday's musical aperitif to the meaty main course that was to follow later in the afternoon proved to be an engaging competition that provided ample confirmation that at present, Yorkshire is home to a host of strong, well equipped high quality First Section bands.

Evocative

The county may be more famous for its moors rather than its mountains, but Bertrand Moren's test piece brought out a number of powerfully evocative musical vistas.

As a result, two cornet legends of different vintages, John Berryman and Alan Morrison, were faced with the problematic task of making the decision on who would and wouldn't head to Cheltenham.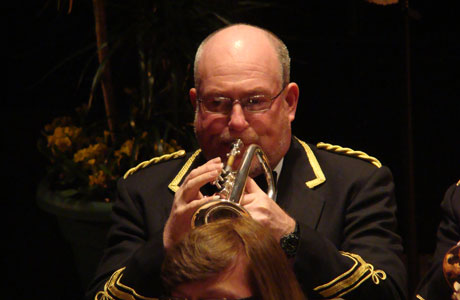 The great Peter Roberts shows his class once more...

Alan took the opportunity to give a thoughtful, but hard hitting analysis that was welcomed by an audience that appreciated a bit of straight no nonsense talking.

No doubt

As an appraisal it left no one in any doubt to what the pair were looking for in the box; from the shaping of elongated phrases and ensemble intonation to dynamic contrasts and levels, tempi and even the composer's programme notes.

It also allowed John Berryman the opportunity to add an expertly well mannered condemnation of the modern day tendency of bands to overblow.

'Nothing louder than lovely' may have been a favourite reminiscence, but it still made for a very pertinent description of the more strained dynamic responses that blighted the chances of some bands on the day.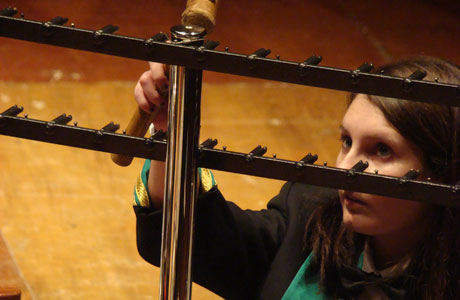 For whom the bell tolls for Drighlington's perc player...

Book end

The draw meant that the two qualification spots were not decided until the final bars of 'Mountain Views' had rang out in the lively St George's Hall acoustic.

The contest started with a fine performance and ended with one; Unite the Union (City of Sheffield) and Yorkshire Imperial Urquhart Travel bookending the competition by claiming well deserved places at Cheltenham.

Commanding

Derek Renshaw drew a commanding performance full of clarity and control from Unite the Union to claim the title.

The musicality fashioned from the atmospheric opening set the tone for an interpretation based on tastefully shaped musical values.

It was elegant, eloquent playing from what is fast becoming an increasingly impressive band.

Eight contrasting performances later and Yorkshire Imperial Urquhart Travel took to the stage intent on securing their finals place - something they did thanks to a dynamically coherent account that MD Dave Nesbitt ensured played to their core strengths.

Included in that was some cracking percussion work from 12 year old James Howard, despite him having to stretch every inch to keep the bass drum upright.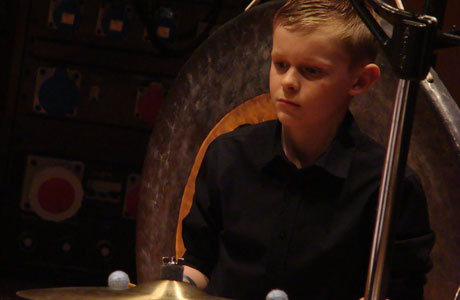 Star percussionist James Howard of Yorkshire Imps

Controlled

Kippax conducted by a relaxed David Lancaster delivered a very controlled performance that grew in colour and purpose, and certainly benefited from Peter Roberts rolling back the years on soprano.

What do they say about the difference between form and class?

Third place was a fine result, but the West Yorkshire outfit could consider themselves a little unlucky to have come across two rivals on very good form indeed.

Descriptive

Jim Davies' descriptive account with Drighlington was another performance that was intelligently portrayed with balanced dynamics and well chosen tempo's.

Principal cornet Nick Payne took the 'Best Instrumentalist' Award for his fine contribution, although the MD will have known that his cornet section lost concentration on a couple of crucial occasions.

Offset

A small faux-pas meant that it was Knottingley's principal cornet that was initially announced as the prize winning instrumentalist, but the disappointment of not claiming an individual award was offset for Owen Wedgewood's band in coming a solid fifth.

The final top six place went to Stannington who opted for the most direct of mountain routes in their bid to reach the qualification summit, only to find that a more leisurely approach may have paid better dividends.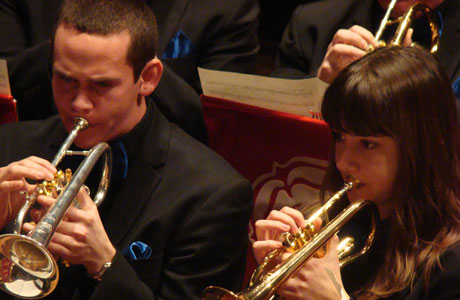 Stannington's direct route for sixth place

Variable

Behind them the standard was a little more variable, although each of the performers and their MDs came away with a great deal of credit.

Leigh Baker's South Yorkshire Police fresh from Second Section promotion will have probably headed home a touch disappointed at finishing seventh after producing a performance that was always engaging listening, if a touch robust on the ear.

Hatfield meanwhile, led by Graham O'Connor (a man who has climbed a medical mountain and more in the last year) delivered a committed and very descriptive rendition that occasionally just got a little edgy.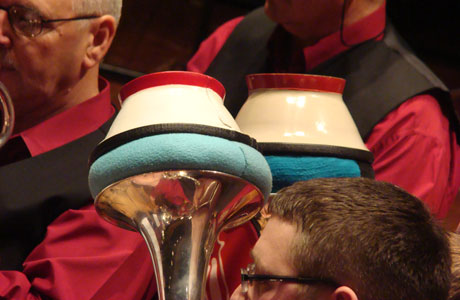 Muffled sounds from Knottingley

The bottom two places went to Frickley South Elmsall and Old Silkstone, both of who suffered more than their fair share of niggling slips that were to prove costly against the quality of this particular field of rivals.

Form

On this form both Unite the Union and Yorkshire Imperial Urquhart Travel will travel to Cheltenham confident that they will be able to meet the challenges of the very best bands from around the country.

If that's the case then Yorkshire could very well be celebrating a band that has reached a very impressive summit of achievement.

Malcolm Wood