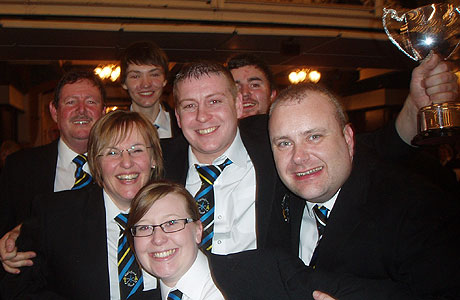 Champions! Rainford celebrate

Sunday afternoon's First Section contest in the ornate surroundings of the Empress Ballroom proved to be an enjoyable, highly competitive affair.

Bertrand Moren's 'Mountain Views' wasn't as tough a musical challenge as bands have faced in this section in some years, (and certainly not as demanding as 'High Peak' at Butlins recently) but it still needed to be played and played well if any of the well matched rivals were going to tickle the fancy of Malcolm Brownbill in the box and head for Cheltenham.
Sun journalist

As you would expect of a former Police Inspector, his straight forward pre-results analysis concentrated on the facts and figures, the details and the evidence of a score that was as transparent as a 'Sun' journalist's expenses claim.
Like Lord Levison, he didn't miss a trick either – and there was plenty going on in some performances, as a number of MD's failed to enhance the meandering melodic line with sensible lyricism and balanced ensemble precision.
Set apart

However, the top four bands painted descriptive musical pictures that set them apart from the rest of the contenders, with the top two exhibiting the type of quality which will be needed if they are to make a mark both at the finals and in the Championship Section in 2013.
The winners fully deserved their place at Cheltenham.
Deserved

Conducted with energy and drive by Neil Samuel, Rainford produced a colourful rendition that contained well defined dynamic contrasts in addition to subtle nuances in phrasing and balance.
Utilising a wealth of experience around the stand from ex Leyland man, Mark Jones, former Black Dyke duo, Danny and Morvern Sinclair and the excellent Natalie Brindle on timpani, the MD ensured the band's warm ensemble sound filled the lively acoustic of the hall without ever seeming forced.
With no problems with stamina and a fine sense of control, it was a worthy winner.

After only two years at this level, Rainford will now gain promotion to the Championship Section – and on this evidence will not be outgunned.

They will be a good eachway bet for a possible National title success at Cheltenham.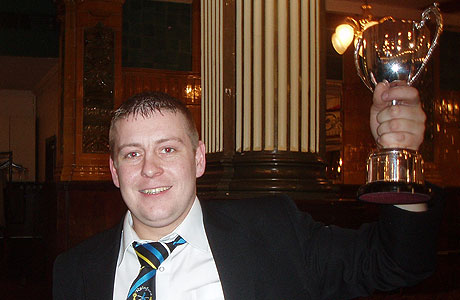 Adam Banks of Rainford lifts the North West Trophy

Sealed trip

The destination of the title as well as the qualification places were still very much up for grabs when Wardle Anderson Brass took to the stage.
However, when they departed, the Lancastrians had just about sealed their trip down the M5, after a stylish interpretation from MD Sean Conway was enhanced by equally stylish playing from all sections of his young band. It too was well worth its Cheltenham reward.
Descriptive

Third placed Poulton-le-Fylde played just before Wardle and brought the descriptive elements of the score very much to the fore under the baton of John Wood.

Just a lack of impetus in the closing sections may have just cost them their chance of a qualification spot, but it was close.
Commited defence

Meanwhile, reigning champion Roberts Bakery certainly delivered a highly committed and energetic account in defence of their title.

Although they won't be going to Cheltenham this year, the experienced Colin Cranson will have taken a great deal of encouragement from a performance that showed that they are in decent shape to make the step up in class to the Championship Section in 2013.

Oldham (Lees) will probably be disappointed at not finishing higher than 5th, after John Collins drew a typically committed, energised account from his players.

Any disappointment though should be balanced with the evidence that just three years into First Section life, a young band can be considered a genuine contender for honours at this level.
Not their day

Pre-contest favourites, Freckleton may have known it wasn't going to be their day as they drew out the dreaded number 1 ball from the velvet bag.
Perhaps that accounted for the annoying number of little errors that crept into a coherent musical reading from Paul Dalton, which was full of energy and colour and which consigned them to 6th place.
Andrew Warriner's Morecambe qualified for Cheltenham last year in the Second Section and gave a persuasive account to finish in 7th place, helped in no small part by the contribution of Stavanger principal cornet Eva Bortne.

Just a couple of insecure moments in the ensemble stopped them from posting a top six finish.
Settled

The other promoted band, Haydock never really settled on their debut, despite some fine individual contributions in a somewhat unevenly delivered rendition under the direction of Mark Quinn, whilst the remaining trio of Diggle, Silk Brass and Manx Concert Brass struggled to make a lasting impression due to a lack of consistency.
All three had their moments, but somehow couldn't quite knit them into a coherent whole.

Picture box patina
'Mountain Views' may not have been the most technically demanding set work, but it did its job thanks in no small part to an adjudicator who used his experience to look beneath the picture box patina to find out which of them really had the potential Championship Section qualities to claim the honours.
Rainford and Wardle did just that – and they could well do the same at Cheltenham on this form.

Malcolm Wood