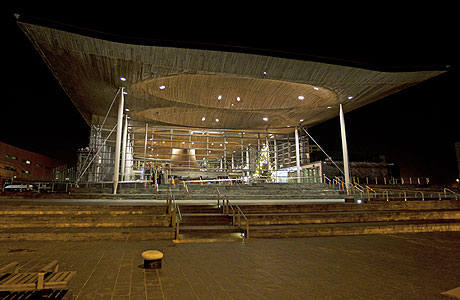 Launch site: The Welsh Assembly Senedd provided the impressive backdrop

The imposing architectural concourse of the Welsh Senedd in Cardiff Bay provided the backdrop to the official launch of 'Brass Band Forum Wales – Fforwm Bandiau Pres Cymru', the new national body of Welsh banding.
Made up of individual membership from across all parts of the Principality, and charged with securing a dynamic future for brass bands and brass band music in Wales, the launch was the culmination of over two years of progress that has seen traditional geographical, social and even political rivalries put to one side.
Relaxed atmosphere

Over 100 invited guests enjoyed the relaxed atmosphere, which saw music provide by a combined 'Young Persons' Band made up of players from North and South Wales, conducted by Alun F Williams and Gwyn Evans, whilst the current British Open champion, Cory provided the post launch entertainment under the direction of Dr Robert Childs.
Perhaps the proudest man at the event was Pedr Roberts, who initiated much of the progress towards the historic launch over two years ago. "It's a wonderful occasion," he told 4BR.

"The new body gives Wales the foundation stone on which to build its future – and one that can benefit bands at all levels throughout the Principality."
Fruits

The fruits of his work have since been taken on by the newly elected Chairman of Brass Band Forum Wales, Iestyn Davies, who used his extensive contacts to ensure that the official launch attracted interest from the political as well as cultural movers and shakers who are based in and around the Welsh Assembly in Cardiff Bay.
Support had come from all banding corners of the Principality, with Gwyn Evans leading a strong North Wales contingent to the capital city, with representatives from Mid, South and West Wales also in attendance.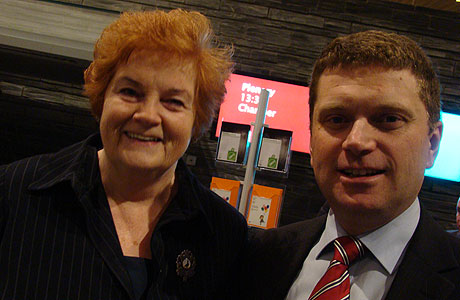 Political duo: Presiding Officer Rosemary Butler and Forum Chairman Iestyn Davies

Political importance

The political importance of the launch at a time when cultural institutions in Wales have been deeply affected by far reaching restructuring was seen with the event being hosted by Rosemary Butler AM, the Presiding Officer of the National Assembly for Wales.

In an informed speech she welcomed the creation of the national body, especially at a time when there was a greater need than ever for social cohesion within local communities.

The President of the Rogerstone Band also revealed that she was also politician with a keen historical interest in banding too.
Museum

Her great grandfather had once played with Tredegar Band before emigrating to America, where as a trumpet player of some repute his instrument now resides in a Wyoming museum.
"I'm thrilled to be able to host this event," she told 4BR. "What is spectacular about Welsh banding is that there is a now a huge ground swell of young people wishing to be part of it.

It's not just about the very top level and the excellence there, it also about the development of a variety of lifelong skills – skills that are encouraged within local communities. I really do support this new body in its aims and objectives."
Right boxes
Her speech was responded to by Iestyn Davies, who ensured that the right boxes were ticked for the assembled politicians as well as setting out his vision for the fledgling organisation.
"This is a real endorsement for Welsh banding and what we hope to try and achieve with the new national body. It was obvious from the conversations we had with elected members that they really value the contribution local bands make within their communities."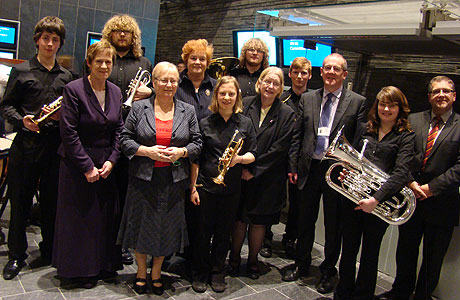 North Wales representation led by Gwyn Evans

Support

Dr Robert Childs also took the opportunity to express his support. "We have so much to be proud of at every level of Welsh banding, that I hope the Forum will be able to enhance that excellence even further – and not just in Wales.

Other countries have given their banding community a great deal of support, so the creation of a true national body to represent our needs here at the Senedd is so important."
Cross cultural links

The sense of optimism and support from other musical areas was also seen with cross cultural links already starting to be put in place.
Dean Wright, principal trumpet of Welsh National Opera added his support to the venture by breaking away from a day of intense rehearsals to make the launch.

"As a former brass band player it's great to see Wales putting something like this in place. There is so much talent here that it really needs a national body to make the most of it."

Making a show: Cory play to the assembled assembly...

Active role

Two of the Principality's leading young conductors also expressed their desire to play an active role in the organisation.
Tom Davoren and Gareth Ritter will work with established conducting and adjudicating figures to promote new musical talent –be it composers, conductors and adjudicators.
Tom told 4BR: "It's an exciting opportunity and one not to be missed. I'm keen to work with as many people as possible to promote what is good about Welsh banding in all its spheres."
That sentiment was echoed by Gareth, "There's a real sense of progress being made – progress that will hopefully secure the future for the next generation of young players throughout Wales. We want to work together to create something of lasting value for Welsh banding."

Cross cultures: Dean Wright and Tom Davoren

Realism

What was most encouraging for the new Chairman Iestyn Davies however was the sense of realism as well as enthusiasm the launch has created.

Immediately following the event he was already talking to contest promoters and conductors at the local Eli Jenkins pub across the road from the iconic Welsh Millennium Centre.
"That summed things up for me," he said. "We have a host of people officially on board and unofficially offering support and commitment to what we want to try and achieve.

All are realistic about where we currently stand and what constructive steps we have to take to secure our aims and objectives."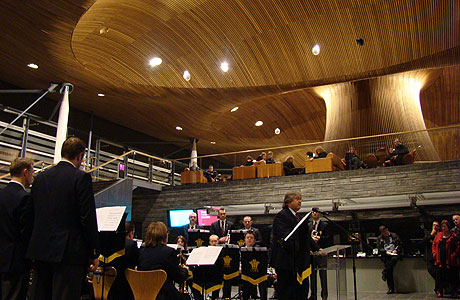 Wooden it be nice to play here more often...

Experience

Iestyn is especially pleased with that the new body has been able to attract many of the leading musical personalities in brass banding in the country to work actively within the new organisation.
"Having people with the experience of Alun F Williams and Gwyn Evans, Pedr Roberts, Austin Davies, Charles White, Gareth Ritter and Graham Howe, as well as the support of some of the most influential people in banding in the UK, gives us a foundation of experience and talent to work from."
However, as he left to get into his car after an historic day for Welsh banding, he replied with a wry smile.

"It's now the real hard works starts."

Iwan Fox