Celebration! Elland start to enjoy that winning feeling...

Blackpool in February maybe cold and windy, but those who wrapped up against the elements to make it to the appropriately named Winter Gardens on Sunday soon forgot about the weather outside as they were warmed up by a musical treat from eight top youth bands from around the UK.
Although the number of competitors was slightly down on previous years, the overall standard of performances certainly hadn't been diluted.

This was once again a great day of visual as well as musical entertainment.

Sympathy

Garry Cutt (Music) and Major Paul Norley (Entertainment) certainly enjoyed the opportunity to adjudicate, although you had plenty of sympathy for the Grimethorpe MD, who was sat behind a curtain all day.
What value there is in closed adjudication for an event such as this is open to question – something Garry himself stated before the announcement of the result?
Enjoy in full

If it's good enough for the best entertainment bands in the UK at Brass in Concert (which offers an invite to performance at the event the winning band), why employ the antiquated system here? Paul Norley didn't have his ears covered in making his visual judgement on the bands.
At this level, both adjudicators should have been given the chance to fully enjoy the entertainment on offer.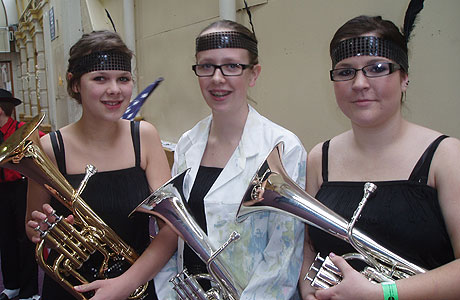 Causing a flap? Not the girls from Elland

With the new Butlins Youth Championship certainly making an impact, Gary Walczak and his hard working team continue to do an excellent job against a backdrop of rising costs and an increasingly busy contest calendar.

In just a few weeks time the National Youth Championships take place in Manchester.
Making this event as 'user friendly' as possible is one heck of challenge then if they are to continue to attract a viable number of competing bands to a big old expensive barn of a place like the Winter Gardens.
Doing their bit

The bands though are doing their bit – quite brilliantly in fact.
The top three in particular were outstanding, producing programmes that were played with verve and musicality, with choreography that wouldn't have been out of place in the West End.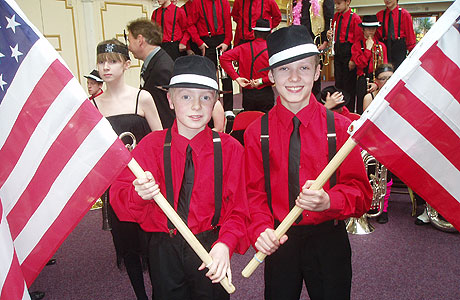 Flying the flag...

Americana

Elland Silver Youth's winning 'Americana' contribution was delivered with such professionalism that it was hard to think that it was being presented by so many, so young.

The stage presentation was magnificent, whilst the playing was just as good – from start to finish.

Sandy Smith's 'Manhattan Skyline' was slick and fizzing, before 'Liberty Bell' duly took the prize for the best march of the contest – played with real Sousa style. The lovely 'Someone to Watch over Me' was followed by a cracking 'Hello Dolly'.
Smile and a wink

Amazingly, MD Sam Harrison seemed to control every aspect with a smile and a wink of appreciation to her young charges.
With a handful of new players making their debuts, Elland claimed the title for the second time in three years and will now make the trip to Gateshead to appear at the Brass in Concert Championship – where everyone can enjoy their efforts – including the judges.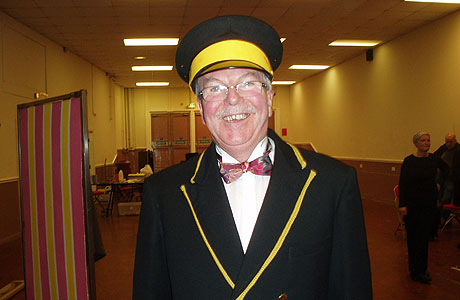 Excellent defence

Rochdale Borough Youth's excellent title defence contained all the inventive hallmarks of its conductor, Eric Landon.
The theme of musical colour was an inspired bit of thinking – something of a Synesthesia inspired programme that added choreography to enhance the music making.

It was also presented with a sense of vibrancy that saw them finish second overall.
Black and gold

The opening 'Paint it Black' was matched by a cracking 'Goldcrest' march, complete with tambourines, before horn soloist Helen Clark delivered a fine account of 'Silver Threads Amongst the Gold'. 'Flash, Bang, Wallop' provided an energetic close.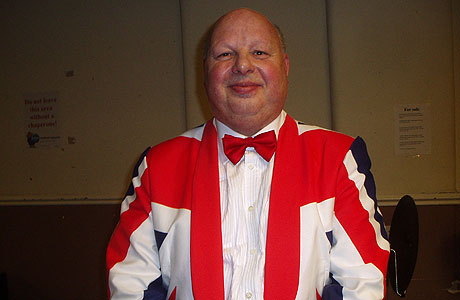 Wearing the flag... the sartorial elegance of MD, Chris Jeans

Olympic theme

Butlin's Youth Champion, Youth Brass 2000 looked forward to the Olympic Games in London, with a powerful set that had the audience on its feet after their choreographed 'Bolero' ended their performance.
MD, Chris Jeans in a UK flag jacket brought the best out of his band with Thomas Fountain reprising his superb rendition of 'Victory' from Skegness to take home the solo prize.

The band will have headed home a touch disappointed in coming third overall and not making it two wins out of two in 2012 – but even an Olympic bronze is something to be proud about.
Space age

Enderby Youth opened the contest with a space age theme.

The playing was admirably tight – full of neat touches and secure solo lines and enhanced by creative stage presentation, which meant you couldn't take your eyes off the stage at any time.
Peter Meechan's 2011 National Youth test piece, 'Sentinel', was given a new twist, which gave the band the accolade of the 'Most Entertaining Item', whilst their young euph star took home the 'Best Euphonium' Award
Delighted

Debutante's Wardle Junior will have headed home delighted by their performance.
Their nautical themed programme was creative and cleverly portrayed (and featured some of the quickest costume changes not even 'Strictly' could beat).

Gwen Smith brought the best out her band that included a fine solo singer and a young man who acted as the link between the pieces and who certainly got into character!

A future on the stages of Broadway beckons.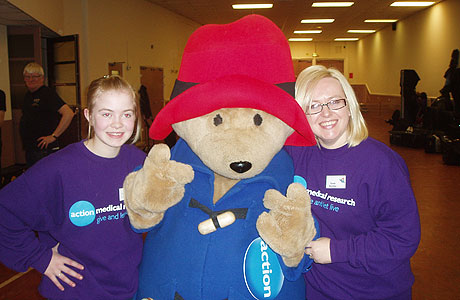 Thumbs up? A great charity gets a great boost

Growing potential

North Eastern outfit, Houghton Area Youth was another band to go for the 'space' theme, and produced an enjoyable set that saw them end sixth overall.
Brian Lamb did a fine job throughout with the youngsters who showed plenty of growing potential, with some cracking individual efforts from the main solo players allied to a warm and balanced ensemble sound.
Impy chimp

The 'Heroes and Villains' set from Sellers was delivered with real enthusiasm and panache.
The undoubted star was 5 year old, Robbie Chapman who was featured in 'The Two Imps', that quickly turned into 'The Two Chimps!' – a cracking bit of entertainment that was delivered with just the right amount of mischief.
Superb job

Hopefully, Poynton Youth won't be too down-hearted after being placed last (somebody had to) but Mike Eccles did a superb job with a very young band – cajoling and encouraging at every opportunity.
He was rewarded by some excellent playing, with soprano Nick Harrington a real future star. No wonder he was beaming after winning the 'Best Soprano' Award.

The scouts from many a senior band will have been taking notes.

Slick

With no pre-results entertainment, the results ceremony was conducted with a slickness that has become the hallmark of Gary Walczak's excellent organisation, before Elland launched into a 'Lap of Honour' reprise of 'Hello Dolly' as they celebrated their success.
It rounded off another excellent day in aid of a wonderful charity.
The day was recorded on DVD and at £5 per copy bands can relive their performance with real pride.

Order your copy at: www.action.org.uk/youth_brass_band

Malcolm Wood