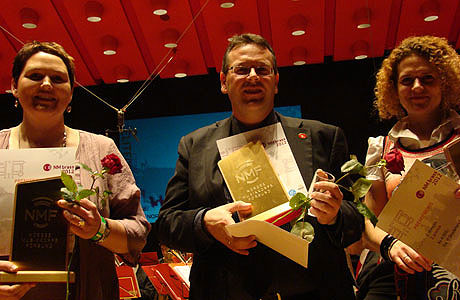 The top three prize winners give 4BR a smile...

The own choice section of the Elite Division continues to provide the thrilling climax of the National Championship in Bergen, but it is the First Division which invariably startles you with its excellence.
That was certainly the case on the Saturday morning when 12 bands produced performances that would have held their own in just about any Championship event anywhere in the banding world.
The playing of the three podium finishers in particular was of a level that would have struck fear into any band at the Grand Shield – Tertnes, Orskog and Bjorsvik showing themselves to be Elite bands in everything but name.
Exponential

Since its formation in 1993, the quality of the playing at this level has improved almost exponentially.
The winners will gain automatic promotion, whilst the play off to see who joins them there next year could be one to savour – especially if they perform to this level once more.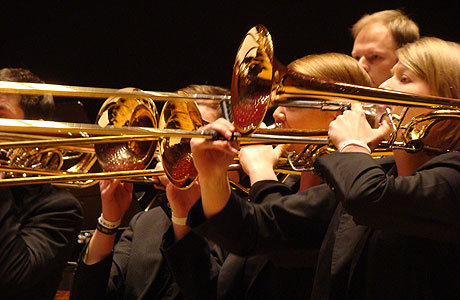 Oslofjord capture the dark wit...

Excellent value

Tertnes was excellent value for its victory – its fourth since 2003.
Directed with a pronounced sense of stylistic intent by former European 'Young Conductor' finalist John Philp Hannevik they delivered a colourful rendition of 'Harmony Music' that was both technically secure and musically flexible.
Their horn player took the 'Best Soloist' Award for a contribution that included a thunderous cadenza (and you suspected a perfectly formed opening note) whilst the soprano and other leading lines revelled in their chance to shine.

They will fancy their chances of making a mark at Elite level next year.
Experience

There was little doubt that Alan Morrison used all his years of experience to mould 'A Lowry Sketchbook' into the way he wanted it to be played with Orskog Brass.

It was a performance built on classy British brass banding virtues to claim second place.
Taking the edge off the volume, enhancing the middle of the band balance and warming the overall ensemble sound – the result was especially heard in a middle movement that was played with feeling and subtle nuance.
With a bold opening and a cracking whizz through the final section it became a very impressive sum of well executed parts.
Misleading

The reception given both before and after Bjorsvik Brass played off the number 2 was a touch misleading.
A packed hall was expecting to hear yet another brilliant performance from the former members of the Eikanger Bjorsvik – and for the most part they were given just that with Russell Gray leading them through a high octane 'Variations on an Enigma'.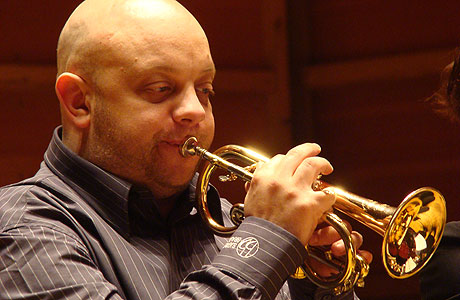 The great sop star Frode Ryland of Bjorsvik Brass

Touch of hubris

Not everything came off though in a performance that had a touch of hubris about it; the knowing smiles of self congratulation couldn't quite hide the sometimes untidy ensemble and careless little errors.
The players certainly enjoyed themselves – with 'renaissance man' Svein Henrik Giske (composer, conductor and principal cornet on the weekend) the great Frode Ryland on soprano, and prize winning tuba quartet the pick, but it was a performance that just lacked that steely edge of contest winning execution.
There is so much more to come from Bjorsvik – but on this occasion they had little cause for complaint that they couldn't make it four National titles in a row.
Little to choose

There was still very little to choose between the podium finishers for the judges John Wallace and Philip Harper (1.5 marks between first and third) – but in the end it was the inherent security of Tertnes that won the day.

Although these three were a clear level above their rivals, there was still much to enjoy in the remaining performances too.
Rousing

Oster opening the contest with a rousing rendition of 'Land of the Long White Cloud' under the baton of Torstein Aagaard-Nilsen to come fourth, whilst Sorum Musikklag delivered a very excitable account of Bertrand Moren's all bells and whistles, 'Remembrance' to end fifth.

This was a piece that reminded you of the Monty Python sketch about bluff old Yorkshiremen talking about how black their black pudding was – 'even t'white bits were black'.

In this case even the quiet bits were loud.
Rebuilding

Sandefjord Brass Symposium sounded in the early stages of rebuilding with an uneven 'Essence of Time', whilst Helge Haukas delivered a slightly eccentric interpretation of Eric Ball with 'Journey into Freedom' with Radoy Brass (he also led an equally interesting 'Tournament for Brass' in the Second Division) to end seventh.
Dark wit

There was disappointment for Oslofjord Brass in eighth after Simon Dobson captured the dark wit and sense of the absurd in Derek Bourgeois's 'Concerto No 1'.

A cultured middle section with its echoes of Ravel seemed to have secured a possible podium finish, but on this occasion the judges felt differently.
Defined

Espen Westbye led Musikkorpset Gjallahorn in a well defined account of Philip Wilby's slightly underwhelming 'Leonardo' in ninth, whilst the bottom three places in the results table were taken by Brottum's inconsistent 'Year of the Dragon' (despite a fine solo trombone), Laksevag's rather heavy handed 'Ballet for Band' and Jolster's misfiring 'Frontier'.
Tertnes meanwhile will head for the Elite Division in 2013 and may well be joined by at least one other high class band.
Overall however, it proved without doubt that the Norwegians have a First Section that does the job it was intended to do – and to quite brilliant effect.
Iwan Fox