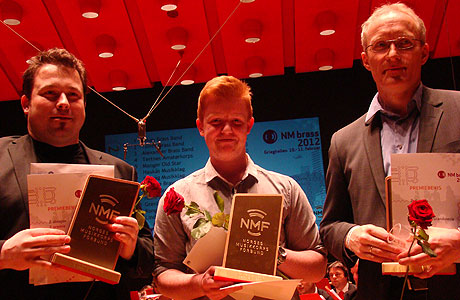 The prize winners line up for the official photo

The Championship weekend in the main auditorium of the Grieghallen kicked off with the competitors in the Second Division, with honour of giving the first performance going to Tertnes Amatorkorps under the direction of Yngve Nikolaisen.
Their compact rendition of Edward Gregson's 'Essay' saw them end in fourth place in a contest that featured a host of well planned accounts of some quite ambitious repertoire.
Winners

The winners were Askoy Brass conducted by Reid Gilje, who enjoyed a spectacular weekend of personal success – also leading Flesland to victory in the Third Division.
His intuitive direction of a warmly toned 'Tallis Variations', with excellent soloists and controlled ensemble was playing that deserved the highest praise.

Their first National title was celebrated long into the Bergen night.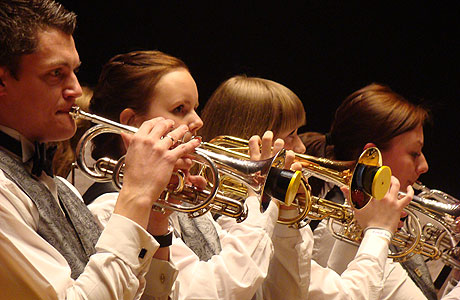 Askoy head for victory...

Challenge

The nearest challenge came from the band that followed them on stage.

Tomra Brass under the baton of euphonium star Nick Ost produced a powerful 'Cambridge Variations', that featured outstanding contributions from his all star euphonium section that included the Belgian virtuoso Glen Van Looy.
It came as little surprise that Glen and his compatriot took the awards for 'Best Soloist' and 'Best Section', but there was also a great deal of fine ensemble work delivered by the rest of an impressive band too.
Good old fashioned

The final podium place went to Alexander Brass with a performance of 'Connotations' that relied on the good old fashioned brass banding virtues of dynamic and tempi control, solid soloists and balanced ensemble.
No wonder the silver headed Morten E Hansen wore a broad smile on his face when he walked off to congratulate MD Jacob Vilhelm Larsen on a job well done.

His 33rd Nationals appearance on the solo cornet bench with his daughter at his side had been a highly rewarding one.
Over ambition

Behind the top three the standard did fall away a little – with some over ambition highlighting the weaknesses of many of the ensembles and not always the undoubted strengths in some of the own choice selections.
Manger Old Stars certainly enjoyed themselves with a warmly hued 'The Lord is King' to come fifth, whilst Haukas Musikklag took sixth place with an excitable rendition of 'Excalibur'.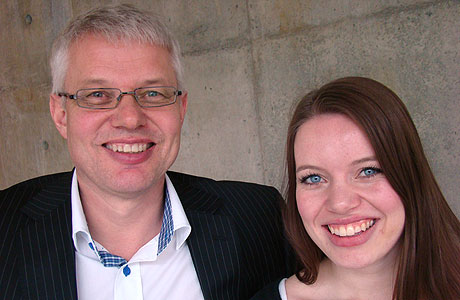 Making an old dad happy... Morten Hansen and daughter...

Fissures

The more obvious cracks and fissures in the playing started to be more easily recognisable below these bands, although there were still a host of performances that ended in credit rather than debit by their close.
Sagvag rounded off the contest with an occasionally dampened, 'Firestorm', whilst Tromso just found a few too many little problems in a bold assault on 'Trittico'.

The same applied somewhat to Borge's slightly overpowering 'Resurgam', whilst Hasle captured the excitement, if not always the accuracy, with their performance of 'Chivalry'.
Rong wrong

Rong may count themselves a tad unlucky that some neat individual playing from the flugel in particular couldn't quite help lift them up from 12th place on a hit and miss 'Trittico',

Meanwhile, Lindas Brass will reflect back on a performance of 'Tournament for Brass' that somehow never quite managed to capture the lightness of Eric Ball's ensemble writing.
The great man's writing remains a mystery as yet unsolved by Norwegian bands at any level.
Iwan Fox