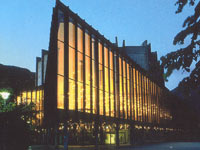 Second Division
Adjudicators: Kim Lofthouse & Tijmen Botma
Friday 10th February (10.30)
---
With three quality bands gaining promotion last year, this weekend's Second Division contest could be a much more closely fought battle for the title.
As always there are a host of ambitious well matched bands taking to the stage on Friday morning.

Eight locked horns at the SIDDIS Contest in Stavanger with a further two competing in the First Section there.

Ambitious

There are some ambitious own choice selections of music being performed too: from Gregson and Ball to van der Roost and Steadman Allen. Plenty then for the experienced adjudication team of Kim Lofthouse and Tijmen Botma to enjoy.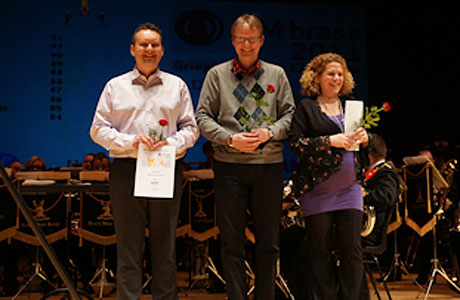 Last year's top three bands await the verdict..

Relegated

The three bands that dropped through the First Division relegation trap door will be looking for an immediate return.
Tertnes Amatorkorps kick off the contest under the experienced Yngve Nikolaisen looking to build on their second place at the SIDDIS event, with their own choice selection of the seminal Edward Gregson test piece, 'Essay'.

Meanwhile, Alexander Brass also opts for a Gregson classic, with 'Connotations' as they seek a third Second Division title under the direction of Jacob Vilheim Larsen.
The third of trio Tomra will once again be conducted by euphonium star Mick Ost – and they will be keen to banish the memories of their disastrous 10th place finish last year.

A fine runner up finish at SIDDIS perhaps shows that they are the band to beat, especially if they can deliver a quality performance of 'Cambridge Variations'.
Promoted

For the three promoted bands, it will be question of whether or they can make an immediate mark against a higher class of rival.
Rong Brass should be confident of doing just that as the 2011 Third Division champion is led once more by the giant Eirik Gjerdevik to perform James Curnow's 'Trittico'.

It's an ambitious choice, but a solid showing at SIDDIS indicated they could be a band to watch out for.
Progress

So too Hasle Brass, who claimed a podium finish in Stavanger and pushed Rong all the way last year under the baton of Robert Solberg Nilsen.

They have opted for the fun and games of Martin Ellerby's descriptive Errol Flynn inspired 'Chivalry'.
Grenland Brass will be looking to build on the solid progress they have made in the last few years.

They were performing in the Fourth Division in 2011, so they are certainly moving in the right direction. They will test themselves on Philip Harper's Welsh inspired 'Kingdom of Dragons'.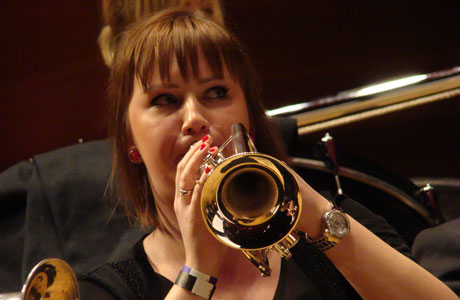 Keeping the eyes on the job....
Recent form

Tromso is another band that brings good recent form with them following their victory at SIDDIS.

They claimed this title back in 1998, so another victory is long overdue. Tor Kristian Innbjor will lead the band on James Curnow's 'Trittico'.
Serious

Surprisingly, Manger Old Stars has yet to win a National title (unlike their more serious namesakes) so perhaps this will be the year they put their name on some silverware under the direction of Johannes Mangersnes.

They have opted for Ray Steadman-Allen's 'The Lord is King'.
Borge Brass will be looking to build on their good National form after coming 4th last year.

They have also decided to go with a Salvation Army classic in the form of Eric Ball's iconic 'Resurgam' under the direction of Oddvar Nostdal.
Upturn

Haukas Musikklag meanwhile will be hoping for an upturn in their contest fortunes after a disappointing 2011 season.

Double champions in 1993 and 2005 they have chosen Jan van der Roost's 'Excalibur' to slay a few rivals at the very least.
Much loved

Lindas Brass came 5th last year and will take to the stage under the direction of Helge Haukas.

They are hoping to claim a podium finish with the help of Eric Ball's much loved 'Tournament for Brass', whilst Askoy have opted for the former European set work, 'Tallis Variations' as they look to build on the confidence gained by coming runner up in the First Division at SIDDIS.
That just leaves Sagvag Musikklag to round off the contest, as the 1995 First Division champion looks to make a mark on the top six here for the first time since 2002.

They have chosen Stephen Bulla's 'Firestorm'.
---
As for a winner?

A really difficult one to call, but we have opted for Askoy Brass if they have been able to build on that fine SIDDIS outing, closely followed by Borge Brass and Alexander Brass for the podium places.
Behind them it could be anyone's game, but we have opted to give the kiss of death to Tomra, Tertnes and Tromso with Manger as our dark horse.

4BR Prediction:

1. Askoy Brass
2. Borge Brass
3. Alexander Brass
4. Tomra
5. Tertnes
6. Tromso

Dark Horse: Manger Old Stars
---
Tertnes Amatørkorps
Conductor: Yngve Nikolaisen

2012 Draw: 1
Own Choice Selection: Essay (Edward Gregson)

National Record:
2011: 12th in First Division (Tormod Flaten) (rel)
2010: 5th (Tormod Flaten)
2009: 9th (Martin Winter)
2008: =7th (Tormod Flaten)
2007: 2nd in Second Division (Tormod R. Flaten) (prom)
2006: 8th (Tormod Flaten)
2005: =4th (Tormod Flaten)
2004: 4th in Third Division (Tormod Flaten) (prom)
2003: Winners of Fourth Division (Tormod Falten) (prom)
2002: DNC
2001: DNC
2000: DNC

Overall Record:
Fourth Division Champions: 2003

Last Year: 12th in First Division (rel)

Own Choice Selections:
2011: Dances & Arias
2010: The Essence of Time
2009: Pageantry
2008: Salute to Youth
2007: Coventry Variations
2006: Quintessence
2005: Rhapsody in Brass
---
Tromsø Brass
Conductor: Tor Kristian Innbjor

2012 Draw: 2
Own Choice Selection: Trittico (James Curnow)

National Record:
2011: 7th (Tor Kristian Innbjor)
2010: 11th in First Division (Tor Kristian Innbjor) (rel)
2009: Winners of Third Division (Tor Kristian Innbjor) (double promotion)
2008: 12th (Robert Jensen)
2007: 11th in Second Division (Robert Jensen) (rel)
2006: 11th in First Section (Robert Jensen) (rel)
2005: 2nd in Second Division (Robert Jensen) (prom)
2004: 4th (Robert Jensen)
2003: 7th
2002: 8th
2001: N/K
2000: 3rd

Overall Record:
Second Division Champions: 1998
Third Division Champions: 1990, 2009

Last Year: 7th

Own Choice Selections:
2011: Bitz
2010: Paganini Variations
2009: Myte
2008: Journey into Freedom
2007: Dances and Arias
2006: Babylonian Tablets
2005: Blitz
---
Rong Brass
Conductor: Eirik Gjerdevik

2012 Draw: 3
Own Choice Selection: Trittico (James Curnow)

National Record:
2011: Winners of Third Division (Eirik Gjerdevik) (prom)
2010: 12th in Second Division (Stian E. Svendsen) (rel)
2009: 3rd (Stian E. Svendsen)
2008: Winners of Third Division (Reid Gilje) (prom)
2007: 6th (Reid Gilje)
2006: 3rd (Reid Gilje)
2005: 6th (Reid Gilje)
2004: 11th (Hogne Haugsda)l
2003: 3rd
2002: 11th
2001: 7th
2000: 9th

Overall Record:
Third Division Champions: 2008, 2011

Last Year: Winners of Third Division (prom)

Own Choice Selections:
2011: The Forest of Dean
2010: Tallis Variations
2009: The Forest of Dean
2008: Kenilworth
2007: Kaleidoscope
2006: Purcell Variations
2005: Partita - Postcards from Home
---
Hasle Brass
Conductor: Robert Solberg Nilsen

2012 Draw: 4
Own Choice Selection: Chivalry (Martin Ellerby)

National Record:
2011: 2nd in Third Division (Robert Solberg Nilsen) (prom)
2010: 10th (Robert Brekke Nilsen)
2009: 10th (Frode Amundsen)
2008: =8th (Michael Antrobus)
2007: 9th (Michael Antrobus)
2006: 5th (Michael Antrobus)
2005: 7th (Tarjei Gilbrant)
2004: 6th (Tarjei Gilbrant)
2003: 10th Second Division (rel)
2002: 5th in Third Division (prom)
2001: 8th
2000: 20th

Last Year: 2nd in Third Division (prom)

Own Choice Selections:
2011: Tallis Variations
2010: Trittico for Brass Band
2009: Kaleidoscope
2008: Firestorm
2007: John O' Gaunt
2006: The Land of the Long White Cloud
2005: English Heritage
---
Grenland Brass
Conductor: Christopher Roedvang

2012 Draw: 5
Own Choice Selection: The Kingdom of Dragons (Philip Harper)

National Record:
2011: 3rd in Third Division (Christopher Roedvang) (prom)
2010: 3rd in Fourth Division (Gwyn Evans) (prom)
2009: 14th in Third Division (Sigurd Grov Skramsett) (rel)
2008: 6th (Morten E Hansen)
2007: =4th (Morten E Hansen)
2006: 5th in Fourth Division (Rune Hansen) (prom)
2005: 6th (Magne Rutle)

Last Year: 3rd in Third Division (prom)

Own Choice Selection:
2011: The Saga of Haakon the Good
2010: A Salford Sinfonietta
2009: Diversions
2008: The Dark Side of the Moon
2007: Forest of Dean
2006: Kaleidoscope (Five Variations on the Brugg Song)
2005: Tryptich for Brass
---
Manger Old Stars
Conductor: Johannes Mangersnes

2012 Draw: 6
Own Choice Selection: The Lord is King (Ray Steadman-Allen)

National Record:
2011: =8th (Johannes Mangersnes)
2010: 2nd in Third Division (Johannes Mangersnes) (prom)
2009: 6th (Johannes Mangersnes)
2008: 3rd in Fourth Division (Johannes Mangersnes) (prom)
2007: DNC
2006: DNC
2005: 2nd in Fourth Division
Last Year: =8th

Own Choice Selections:
2011: Excalibur
2010: Salute to Youth
2009: Triumphant Rhapsody
2008: The Lord is King
---
Borge Brass Band
Conductor: Oddvar Nostdal

2012 Draw: 7
Own Choice Selection: Resurgam (Eric Ball)

National Record:
2011: 4th (Oddvar Nostdal)
2010: 4th in Third Division (Oddvar Nostdal) (prom)
2009: 8th (Oddvar Nostdal)
2008: =8th (Torstein Aagaard-Nilsen)
2007: =7th (Torstein Aagaard-Nilsen)
2006: 13th in Second Division (Torstein Aagaard-Nilsen) (rel)
2005: Winners of Third Division (Torstein Aagaard-Nilsen)
2004: =8th (Torstein Aagaard-Nilsen)

Overall Record:
Third Division Champions: 2005

Last year: 4th

Own Choice Selections:
2011: The Present Age
2010: A Salford Sinfonietta
2009: Variations on Maccabeus
2008: Laudate Dominum
2007: Connotations
2006: Partita – St. Theodulph
2005: The Present Age
---
Alexander Brass Band
Conductor: Jacob Vilheim Larsen

2012 Draw: 8
Own Choice Selection: Connotations (Edward Gregson)

National Record:
2011: 11th in First Division (Morten E Hansen) (rel)
2010: 3rd (Morten E Hansen)
2009: 2nd in Second Division (Morten E Hansen) (prom)
2008: 3rd (Sverre Stakston Olsrud)
2007: 11th in First Section (Morten E. Hansen) (rel)
2006: 5th (Morten E. Hansen)
2005: 9th (Morten E. Hansen)
2004: =5th (Morten E. Hansen)
2003: 10th in Elite Division (Morten Hansen) (rel)
2002: Winners of First Division (prom)
2001: Winners of Second Division (prom)
2000: 8th in Second Division
Overall Record:
First Division Champions: 2002
Second Division Champions: 2001, 1997
Third Division Champions: 1995

Last Year: 11th in First Division (rel)

Own Choice Selection:
2011: Diversions on a Bass Theme
2010: Journey into Freedom
2009: The Saga of Haakon the Good
2008: Nautalis
2007: English Heritage
2006: Between the Two Rivers
2005: The Holy War
---
Haukås Musikklag
Conductor: Thor-Arne Pedersen

2012 Draw: 9
Own Choice Selection: Excalibur (Jan van der Roost)

National Record:
2011: 10th (Thor-Arne Pedersen)
2010: 4th (Thor-Arne Pedersen)
2009: =6th (Thor-Arne Pedersen)
2008: 12th in First Division (Thor-Arne Pedersen) (rel)
2007: =8th (Thor-Arne Pedersen)
2006: 7th (Thor–Arne Pedersen)
2005: Winners of Second Division (Thor–Arne Pedersen) (prom)
2004: Winners of Third Division (Thor–Arne Pedersen) (prom)
2003: 11th in Second Division (rel)
2002: 4th
2001: 13th
2000: =9th

Last Year: 10th

Overall Record:
Second Division Champions: 1993, 2005
Third Division Champions: 2004

Own Choice Selection:
2011: Tallis Variations
2010: Trittico for Brass Band
2009: Swedish Festival Music
2008: Journey into Freedom
2007: Dances and Arias
2006: Tallis Variations
2005: Connotations
---
Lindås Brass (Austrheim- Lindås Musikklag)
Conductor: Helge Haukas

2012 Draw: 10
Own Choice Selection: Tournament for Brass (Dean Goffin)

National Record:
2011: 5th (Helge Haukas)
2010: 3rd in Third Division (Helge Haukas) (prom)
2009: 9th (Hogne Holmås)
2008: 5th (Hogne Holmås)
2007: 4th (Hogne Holmås)
2006: 9th (Pål Magne Austnes)
2005: 5th (Age Torsvik)
2004: 7th (Age Torsvik)
2003: 9th in Second Division (rel)
2002: 8th
2001: 11th
2000: 12th

Last Year: 5th

Own Choice Selections:
2011: Spectrum
2010: Trittico for Brass Band
2009: Tallis Variations
2008: Kaleidoscope
2007: Royal Parks
2006: Rhapsody in Brass
2005: Firestorm
---
Askøy Brass Band
Conductor: Reid Gilje

2012 Draw: 11
Own Choice Selection: Tallis Variations (Philip Sparke)

National Record:
2011: 6th (Reid Gilje)
2010: 10th in First Division (Ynge Nikolaisen) (rel)
2009: 3rd (Egil Magnussen)
2008: 9th (Egil Magnussen)
2007: =4th (Egil Magnussen)
2006: 6th (Helge Haukas)
2005: 3rd (Egil Magnussen)
2004: 3rd (Tom Brevik)
2003: 3rd
2002: 2nd in Second Division (prom)
2001: 6th
2000: 11th
Last Year: 6th

Own Choice Selection:
2011: Coventry Variations
2010: Blitz
2009: English Heritage
2008: Chivalry
2007: Partita
2006: Journey into Freedom
2005: Tallis Variations
---
Tomra Brass Band
Conductor: Nick Ost

2012 Draw: 12
Own Choice Selection: Cambridge Variations (Philip Sparke)

National Record:
2011: 10th in First Division (Nick Ost) (rel)
2010: 2nd (Frans Violet)
2009: 5th (Frans Violet)
2008: 3rd (Frans Violet)
2007: 4th in Elite Section (relegated due to admin error)
2006: Winners of First Division (Frans Violet) (prom)
2005: 2nd (Frans Violet)
2004: =7th (Arnfinn Dalhaug)
2003: 2nd
2002: 3rd
2001: 4th
2000: 8th in Elite Division (rel)
Overall Record:
First Division Champions: 1993, 1999, 2006

Last Year: 10th in First Division (rel)

Own Choice Selection:
2011: Fire in the Sky
2010: Rococo Variations
2009: Concertino for Brass Band
2008: Music of the Spheres
2007: Journey to the Centre of the Earth
2006: Journey to the Centre of the Earth
2005: Whitsun Wakes
---
Sagvåg Musikklag
Conductor: Havard Kroka

2012 Draw: 13
Own Choice Selection: Firestorm (Stephen Bulla)

National Record:
2011: =8th (Marieka Gray)
2010: 10th (Havard Kroka)
2009: 10th (Havard Kroka)
2008: 7th (Havard Kroka)
2007: 10th (Havard Kroka)
2006: 7th (Havard Kroka)
2005: 10th (Michael Fowles)
2004: 8th (Michael Fowles)
2003: 9th in First Division (rel)
2002: 5th
2001: 9th
2000: 8th
Overall Record:
First Division Champions: 1995

Last Year: =8th

Own Choice Selections:
2011: Nautalis
2010: The Saga of Haakon the Good
2009: Dances & Arias
2008: Tallis Variations
2007: A London Overture
2006: Blitz
2005: Music for the Common Man
---
2011 Result:

Adjudicators: Armin Bachmann & Bjørn Sagstad
1. Bjørsvik Brass (Russell Gray) – 98
2. Radøy Brass (Gareth Pritchard) - 96
3. Brøttum Brass (Michael Antrobus) - 93
4. Borge Brass Band Oddvar Nostdal) – 92
5. Lindås Brass (Helge Haukas) – 91
6. Askøy Brass Band (Reid Gilje) – 90
7. Tromsø Brass (Tor Kristian Innbor) - 89
8= Manger Old Star Brass (Johannes Mangersnes) – 88
8= Sagvåg Musikklag (Marieka Gray) - 88
10. Haukås Musikklag (Thor-Arne Pedersen) - 87
11. Flesland Musikklag (Patrick Randefalk) - 86
12. Hornorkesteret Stavanger (Mats Urdal Aasen) - 85
13. Stangaland Brass (Jacob Vilhelm Larsen) - 84
Soloist Prize: Solo trombone - Radøy Brass
Best Section: Tuba section - Bjørsvik Brass