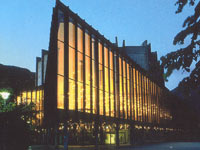 Third Division:
Adjudicators: Michael Antrobus & Nigel Boddice
Friday 10th February (16.00)
---
From the first bespoke National test piece to one that we would be surprised anyone outside Norway has even heard of.
You have to hand it to these bands: It's not often you get a Third Division contest which includes compositions from Percy Fletcher to Torstein Aagaard-Nilsen on the menu – and all stops in between.

It's like a musical version of the desert menu at Willy Wonka's Chocolate Factory.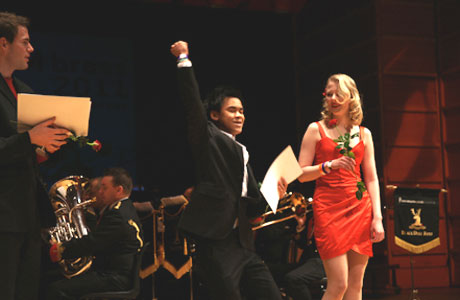 The right Rong: Rong Brass takes the Third Division title last year...

Hockey squad

The audience will get a taste of Richards, Gregson, Wilby, Fletcher, Lloyd, Dobson, Downie, van der Roost, Bulla, Vinter, Aagaard-Nilsen, Ball, Graham and Wallin.

If you didn't know any better they could be the names of the 1980 Norwegian Olympic ice hockey squad.
And all this to try and tickle the fancy of Michael Antrobus and Nigel Boddice – two men who certainly know what the right ingredients are required in making a title winning performance, whatever the historic or contemporary inspiration maybe.

Their bag of adjudicator scores must weigh a tonne.
Plenty to enjoy

Plenty to enjoy then – and right from the start with Fjell Brass opening proceedings directed by Svein Henrik Giske (composer of the Elite Division set work) with 'Voyage of Discovery' by Goff Richards, as they seek to build on last year's 4th place and solid showing at SIDDIS.
Hornorkesteret Stavanger will perform an early bit of Gregson and his Lancastrian inspired 'Plantagenets', with Gjovik Bybrass giving us a bit of recent Philip Wilby and his 'Psalms & Alleluias' to follow.

Stavanger will be looking to bounce back after last year's disappointing result, whilst, Gjovik will be looking to make a mark following their promotion.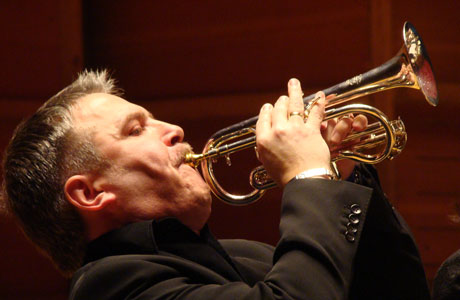 Heading in the right direction...

Inspired

Randaberg is one of quite a few bands this weekend to be inspired by the forthcoming 100th anniversary of Percy Fletcher's 'Labour & Love', as they look to build on their promotion, whilst Fla opt for the elegant and melancholic 'Royal Parks' by George Lloyd as they seek to claim a top six finish.


Promoted Fraena will seek Cornish inspiration through Simon Dobson's descriptive 'Lyonesse', whilst Agder Brass will be looking for an upturn in fortunes with Gilbert Vinter's iconic 'Spectrum' – which was used as the set work in the Elite Section here 30 years ago. How times have changed.
Rare

Relegated Stangaland have opted for the rarely heard 'Princethorpe Variations' by Kenneth Downie, whilst Folleso are one of two bands that have chosen Stephen Bulla's popular 'Firestorm' as they seek bounce back from a poor result at SIDDIS.
Make a mark

Flesland will also be hoping to make a mark following their relegation, with Jan van der Roost's 'Excalibur', whilst Trondheim Politi's Brass is another band trying their luck with the Bulla 'Firestorm' as they look to move up the results table this year.
Klotho

Local favourites Bergen will be keen to add a second successive championship to their CV following last year's Fourth Division success – this time with the intriguingly titled, 'Klotho' by Torstein Aagaard-Nilsen, whilst Gjesdal have opted for something a little more traditional with Eric Ball's 'Sinfonietta – The Wayfarer', which created all sorts of stylistic problems for the Elite bands when it was the set work a few years back.
Double

Nes Musikkforening will try their luck with Peter Graham's 'Renaissance' as they seek to move up the results table from last year's 9th place, whilst Skui Brass will round off the contest with a double of Torstein Aagaard-Nilsen's 'Introduction' and Ralf Wallin's 'Toccata'.
---
As for a winner?
With such a veritable smorgasbord of musical treats in store, this is a title that could be won but a whole batch of well match bands.
Still, if Fjell put down a top class marker off the number 1 draw they may be hard to beat, although we think they could be pushed by the likes of Gjesdal, Bergen and Fla.
Stangaland and Folleso make up our top six with our dark horse of Stavanger.

4BR Prediction:
1. Fjell Brass
2. Gjesdal Brass
3. Bergen Brass
4. Fla Musikkorps
5. Stangaland Brass
6. Folesso Musikklag

Dark Horse: Hornokesteret Stavanger
---
Fjell Brass
Conductor: Svein Henrik Giske

2012 Draw: 1
Own Choice Selection: Voyage of Discovery (Goff Richards)

National Record:
2011: 4th (Svein Henrik Giske)
2010: 8th (Svein Henrik Giske)
2009: 5th (Svein Henrik Giske)

Last Year: 4th

Own Choice Selections:
2011: Purcell Variations
2010: The Land of the Long White Cloud
2009: Blazon
---
Hornorkesteret Stavanger
Conductor: Mats Urdal Aasen

2012 Draw: 2
Own Choice Selection: The Plantagenets (Philip Sparke)

National Record:
2011: 12th (Mats Urdal Aasen)
2010: 9th (Clive Zwanswiniski)
2009: 7th (Clive Zwanswiniski)
2008: =5th (Clive Zwanswiniski)
2007: 5th (Geir Karlson)
2006: 4th (Geir Karlson)
2005: 8th (Geir Karlson)
2004: 11th in First Division (Russell Gray) (rel)
2003: 8th
2002: 2nd in Second Division (prom)
2001: 4th
2000: 5th

Last Year: 12th

Own Choice Selections:
2011: A London Overture
2010: Purcell Variations
2009: Land of the Long White Cloud
2008: Firestorm
2007: Chivalry
2006: Variations on a Ninth
2005: The King of Elfland's Daughter
---

Gjøvik ByBrass
Conductor: Thorbjorn Lunde

2012 Draw: 3
Own Choice Selection: Psalms & Alleluias (Philip Wilby)

National Record:
2011: 3rd in Fourth Division (Thorbjorn Lunde) (prom)
2010: 6th (Thorbjorn Lunde)
2009: 15th in 3rd Division (Trond Elnes) (rel)
2008: 7th (Thorbjorn Lunde)
2007: = 10th (Trond Elnes)
2006: 8th (Roar Bjerkehagen)
2005: 10th (Roar Bjerkehagen)
2004: 12th in Second Division (Roar Bjerkehagen) (rel)
2003: 2nd in Third Division (prom)
2002: Joint 13th
2001: 12th
2000: DNC

Last Year: 3rd in Fourth Division (prom)

Own Choice Selections:
2011: Firestorm
2010: Rhapsody in Brass
2009: The Essence of Time
2008: Resurgam
2007: Festivity
2006: The Plantagenets
2005: Kaleidoscope
---

Randaberg Musikkorps
Conductor: Benjamin Wiame

2012 Draw: 4
Own Choice Selection: Labour & Love (Percy Fletcher)

National Record:
2011: 2nd in Fourth Division (Tarjei Gilbrabt) (prom)
2010: =19th (Selmer Simonsen)
2009: =9th (Selmer Simonsen)
2008: 6th (Marcel Sorin Totolici)

Last Year: 2nd in Fourth Division (prom)

Own Choice Selection:
2011: Dimensions
2010: Gothic Dances
2009: Concert Overture
2008: Anglian Dances
---

Flå Musikkorps
Conductor: Odd Steinar Mørkved

2012 Draw: 5
Own Choice Selection: Royal Parks (George Lloyd)

National Record:
2011: =7th (Odd Steinar Mørkved)
2010: Winners of Fourth Division (Odd Steinar Mørkved) (prom)
2009: =5th (Odd Steinar Mørkved)
2008: =11th (Odd Steinar Mørkved)
2007: =6th (Odd Steinar Mørkved)
2006: DNC
2005: 8th
2004: 8th
2003: 5th
2002: DNC
2001: DNC
2000: DNC

Overall Record:
Fourth Division Champions: 2010
Last Year: =7th

Own Choice Selection:
2011: Renaissance
2010: Dimensions
2009: Music for a Festival
2008: St Austell Suite
2007: Northern Landscapes
2006: DNC
---
Fræna Musikkorps
Conductor: Jens Kristian Mordal

2012 Draw: 6
Own Choice Selection: Lyonesse (Simon Dobson)

National Record:
2011: 4th in Fourth Division (Jens Kristian Mordal) (prom)
2010: 14th in Third Division (Jens Kristian Mordal) (rel)
2009: 4th (Jens Kristian Mordal)
2008: =8th (Jens Kristian Mordal)
2007: =7th (Jens Kristian Mordal)
2006: 11th in Second Division (Jens Kristian Mordal) (rel)
2005: 11th (Jens Kristian Mordal)
2004: 6th (Jens Kristian Mordal)
2003: Winners Third Division (Jens Kristian Mordal) (prom)
2002: 9th
2001: DNC
2000: DNC

Overall Record:
Third Division Champions: 2003

Last Year: 4th in Fourth Division (prom)
Own Choice Selections:
2011: Purcell Variations
2010: Trittico for Brass Band
2009: The Present Age
2008: Prillar –Guri – The Voice of the Valley
2007: Royal Parks
2006: Firestorm
2005: Oceans
---
Agder Brass (Kristiansand Brass Band)
Conductor: Bjorn Breistein

2012 Draw: 7
Own Choice Selection: Spectrum (Gilbert Vinter)
National Record:
2011: =11th (David Tellefsen)
2010: 5th (Morten E. Hansen)
2009: 3rd in 4th Division (David Tellefsen) (prom)

Last Year: =11th

Own Choice Selection:
2011: Victorian Snaphots – On Ratcliffe High
2010: The Holy War
2009: Princethorpe Variations
---
Stangaland Brass
Conductor: Jacob Vilhelm Larsen

2012 Draw: 8
Own Choice Selection: Princethorpe Variations (Kenneth Downie)

National Record:
2011: 13th in Second Division (Jacob Vilhelm Larsen) (rel)
2010: 8th (Reid Gilje)
2009: =8th (Reid Gilje)
2008: 4th (Reid Gilje)
2007: 6th (Yngve Nikolaisen)
2006: 9th (Eirik Gjerdevik)
2005: 6th (Morten E. Hansen)
2004: 10th (Morten E. Hansen)
2003: 12th
2002: 4th
2001: 10th
2000: Joint 5th

Last Year: 13th in Second Division Two (rel)

Own Choice Selections:
2011: The Saga of Haakon the Good
2010: Quintessence
2009: Rhapsody in Brass
2008: The Forest of Dean
2007: Variations on a Ninth
2006: Trittico
2005: Tallis Variations
---
Follesø Musikklag
Conductor: Egil Magnussen

2012 Draw: 9
Own Choice Selection: Firestorm (Stephen Bulla)

National Record:
2011: 6th (Egil Magnussen)
2010: 13th in Second Division (Reid Gilje) (rel)
2009: 3rd in 3rd Division (Reid Gilje) (prom)
2008: 12th in Second Division (Rune Hannisdal) (rel)
2007: 10th in First Division (Eirik Gjerdevik) (rel)
2006: Winners of Second Division (Egil Magnussen) (prom)
2005: 9th (Jan Arne Pope)
2004: 3rd in Third Division (Jan Arne Pope) (prom)
2003: 6th
2002: 10th
2001: 6th
2000: DNC

Overall Record:
Second Division Champions: 2006
Last Year: 6th

Own Choice Selection:
2011: Prisms
2010: Partita on St. Theodulph
2009: Purcell Variations
2008: The Plantagenets
2007: Royal Parks
2006: Kaleidoscope
2005: Firestorm
---
Flesland Musikklag
Conductor: Reid Gilje

2012 Draw: 10
Own Choice Selection: Excalibur (Jan van der Roost)

National Record:
2011: 11th in Second Division (Patrick Randefalk) ((rel)
2010: 6th (Patrick Randefalk)
2009: 5th (Patrick Randefalk)
2008: 2nd in Third Division (Svein Henrik Giske) (prom)
2007: 12th in Second Division (Svein Henrik Giske) (rel)
2006: 10th (Bengt Florvag)
2005: 7th (Yngve Nicolaisen)
2004: 9th (Egil Magnussen)
2003: 11th
2002: 5th
2001: 7th
2000: Joint 9th

Last Year: 11th in Second Division (rel)

Own Choice Selection:
2011: Rise of the Phoenix
2010: Norwegian Landscapes
2009: Endeavour
2008: Sinfonietta –The Wayfarer
2007: Dampsanger
2006: The Land of the Long White Cloud
2005: Viking Saga Opus 3
---
Trondheim Politis Brassband
Conductor: Espen Andersen

2012 Draw: 11
Own Choice Selection: Firestorm (Stephen Bulla)

National Record:
2011: =9th (Peter Hadfield)
2010: 9th (Peter Hatfield)
2009: 13th in 2nd Division (Peter Hatfield) (rel)
2008: 3rd in Third Division (Peter Hatfield) (prom)
2007: =10th (Odd Steinar Morkved)
2006: 12th in Second Division (Odd Steinar Morkved) (rel)
2005: =4th (Odd Steinar Morkved)
2004: 3rd (Odd Steinar Morkved)
2003: 5th
2002: 11th in First Division (rel)
2001: 7th in First Division
2000: Joint 5th in First Division

Last Year: =9th

Own Choice Selections:
2011: Tam O'Shanter's Ride
2010: Rhapsody in Brass
2009: Dances & Arias
2008: Resurgam
2007: Royal Parks
2006: Ballet for Band
2005: St Theodulph
---
Bergen Brass Band
Conductor: Sturle Berntsen
2012 Draw: 12
Own Choice Selection: Klotho (Torstein Aagaard-Nilsen)

National Record:
2011: Winners of Fourth Division (Sturle Bernsten) (prom)
2010: 15th in Third Division (Kim Lofthouse) (rel)
2009: 7th (Bjorn Breistein)
2008: 4th (Trond Elnes)
2007: 13th in Second Division (Helge Haukas) (rel)
2006: 5th (Stian Svendsen)
2005: 3rd (Stian Svendsen)
2004: 5th (Stian Svendsen)
2003: 10th
2002: 14th in Second Division
2001: 2nd
2000: 7th

Overall Record:
Fourth Division Champions: 2011
Last Year: Winners of Fourth Division (prom)

Own Choice Selection:
2011: Occasion
2010: Purcell Variations
2009: The Forest of Dean
2008: Variations on a Chord
2007: Diversions on a Bass Theme
2006: A London Overture
2005: The Land of the Long White Cloud
---
Gjesdal Brass Band
Conductor: Jonas Skartveit Rogne

2012 Draw: 13
Own Choice Selection: Sinfonietta –The Wayfarer (Eric Ball)

National Record:
2011: 5th (Jonas Skartveit Rogne)
2010: 6th (Jonas Skartveit Rogne)
2009: 12th in 2nd Division (Jonas Skartveit Rogne) (rel)
2008: 10th (Jonas Skartveit Rogne)
2007: 8th (Reid Gilje)
2006: 2nd in Third Division (Christian Tenfjold) (prom)
2005: 8th (Russell Gray)
2004: 10th (Russell Gray)

Last Year: 5th

Own Choice Selections:
2011: Psalms & Alleluias
2010: Purcell Variations
2009: Blazon
2008: The Present Age
2007: Firestorm
2006: Festivity
2005: The Long Ships
---
Nes Musikkforening
Conductor: Andres Halla

2012 Draw: 14
Own Choice Selection: Renaissance (Peter Graham)

National Record:
2011: =9th (Andres Halla)
2010: 4th in Fourth Division ( Andres Halla) (prom)
2009: 8th (Andres Halla)
2008: =7th (Andres Halla)
2007: 13th in Third Division (Andres Halla) (rel)
2006: 11th (Andres Halla)
2005: 11th (Andres Halla)
2004: =8th (Andres Halla)
2003: 4th
2002: 6th
2001: 16th
2000: 14th

Last Year: =9th

Own Choice Selections:
2011: A Little Light Music
2010: Saint-Saens Variations
2009: Prelude & Jubilate
2008: Harmonius Variations
2007: Ancient Monuments
2006: Firestorm
2005: Northern Landscapes
---
Skui Brass Band
Conductor: Henrik Dalhaug

2012 Draw: 15
Own Choice Selection: Introduction (Torstein Aagaard-Nilsen) & Toccata (Ralf Wallin)

National Record:
2011: =11th (Henrik Dalhaug)
2010: 11th (Henrik Dalhaug)
2009: 11th in 2nd Division (Philip Hannevik) (rel)
2008: 9th (Michael Antrobus)
2007: 3rd in Third Division (Henrik Dalhaug) (prom)
2006: 10th (Henrik Dalhaug)
2005: 12th (Trond Nilsen)
2004: 3rd in Fourth Division (Trond Nilsen) (prom)
2003: 3rd
2002: DNC
2001: DNC
2000: DNC

Last Year: =11th

Own Choice Selections:
2011: Psalms & Alleluias
2010: Triumphant Rhapsody
2009: Aspects of Praise
2008: Connotations
2007: Symphony of Marches
2006: Renaissance
2005: Partita - Postcards from Home
---
2011 Result:

Adjudicators: Peter Bassano & Harald Eikaas
1. Rong Brass (Eirik Gjerdevik) - 97
2. Hasle Brass (Robert Solberg Nilsen) - 96
3. Grenland Brass (Christopher Roedvang) - 95
4. Fjell Brass (Svein Henrik Giske) - 94
5. Gjesdal Brass Band (Jonas Skartveit Rogne) - 93
6. Follesø Musikklag (Egil Magnussen) - 92
7= Flå Musikkorps (Odd Steiner Morkved) - 90
7= Torskangerpoll Musikklag (Eirik Gjerdevik) - 90
9= Nes Musikkforening (Andres Halla) - 89
9= Trondheim Politi's Brass Band (Peter Hatfield) - 89
11= Agder Brass (David Tellefsen) - 88
11= Skui Brass Band (Henrik Dagestad-Dalhaug) - 88
13= Flora-Bremanger Brass Band (Johnny Saelemyr) - 87
13= Frei Hornmusikk (Kim Lofthouse) - 87
13= Tysnes Musikklag (Yngve Nikolaisen) - 87
Soloist Prize: Solo cornet - Grenland Brass
Best Section: Horns - Rong Brass