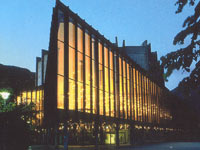 Fourth Division:
Adjudicators: Kim Lofthouse & Gavin David Lee
Saturday 11th February (11.00am)
---
Such has been the welcome problem of more and more bands wishing to take part in the National Championships over the past few years that the Norwegians have come up with a very sensible, straightforward answer.

A new Fifth Section has been created to accommodate the new entrants and those who felt they were struggling at this level, whilst the Fourth Section has been re-jigged into a much more manageable size.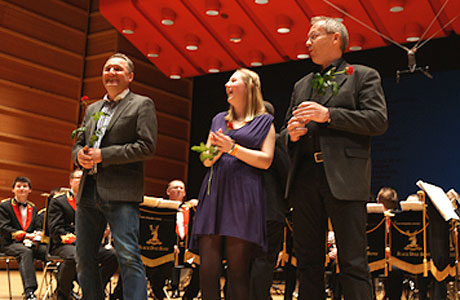 Happy atmosphere even at the results...

Seem-pels

This year 15 bands (there were 23 last year) including three relegated from the Third Division, will take part – allowing for a Fifth Section of 12 bands to be created. More bands no more problems.
As Aleksander Orlov, that well known Norwegian meerkat mastermind would say: 'Seem-pels'.
Relaxed

The relaxed atmosphere is one of keen but friendly rivalry and it makes this a great contest in the Peer Gynt Hall (even when the odd band should have been placed in a much higher section in the past few years).
Gavin David Lee and Kim Lofthouse will certainly enjoy themselves every bit as much as the competitors.
Dyke star

Those bands are led by Skeie Brass off the number 1 draw, who will be looking to make a move up the results table after coming joint 10th last year.

They are led by former Grimethorpe and Black Dyke soprano star Nigel Fielding, who has chosen 'Labour & Love' for their challenge.
Better returns

Salhaus Musikklag and Moen Musikkforening who follow will both be looking for better returns too and have opted for Philip Sparke's, 'A Celtic Suite' and 'Occasion' by Edward Gregson under the direction of Christian Breistein and Thomas Petersen respectively.
Euph star

Eikanger's euph star Patrick Randefalk will led Hordvik Musikklag on Peter Graham's 'Dimensions' as they certainly hope to improve on last year's 17th place.

Meanwhile, the experienced Karl Ole Mitbo has chosen a musical duet of 'David of the White Rock' and 'The Call of the Righteous' for Lyshornet Brass as they look to build on a solid return at SIDDIS in the Third Division.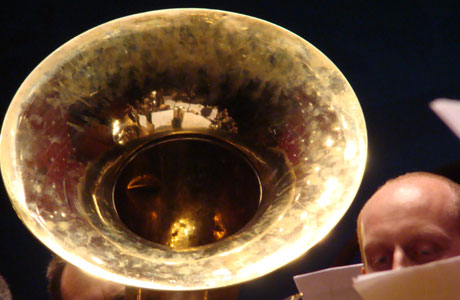 There are some great sights and sounds in Bergen...

History books

Lismarka/Mesnali Brass has dipped into the brass band history books with 'Henry V' for their challenge, whilst Tysnes Musikklag and Flora Bremanger will be looking to bounce straight back with good results following their relegation from the Third Division.
Tysnes opt for Sparke's 'Portrait of a City' whilst Flora go with the PLC/Pink Floyd whizz banger, 'The Dark Side of the Moon'.
Fagernes Musikkorps will be looking for a top six finish this year with the aid of Eric Ball's rarely heard 'The Eternal Presence', whilst Frei Hornmusikk is another band that is pinning its hopes on the 99 year old 'Labour & Love'.
Improve

Heimdel will be looking to improve on last year's 14th place with Edward Gregson's 'Occasion', whilst Stavanger Kommunes Korps, will want to push for a podium finish or better after coming 5th last year with the help of Kenneth Downie's 'Music for the Common Man'.
IMI SIDDIS

That just leaves IMI Brass, who won the Third Division title at SIDDIS, and who will be looking to claim a National title to go with it on 'Acolastus' by Dudley Bright, whilst Langhus, who were 4th behind them at Stavanger opt for Peter Graham's 'Dimensions'.
Lastly, the contest will be rounded off by Rosendal Musikklag giving us a taste of Edinburgh with Alan Fernie's enjoyable 'A Scot's Miscellany'.
---
Picking a winner?
Hard to say there was a clear favourite in this field, but we think it may be the right time for IMI Brass to add to their SIDDIS win.
Langhus Brass and Stavanger Kommunes Korps can fill the podium places, with Fagernes, Lyshornet and Flora not far behind. Our dark horse on this occasion is Moen Musikkforening.

4BR Prediction:
1. IMI Brass
2. Langhus Brass
3. Stavanger Kommunes Korps
4. Fagernes Musikkorps
5. Lyshornet Brass
6. Flora Bremanger

Dark Horse: Moen Musikkforening
---
Skeie GladBrass
Conductor: Nigel Fielding

2012 Draw: 1
Own Choice Selection: Labour & Love (Percy Fletcher)

National Record:
2011: =10th (Nigel Fielding)
2010: 11th (Espen Westbye)
2009: =12th (Espen Westbye)
2008: =9th (Einar Mæland)
2007: 10th (Einar Mæland)
2006: =6th (Einar Mæland)
2005: =6th (Einar Mæland)
2004: 5th (Einar Mæland)
2003: 12th in Third Division
2002: 8th
Last Year: =10th

Own Choice Selection:
2011: Saint-Saens Variations
2010: Laudate Dominum
2009: The Talisman
2008: Reflections
2007: A Celtic Suite
2006: Kaleidoscope (Five Variations on the Brugg Song) - Philip Sparke
---
Salhus Musikklag
Conductor: Knut Emil Mjos

2012 Draw: 2
Own Choice Selection: A Celtic Suite (Philip Sparke)

National Record:
2011: 13th (Knut Emil Mjos)
2010: =15th (Tom Eide Osa)
2009: =12th (Sindre Dalhaug)

Last Year: 13th

Own Choice Selection:
2011: Saint-Saens Variations
2010: Northern Landscapes
2009: Lydian Pictures
---
Moen Musikkkforening
Conductor: Thomas Petersen

2012 Draw: 3
Own Choice Selection: Occasion (Edward Gregson)

National Record:
2011: =10th (Thomas Petersen)
2010: = 19th (Thomas Petersen)

Last Year: =10th

Own Choice Selection:
2011: Dimensions
2010: Legend in Brass
---
Hordvik Musikklag
Conductor: Patrick Randafalk

2012 Draw: 4
Own Choice Selection: Dimensions (Peter Graham)

National Record:
2011: 17th (Knut Emil Mjos)
2010: 13th in Third Division (Knut Emil Mjøs) (rel)
2009: 12th (Knut Emil Mjøs)
2008: 5th in Fourth Division (Knut Emil Mjøs) (prom)
2007: =8th (Knut Emil Mjøs)
2006: =6th (Knut Emil Mjøs)

Last Year: 17th

Own Choice Selection:
2011: Chorale and Variations
2010: Firestorm
2009: Toccata Festiva
2008: Images for Brass
2007: Laudate Dominum
2006: Triptych for Brass Band - Philip Sparke
---
Lyshornet Brass
Conductor: Karl Ole Midtbo

2012 Draw: 5
Own Choice Selection: David of the White Rock (Trad) & The Call of the Righteous (Leslie Condon)
National Record:
2011: =10th (Trond Madsen)
2010: =17th (Jan Arne Pupe)
2009: =16th (Knut Harald Rydland)

Last Year: =10th

Own Choice Selection:
2011: Anglian Dances
2010: Triptych for Brass Band
2009: Partita
---
Lismarka/Mesnalia Brass
Conductor: Morten Fagerjord

2012 Draw: 6
Own Choice Selection: Henry the Fifth (Vaughan Williams)

National Record:
2011: 16th (Morten Fagerjord)
2010: 5th (Morten Fagerjord)
2009: 4th (Morten Fagerjord)
2008: 14th in Third Division (Morten Fagerjord ) (rel)
2007: 3rd in Fourth Division (Morten Fagerjord) (prom)
2006: =10th (Morten Fagerjord)
2005: 10th
2004: 5th (Erling Myrseth)
2003: 4th
2002: =16th
2001: 13th
2000: 16th

Last Year: 16th

Own Choice Selection:
2011: Galdhopiggen
2010: Terra Decora
2009: Music for Thanksgiving
2008: Northern Landscapes
2007: Images for Brass
2006: A Celtic Suite - Philip Sparke
---
Tysnes Musikklag
Conductor: Morten Fagerjord

2012 Draw: 7
Own Choice Selection: Portrait of a City (Philip Sparke)

National Record:
2011: =13th in Third Division (Yngve Nikolaisen) (rel)
2010: 2nd in Fourth Division (Eirik Gjerdevik) (prom)
2009: Did not compete
2008: 11th
2007: 9th (Yngve Nikolaisen)
2006: 3rd (Eirik Gjerdevik)
2005: 2nd in Third Division (Yngve Nikolaisen) (prom)
2004: 12th (Yngve Nikolaisen) (rel)
2003: 5th
2002: 11th
2001: 12th
2000: Winners of Third Division (Yngve Nikolaisen) (prom)

Overall Record:
Third Division Champions: 2000

Last Year: =13th in Third Division (rel)

Own Choice Selections:
2011: Harmonious Variations
2010: Kaleidoscope
2009: DNC
2008: Diversions
2007: The Year of the Dragon
2006: A London Overture
2005: The Plantagenets
---
Flora-Bremanger Brass Band
Conductor: Johnny Saelemyr

2012 Draw: 8
Own Choice Selection: The Dark Side of the Moon (Paul Lovatt-Cooper)

National Record:
2011: =13th in Third Division (Johnny Saelemyr) (rel)
2010: 7th (Johnny Saelemyr)
2009: 2nd in 4th Division (Johnny Saelemyr) (prom)
2008: =15th (Johnny Saelemyr)

Last Year: =13th in Third Division (rel)

Own Choice Selections:
2011: A Salford Sinfonietta
2010: Kaleidoscope
2009: Triptych
2008: Partita
---
Fagernes Musikkorps
Conductor: Freddy Haug

2012 Draw: 9
Own Choice Selection: The Eternal Presence (Eric Ball)

National Record:
2011: 7th (Jon Henning Lien)
2010: =21st (Jon Henning Lien)
2009: =5th (Odd Arne Erlandsen)
2008: =15th (Odd Arne Erlandsen)
2007: =8th (Tor Arthur Hagen)
2006: 7th in Third Section (Tor Arthur Hagen) (rel)
2005: Winners of Fourth Division (Tor Arthur Hagen)
2004: 13th in Third Division

Overall Record:
Fourth Division Champions: 2005
Third Division Champions: 1986

Last Year: 7th

Own Choice Selections:
2011: A Celtic Suite
2010: Sword, Jewel and Mirror
2009: Kaleidoscope
2008: The Kingdom Triumphant
2007: Music for a Festival
2006: The Plantagenets
2005: Triptych
---
Frei Hornmusikk
Conductor: Tor Age Schunemann

2012 Draw: 10
Own Choice Selection: Labour & Love (Percy Fletcher)

National Record:
2011: =13th in Third Division (Kim Lofthouse) (rel)
2010: 11th in Second Division (Kim Lofthouse) (rel)
2009: 2nd in 3rd Division (Kim Lofthouse) (prom)
2008: 4th in Fourth Division (Stein Åge Sørlie) (prom)
2007: 14th in Third Division (Stein Åge Sørlie/ John Hudson) (rel)
2006: 4th in Fourth Division (Stein Åge Sørlie) (prom)

Overall Record:
Third Division Champions: 2001

Last Year: =13th in Third Division (relegated)

Own Choice Selection:
2011: The Plantagenets
2010: My Strength, My Tower
2009: Song of the Eternal
2008: The Saga of Haakon the Good
2007: Laudate Dominum
2006: Inspiration - Jan de Haan
---
Musikkorpset Heimdal
Conductor: Selmer Simonsen

2012 Draw: 11
Own Choice Selection: Occasion (Edward Gregson)

National Record:
2011: 14th (Per Olav Paulsen)
2010: =15th (Per Olav Paulsen)
2009: =9th (Pal W. Josok)

Last Year: 14th

Own Choice Selections:
2011: Kaleidoscope
2010: The Dark Side of the Moon
2009: Valerius Variations
---
Stavanger Kommunes Korps
Conductor: Geir Karlson

2012 Draw: 12
Own Choice Selection: Music for the Common Man (Kenneth Downie)

National Record
2011: 5th (Geir Karlson)
2010: 9th (Morten Ovrebekk)
2009: =12th (Morten Ovrebekk)
2008: =9th (Morten Ovrebekk)
2007: 11th (Morten Ovrebekk)
2006: DNC

Last Year: 5th

Own Choice Selection:
2011: The Four Noble Truths
2010: Five Blooms in a Welsh Garden
2009: The Dark Side of the Moon
2008: To Serve and to Save
2007: A Saddleworth Festival Overture
2006: DNC
---
IMI Brass
Conductor: Per-Erik Petersen

2012 Draw: 13
Own Choice Selection: Acolastus (Dudley Bright)

National Record:
2011: 15th (Per-Erik Petersen)
2010: 12th (Per-Erik Petersen)
2009: 15th (Per-Erik Petersen)
2008: 13th in Third Division (Per-Erik Petersen) (rel)
2007: 12th (Per-Erik Petersen)
2006: 2nd in Fourth Division (Per-Erik Petersen) (prom)

Last Year: 15th

Own Choice Selection:
2011: Variations on Repton
2010: Aspects of Praise
2009: Tone Poem: Joshua
2008: A Pastoral Symphony
2007: Romans 8
2006: To Serve and to Save
---
Langhus Brass
Conductor: Tarjei Gilbrant

2012 Draw: 14
Own Choice Selection: Dimensions (Peter Graham)

National Record:
2011: 6th (Idar Toskangerpoll)
2010: 8th (Idar Toskangerpoll)
2009: =9th (Idar Toskangerpoll)
2008: 15th in Third Division (Idar Toskangerpoll) (rel)
2007: Winners of Fourth Division (Idar Toskangerpoll) (prom)
2006: DNC

Overall Record:
Fourth Division Champions: 2007

Last Year: 6th

Own Choice Selection:
2011: Psalms & Alleluias
2010: Kaleidoscope
2009: Festivity
2008: Songar fra Fysjenes
2007: A Breathless Gnu Kiss!
2006: DNC
---
Rosendal Musikklag
Conductor: Torstein Hatlevik

2012 Draw: 15
Own Choice Selection: A Scots Miscellany (Alan Fernie)

National Record:
2011: 9th (Torstein Hatlevik)
2010: 14th (Torstein Hatlevik)
2009: =5th (Torstein Hatlevik)
2008: =11th
2007: 15th in Third Division (Jan Magne Olsen) (rel)
2006: 3rd in Fourth Division (Jan Magne Olsen) (prom)
2005: 14th (Michael Antrobus) (rel)
2004: Winners of Fourth Division (Yngve Nikolaisen) (prom)

Overall Record:
Fourth Division Champions: 2004

Last Year: 9th

Own Choice Selection:
2011: Royal Parks
2010: Glorifico Aeternum
2009: Dimensions
2008: Call of the Cossacks
2007: Sunset Rhapsody
2006: Essay for Brass Band
2005: Main Street
---
2011 Result:

Adjudicators: Karl Ole Midtbø & Cathrine Winnes Trevino
1. Bergen Brass Band (Sturle Berntsen) - 96
2. Randaberg Musikkorps (Tarjei Gilbrant) - 95.5
3. Gjøvik Bybrass (Torbjorn Lunde) - 94
4. Fræna Musikkorps (Jens Kritian Mordal) - 93.5
5. Stavanger Kommunes Korps (Geir Karlson) - 93
6. Langhus Brass (Idar Torskangerpoll) – 92.5
7. Fagernes Musikkorps (Jon Henning Lien) - 91
8. Harøy Musikklag (Frank Harneshaug) – 90.5
9. Rosendal Musikklag (Tortein Hatlevik) - 90
10= Lyshornet Brass (Trond Madsen) - 89
10= Skeie Brass (Nigel Fielding) - 89
10= Moen Musikkforening (Thomas Petersen) - 89
13. Salhus Musikklag (Knut Emil Mjos) - 88.5
14. Musikkorpset Heimdal (Per Olav Paulsen) – 87.5
15. IMI Brass (Per Erik Petersen) - 86
16. Lismarka/Mesnali Brass (Morten Fagerjord) – 85.5
17. Hordvik Musikklag (Knur Emil Mjos) - 85
18. Florø Hornmusikk (Jason Burn) - 84.5
19. Hetlevik Musikklag (Einar Gjelsvik) - 84
20. Rudsbygd Brass (Per Kristian O Syversen) - 83
21. Brumunddal Brass (Morten Sanner) - 82
22= Fjordbrass Lavik (Jason Burn) - 81
22= Lalm Musikkforening (Erik Wang) - 81
Soloist Prize: Solo cornet - Randaberg Musikkorps
Best Section: Cornets - Fræna Musikkorps