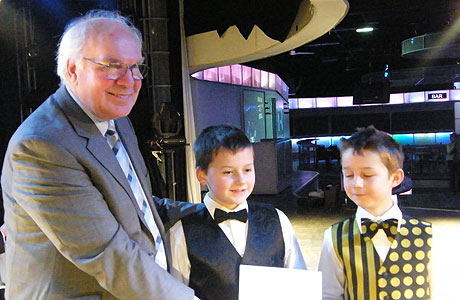 1000 winners! Ensemble champions Youth Brass 1000

Junior Ensemble:

Whilst the Championship Section bands were battling it out with their brand of entertainment at the Centre Stage venue on Sunday, there were some equally brilliant performers on show just across the road with the Junior Ensemble and Youth Sections.
It really was terrific stuff – helped by the excellent organisation of Ian, Judith and Martin Beckett from the Shirland Band, with the best news of all revealed in the form of even more bands than ever taking part.
Leading event

This event continues to flourish, and the long term Butlins investment (the contests started four years ago) is now reaping the rewards it deserves. Before long it could well be the leading contest of its type in the banding world.

The biggest challenge the organisers could have in years to come could be to limit the number on those who want to take part.
Starting at 11.00am and finishing six hours later, the time just flew by, as 12 ensembles delivered programmes to be proud of.
Concentration

The nearest thing to a negative from the adjudicator's Barry Thompson and Mark Walters when the results ceremony took place was a little reminder to the young players to watch the conductor at all times and to look like they were enjoying yourselves.

The levels of intense concentration on display were amazing!

Taking the applause: The Youth competitors take to the stage

Justifiable praise was heaped on the solo contributions, and there was further good news in that it is hoped that a bespoke 'Solo Award' will be made from next year on.
Four ensembles

The day started with four junior ensembles in a section for bands of between 10 and 20 players. Each ensemble, with the help of tutors, was allowed to play for 10 minutes, with the only proviso being that they perform a hymn tune.
Youth Brass 1000 under Adele Hudson kicked the day off, and Barry Thompson was so impressed that he rewarded them with first prize, after they gave a tremendously disciplined account of themselves in 'The Great Escape' and 'I Will Follow Him', with some intuitive control from the MD in the hymn tune.
Meanwhile, Shirland Training Ensemble 1 opted for a quartet of fun pieces and certainly enjoyed the experience.

MD Dave Harvey did a cracking job, and after opening with 'The Magician, His Assistant and the Deck of Cards', they maintained the high standard with the hymn tune, a neat bit of ragtime and a march containing children's nursery rhymes and songs.
Talents

The Leicestershire outfit of Wigston Enterprise showcased their burgeoning talents with a trio of pieces, including a fine rendition of 'Slaidburn' and the second rendition from 'Sister Act' of the day.
Lastly, Croft Junior Band and Ian Bromley just savoured the opportunity to perform in front of a large audience.
Having started off with a modern day take on 'When the Saints go Marching in', they followed with two contrasting hymn tunes before rounding off with a blast of Robbie Williams.

It was entertainment the Butlins Red Coats would have been proud of.
---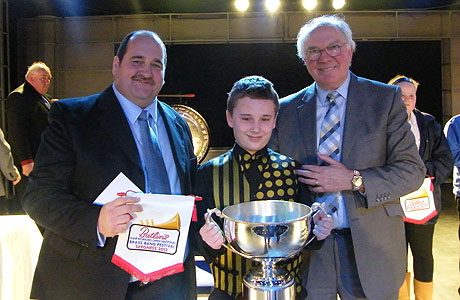 Youth Contest:
After a short comfort break, Barry was joined by Mark Walters for a fabulous Youth Section, where a march and hymn tune were the set disciplines in 20 minute programmes.
With the adjudication criteria based on music alone, the entertainment served up by the eight ensembles was nothing short of remarkable, with plenty of cracking solo contributions to boot.

If an award would have been available, the judges would have had an unenviable task to have picked just the one player.
Better quality

The quality of the ensemble playing was higher than in previous years, and it was a close call between the bands to see where the £1,000 first prize ended up.
In the event, Youth Brass 2000 and Chris Jeans took the title for the fourth successive year, courtesy of a high class performance that showcased their musical talent in full.
Musical pulses

Drawn sixth, they set the musical pulses of the packed auditorium racing with a blistering account of John Williams' familiar 'Olympic Theme and Fanfare'.

The hymn tune, 'Dear Lord and Father of Mankind' was full of control and wonderful dynamics, before the band's principal cornet, 15 year old, Thomas Fountain (who like the MD had hot-footed it from Centre Stage having played an equally fine flugel solo with Virtuosi GUS ) played the air-varie, 'Victory' by Herbert L Clarke in what was a truly superb performance.
The march, 'The Champions' was delivered with musical swagger before they rounded off with Ravel's 'Bolero', which included some superb individual solo contributions and precise ensemble.
On this form, the band will go to the Action Research Contest in buoyant mood and as short priced favourites.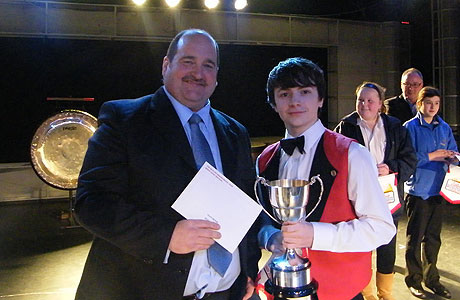 Wardle High! Second place for Lee Rigg's band

Wardle High and St Helens Youth both made their debuts at the event this year and fully deserved to be in the frame to take home £600 and £200 respectively in prize money.
Lee Rigg must be pinching himself with the quality of the musicians available to him at Wardle High.
Throughout their six pieces, nothing was overdone and the tightness of the ensemble really shone through.

They set a high standard with the opening 'Olympic Fanfare and Theme' and music from 'Moulin Rouge', before the hymn tune in tribute to Dr Newsome ('There is a Green Hill Far Away') was followed by the euphonium duet, 'Softly as I Leave You' , a thumping march and music from Peter Graham to close.
High quality

Meanwhile, Anna Hughes-Williams led St Helens Youth into third place with a high quality set that opened with the march, 'The New Colonial', with authentic touches of the Dick Evans swagger.
Daniel Morgan delivered a slick account of 'Neath the Dublin Skies', before further contributions came via The Beatles and Andy Scott's beautiful 'Hymn from Barossa', before they rounded off in showbiz style with their signature tune, 'The Saints'.
Sparkling account

Dave Harvey returned with Shirland Welfare Training in an eclectic programme that played to their strengths and featured 15 year old, Jon Harvey giving a sparkling account of the popular Alan Morrison solo, 'Sugar Blues', whilst Lions Youth under Nigel Birch found their musical feet in a programme that showcased two excellent soloists and plenty of exciting film music.
Enderby Youth finished third last year, but this time around had to be content with a place outside the prizes, despite a fine programme that included a reprise of Peter Meechan's 2011 National Youth test piece, 'Sentinel'.
Different

Finally, Coleshill Youth, who not for the first time at this event, opted for something a little bit different with a television themed programme that covered animation, religion and sport.

It was all very well presented, innovative and full of fun as well as plenty of high quality playing.
That just left time for MC, Ian Beckett who was on fine form all day, to tell a few jokes whilst the results were collated, before the judges gave their excellent remarks and the winners celebrated as only excitable teenagers and primary school children can: brilliantly.
Malcolm Wood