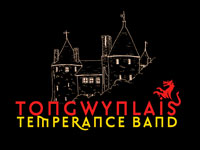 Band: Tongwynlais Temperance
Formed: 1888
Website: www.tongwynlaisband.com

Region: Wales
---
Major Honours:

Scottish Open Champions: 2011
Pontins Champions: 2009
Welsh League Champions: 2003, 2008
First Section Champion Band of Great Britain: 2009
First Section Welsh Regional Champion: 1992

Second Section Welsh Regional Champion: 1951

Runner Up: Grand Shield: 2010
Runner Up: French Open: 2003
---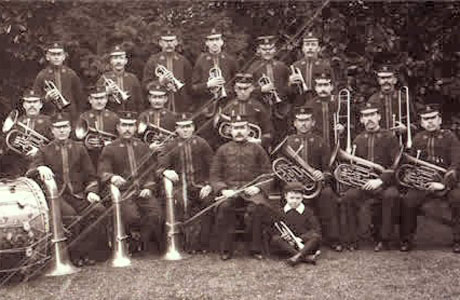 A sober looking line up: The early Tongwynlais Temperance Band

Band History:
The band hails from the small village of Tongwynlais on the outskirts of Cardiff, and was founded in 1888 by banding enthusiasts from the local Melingriffith works.
Originally known as the Brooker's Band, they soon became a part of the thriving local temperance movement, eventually becoming the Tongwynlais Temperance Silver Band, although in the 1920's they rehearsed in the long room of the local Lewis Arms public house until their own bandroom was built in 1925.
Women players

Success over the years remained sporadic. The activities of the band were suspended for the duration of the First World War, although they remained active during the Second World War despite the enlistment of 18 of the 33 band members.

They were one of the first bands in Wales to actively encourage women players.
The fondly remembered conductor Harold Morgan was appointed in 1948 and led the band to many contest victories and to Championship Section status following their victory at the 1951 Welsh Regional Contest.
Varied fortunes

In subsequent years fortunes varied, with the band confined to the Second and Third Section for the vast majority of the next half a century, although they did qualify for the National Finals on a number of occasions including following their victory at the First Section Welsh Regional Championship of 1992.

The band was promoted to the Championship Section in 1997, but was relegated after a two year stay.

They returned again in 2002 following a series of strong performances, although they subsequently lost that status in 2009.
Turning point

This proved to be a turning point in the band's fortunes, with the appointment of Philip Harper as MD spearheading a remarkable return to contesting success.

The band won the First Section National title off the number 1 draw at Harrogate in 2009, followed by victory at the Harry & Margaret Mortimer Championship Finals at Pontins later the same year.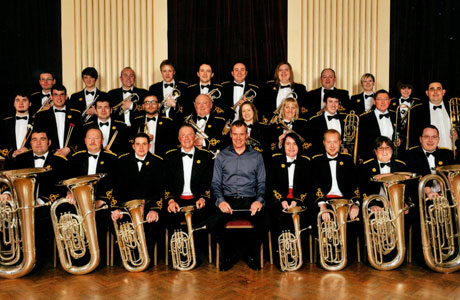 The current line up: Tongwynlais Temperance with MD, Philip Harper

Further success

This heralded further success, with the first ever appearance at the National Finals at the Royal Albert Hall in 2010 as well as qualification to the British Open – the first band to achieve the feat through each section of the British Open qualification structure at the revamped Spring Festival.
In 2010 the band joined forces with talented composer Paul McGhee who became their Composer in residence, whilst they also enjoyed critical success as part of the famous Ironbridge Festival.
Their return as a top level contesting force was confirmed in 2011 by victory at the Scottish Open Championship in Perth.
---
Statistics:
Current 4BR Ranking: 22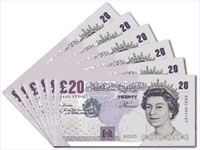 Prize Money Pot:

2011: £3,300
2010: £1,075
2009: £4,500
2008: £1,550
2007: Under £1,000
2006: Under £1,000
2011 Contesting Record:

Yeovil Entertainment Contest: 5th
Welsh Open: 3rd
Welsh Regional Championship: 4th
All England International Masters: 8th
British Open: 17th
Scottish Open: Winners
---
4BR Ranking Progress: (World of Brass/4BR Ranking to December 2011)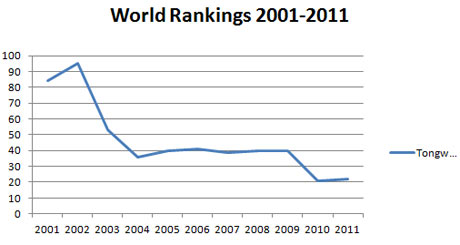 When the 4BR rankings started, the band languished in the bottom reaches of the top 100, although they rose to settle around 40th position by 2005.
They remained ranked at this level to the end of 2008, although the successes enjoyed during 2009 and 2010 saw them first jump to 33rd and then to 21st at the end of 2010.

This position has been maintained in 2011, ending the year ranked 22nd following their success at the Scottish Open Championship in Perth.
---
Personnel: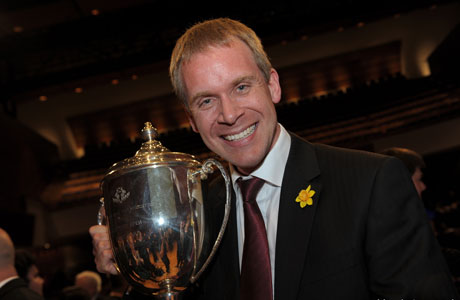 The man at the helm: MD, Philip Harper

Professional Conductor: Philip Harper
"Philip Harper is a musician from top to toe, which, in his case, means a lot of musician," said Alan Jenkins of the six and a half foot conductor and composer in the British Bandsman magazine in 2010.

Philip, a resident of Gloucester, became Professional Conductor of Tongwynlais in 2009 and is currently the Editor of Brass Band World magazine, and the Music Editor of Wright & Round publishing company.

Additionally he works at home and abroad as a freelance conductor, educator and adjudicator, with brass bands of all abilities from non-contesting bands and youth bands to the Black Dyke.

Prolific

He was for many years the successful MD of the Flowers/Polysteel Band in the West of England, gaining many Championship honours including leading them to the West of England Area title, and five victories at the Yeovil Entertainment Contest.
He is also a prolific composer, and his original works and arrangements are played all over the world. In 2010, both 'Kingdom of Dragons' and 'Willow Pattern' were selected for use at the UK National Brass Band Championships, whilst 'Olympus' will be used for the same purpose in 2012.

Philip graduated from the University of Bristol in 1994 before going on to take a Masters Degree in Composition and a Post-Graduate Certificate in Education.

Success

He had a successful performing career and was the principal horn of the National Youth Brass Band of Great Britain and the Sun Life Band in Bristol, as well as winning through to the Brass Final of the BBC Young Musician of the Year in 1991.
Between 1996 and 1998 he lived in Japan and was a guest soloist with most of the 'British-style' brass bands during this time, as well as a real object of curiosity to the majority of the (relatively) diminutive population.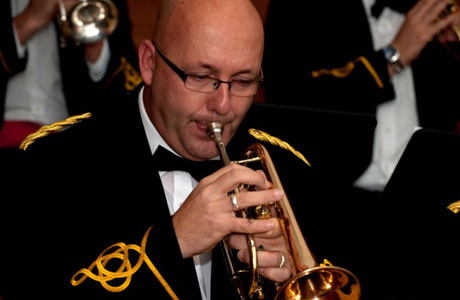 Principal Cornet: Chris Howley

Current Players:
Principal Cornet: Chris Howley
Solo Cornets: Vicki Kennedy, Lee Elliott, Stuart Pollard
Soprano Cornet: Morgan James
Repiano Cornet: Gareth Hann
2nd Cornets: Trystan Jones, Susanne Jones
3rd Cornets: Martyn Wait, Josh Ruck
Flugel Horn: David James
Solo Horn: Alyn James
1st Horn: Eve Nixon
2nd Horn: Michelle Williams
Solo Euphonium: Martyn Patterson
2nd Euphonium: Huw Evans
Solo Baritone: David Osborne
2nd Baritone: Kate Rowlands
Solo Trombone: Vacant
2nd Trombone: Dafydd Thomas, Alan Gifford
Bass Trombone: Craig Walker
Eb Tuba: Chris Eveson, Kate James
Bb Tuba: Kazu Kuono, Andrew Robbins
Percussion: Jason Bevan, Shaun Rigby, Aled Lloyd
---
2012 Aims and objectives:
Contests:
Band Chairman Jason Bevan told 4BR: "We have a busy contesting year planned for 2012, with a return to the Butlins Mineworkers Championships in January and contesting appearances at Yeovil and the Welsh Open.
We are also targeting qualification to both the National Finals at the Welsh Area contest and the British Open at the Grand Shield event in Blackpool in May, and we will be looking to defend our Scottish Open title in Perth at the end of the year."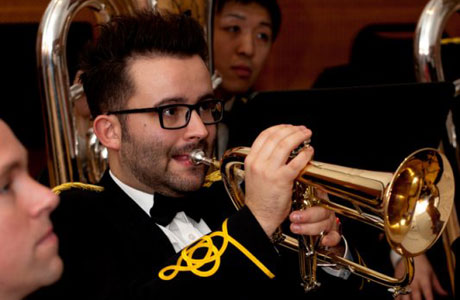 Flugel star: David James

Non contesting front:
Jason added: "On January 5th, we will move into our new band hall in the Llandaff North area of Cardiff and are branching out with a new venture called MusicRoomz, which will give the band and local artists rehearsal facilities and a recording studio, giving them the ability to lay down tracks in the custom built studios.

We hope to be able to use the new facilities to record a CD of Philip Harper's music and we have two high profile concert promotions, including with the choral sensations 'Men Aloud' already planned.

We have a reputation as an entertaining, innovative concert band – and we hope to build on that during the coming season."
---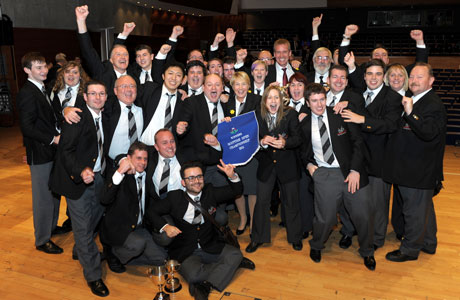 Will there be more non temperance celebrations in 2012?

4BR Predictions:
An interesting and challenging year ahead for Tongwynlais. 2011 was an uneven, slightly unlucky season that ended in a blaze of glory, but which also didn't mask the reality of their contesting strengths and weaknesses.
They are ranked as the fourth best band in Wales, are not at the British Open and failed to qualify for London, so there is work to do for an undoubtedly ambitious band.
However, their rivals have done them a bit of favour – especially when it comes to qualification for the Royal Albert Hall.
With Cory and Beaumaris already booked in, there are two places up for grabs with a likely battle between Tredegar, BTM and Tongwynlais to see who joins them in Kensington. After the success at the Scottish Open, they should be confident of claiming one of them.
We should know what type of form they are in before then though, with Yeovil, the Welsh Open and the Butlins Mineworkers Championship offering a run out against the type of opposition they may encounter later in the year at the Grand Shield.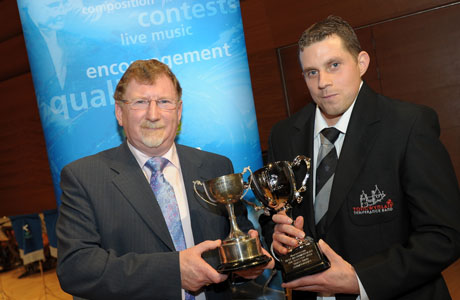 Star performer: 4BR Best Instrumentalist at Scottish Open - Martyn Patterson

With a solid ensemble and classy soloists, success may depend on the MD's enjoyable, if at times slightly idiosyncratic approach to entertainment and test piece interpretation.
The band is prone to raids on its personnel from the big beasts of South Welsh banding, so some strengthening may be needed if they are to challenge consistently throughout the year against higher class opposition.
If they can get off to a good start then they may well build up a head of steam that could very well see them finish 2012 with appearances at Birmingham, London and back in Perth to defend their Scottish title. If not, the prospect of another uneven season beckons.
Well run, full of confidence and determination, 2012 offers Tongwynlais the prospect of more celebratory tipples of a non temperance kind.