Preparatory Section:
The introduction of the Preparatory Section (for bands with players under the age of 12) this year came as a direct result of SBBA's youth policy having become a victim of its own success.
The sheer range of ability heard in the Novice Section was such that SBBA identified a need for a more tiered structure that would be beneficial to new learners and some of the more junior players involved.

And on this evidence, it was another enlightened piece of thinking.
Enjoyable

Eleven bands took to the stage early on Sunday morning for an immensely enjoyable contest which revealed a remarkable standard given the age and early stage learning of many of the players.
Highly creditable Bronze Certificates were awarded to Newland Junior, The Big Noise Brass Band (which is a ground breaking inner city scheme based on the 'El Sistema' projects in Venuzuela) and Tullis Russell Youth, with Silver Certificates won by Coalburn Bronze, Galashiels Youth and Kingdom Brass Youth.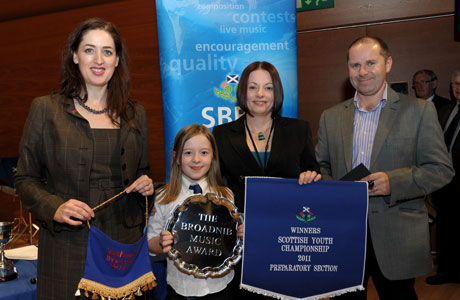 Massed ranks: Perth & Kinross win the Preparatory Section

Five Gold

Of the five Gold Certificate winners, which included Abbey Forest (Jedforest), St David's Youth and Whitburn Youth, it was Perth & Kinross Junior School and Loanhead Brass Roots that took the top honours.
Alan Fernie guided Loanhead through an enjoyable programme that included his own 'Ragtime', 'Ghostbusters' and Abba's 'Does Your Mother Know', all aided by some brilliant young percussionists.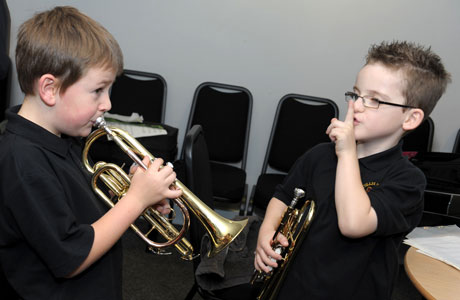 Ssshhhhh!

Colossal forces

Meanwhile, the colossal forces of Perth & Kinross Junior School (all 95 of them) were ably guided to victory from the number one draw by Elaine P Stewart, with playing of abundant spirit and enthusiasm.

It was also a performance that was marked by excellent use of dynamics and high quality percussion playing that drew on both pop and Latin influences with the Bee Gee's 'Tragedy' making for a great opener, contrasting with 'My Heart Will Go On' and 'A Glass of Tequila' to finish in lively fashion.

Thankfully, SBBA had invested in just enough winner's medals to ensure everyone got a lasting memento of their brilliant achievement!
---
Novice Section:
In the Novice Section (for players up to 14) the standard remained exceptionally high.
Nine bands shared three Bronze (Dunfermline Youth, Irvine & Dreghorn Junior and St. John's Secondary School),and four Silver (Kingdom Brass Youth, Levern Valley Community, Newtongrange Junior and South Ayrshire Youth) with Gold honours going to winners Kirkintilloch Youth and second placed Hawick Saxhorn Youth.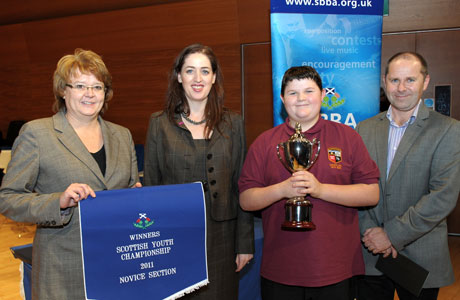 Kirkintilloch win the Novice Section

Soprano star

Hawick Saxhorn, led by Rob Hume, boasted a young soprano cornet star of the future playing with a maturity well beyond his years.

Theirs was an impressive set that included the 'Fanfare' from Janacek's 'Sinfonietta', part of 'Riverdance', 'For Your Eyes Only' and the 'Florentiner March'.
Substantial forces

Meanwhile, Kirkintilloch's substantial forces included no less than seven trombones.
Lynda Nicholson choose a carefully contrasted programme that ranged from a whistle-stop tour of 'The Castles of Scotland' to Queen's 'Crazy Little Thing Called Love', the latter drawing the programme to a lively conclusion.
It was noticeable throughout that the extra two years of progression for these players had been well developed by excellent tutors and conductors, with each band containing players who produced warm, well rounded sounds, clean articulation and an appreciation of ensemble tuning.
---
Development Section:

With the Scottish Youth Championship split over two days, it was the Development Section (for bands with players up to the age of 16) that got proceedings off to an early 9.00am start on the Saturday morning.
And despite the usual teenage problems of getting out of bed at such an unearthly hour, there were no sleepy eyed moans of compliant as the first of eight bands took to the stage to impress adjudicators David Childs and Ian Porthouse.

Cracking contest

It turned out to be a cracking contest, with Kings Park Youth Brass and St Margaret's Brass Livingston achieving Bronze Certificates, with three Silver Certificates going to Kinneil Youth, Peebles Junior and Perth & Kinross Senior School, all of whom produced playing of notable quality.

Gold Certificate winner, Loanhead Brass Youth under the indefatigable Alan Fernie, performed with an almost standard banding line up, with a George Roberts inspired bass trombone solo 'I Only Have Eyes For You' one of the highlights of a programme notable for its stylistic contrasts and impressive musical dexterity.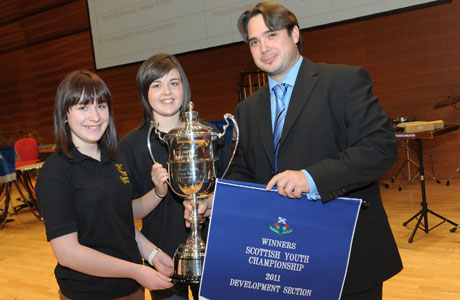 Campbeltown take the honours in the Development Section

Cinematic

For second prize winners Arbroath Instrumental Juniors, Gregson's 'March Prelude' drew a rhythmically tight opening salvo, with their euphonium player demonstrating control, phrasing and a fine cantabile style in 'Myfanwy'.
The Gold Certificate performance came to a close with Jan de Haan's boldly cinematic 'Free World Fantasy'.

Remarkable

The six hour journey from the West of Scotland was made more than worthwhile for Campbeltown Juniors, as they sealed first place and a Gold Certificate with playing that was at times quite remarkable in its maturity under the direction of Jamie McVicar.
The swagger of the 'New Colonial March' and an atmospheric opening to the finale of 'Saints on Parade', were just two of the highlights, with a magnificent contribution from a star young lady on soprano cornet who switched to trumpet for a brilliantly jazzy close to her high class contribution.
---
Senior Section:

In the Senior Section (for bands with players up to 18 years of age) both Perthshire Youth and Scottish Borders Youth delivered Gold Certificate programmes in a closely fought battle, with the first prize ultimately going to Alan Fernie's Scottish Borders by a hair's breadth.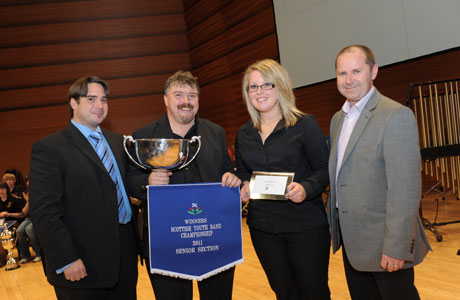 Scottish Borders win the Senior Section

Crowd pleaser

Directed by Jason Blyth, Perthshire's programme was a real crowd pleaser with a brilliant rendition of 'Minnie the Moocher' from the band's bass trombone player and a finale of 'Dog Days' complete with bass and electric guitar solos along with improvised solos from cornet and trombone.

The central part of Scottish Border's set was a gently shaped rendition of Goff Richard's 'Country Scene', whilst a finale of 'Procession to the Minster' pushed the band to its limits but drew majestic playing in its closing bars.

Monster

The talking point however was the opening, 'Monster' by Alan Fernie, which was a gritty, gripping account of 'demons lurking within' played with both savagery and ethereal delicacy in music that threw a completely new light on the composer.
---
Premier Section:
The climax of the Youth Festival came with the battle of the banding giants in the Premier Section.

However, those who thought it would just be fought out between the reigning champion, Carnoustie & District and their rivals West Lothian were in for a pleasant surprise as Aberdeen City Youth produced an eye popping Gold Certificate programme under the direction of Richard Kidd.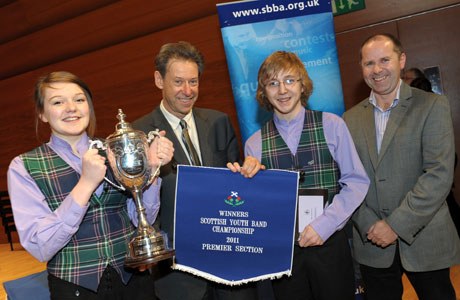 West Lothian back on top in the Premier Section

Thunder

Right from the word go they thundered into their slick presentation, backed by compact, energetic ensemble playing.

If there was a question mark it came with the laboured bit of comedy in 'Mr Sandman', which seemed out of place for this contesting format, although the contrasting items which included a sparkling 'Royal Hunt of the Sun' to close showcased a band on the rise under a talented MD.
Quality

Earlier West Lothian Schools produced a performance of undoubted quality under the direction of Nigel Boddice MBE – perhaps the best they have given here for a few years.
Their programme featured fine soloists in Suzanne Downs, Jamie Shade and Holly Boddice as well as balanced ensemble items including the sparky opening 'Money Makes the World Go Round', and the atmospheric 'Stahl Himmel'.

The closing 'When the Saints Go Marching In' complete with vocals rounded off the Gold Certificate set in championship winning manner.
Best form

If they were retain their title Carnoustie & District under Michael Robertson, knew they had to be on the best of form, and with the opening 'Enter the Galaxies' and closing 'Fanfare & Love Songs' they certainly were that and more.

Jo Walters was also an outstanding bass trombone soloist in the final part of the Chris Brubeck 'Concerto', but some unexpectedly poor tuning in the quieter items of 'Priere a Notre Dame' and Leigh Baker's 'Elegy' just took the gloss off their usual secure ensemble work.

Despite a well deserved Gold Certificate, it proved to be the difference between a hat trick victory and second place.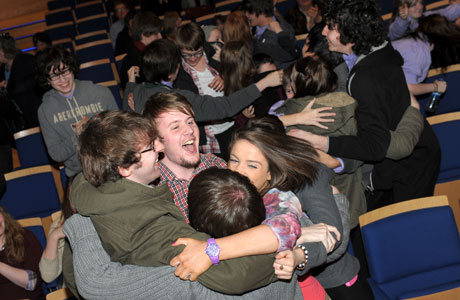 That winning feeling...

Emerging talents

Behind the impressive Gold winning trio came two emerging talents in Moray Concert Brass conducted by Glenn Munroe and Dalmellington Juniors led by the bundle of energy and passion that is Ian Taylor.
Although some way behind their rivals in terms of overall quality there was still plenty of good music making to enjoy with Moray opening the contest with a well chosen programme that featured their talented horn player Emma Gent and a solidly played finisher in Ray Farr's 'Adventures in Brass'.
Meanwhile, Dalmellington opted for an eclectic mix with a bold rendition of 'Poet & Peasant' balanced by 'Elegy' from 'A Downland Suite' and 'Music' by John Miles.

Chris Thomas & Iwan Fox