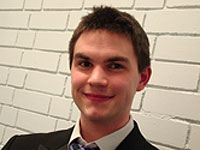 Given the opportunity, the wish list, the ability to mess about with the Space-Time Continuam like Doctor Who, and the skill to cook like Heston Blumenthal, who would you like to invite around to your place to enjoy a meal and chin wag with?

4BR started it all off a few days before Christmas 2007 with our 10 dinner guests, so we thought we had better ask a few more brass band personalities who would be on their all time dinner list too..

Sought after

This month we have asked Mark Harrison, one of the most sought after young trumpet stars around, and a former brass band soprano player with the National Youth Band and many leading senior bands to give us his ideal dinner party line up.

He told 4BR, that it was all about those who have been an influence on him - although his choices are not all quite what you may expect.

He siad: "There are so many close friends that I've made over the years, through school, banding, RNCM and most recently Norway.

I guess when breaking it down it's about people who have influenced my life in some way or another, and others that appeal to my different interests - giving everyone something to chat about!"
---
1. Wayne Bergeron

The lead trumpet player of the world famous American Big Band, Gordon Goodwin's Big Phat Band.

His playing is awe inspiring and in the world of screaming trumpet playing his is so perfectly in tune, it's a pleasure to always hear him!

2. Seth McFarlane

To have at the table, the mind that thought of a fighting chicken, a paedophile pensioner, a loft dwelling illegal alien, a talking German goldfish, and much, much more, would be quite something!

I'm sure our stomachs would be in so much pain by the amount laughter he would encourage that we may not have any appetite for food!

Plus, his performance at the Proms a few years back showed off his quite extraordinary voice!

3. Thomas Gansch

Since Mnozil first came to the UK, any opportunity to hear the group and this man play is a necessity.

Gansch is the lead trumpet - always in extravagant clothing and armed with crazy ideas up his sleeve.

There's a truly memorable video of him and Adam Rapa (another fantastic trumpeter), showing the two of them running on treadmills in the basement of their hotel, playing duets together, because the hotel bar is closed.

Truly, this is a man of an endless supply of insane laughter. I'd love to see how him and Seth got on together!

4. Ronnie O'Sullivan

Strange as it is for a Mancunian to hate football - snooker is one of the only sports I actually take an interest in.

I remember always watching it with my Dad - stunned by 'The Rocket's' brilliant ambidextrous skill and 147s! I want to know what makes him tick.

5. Bramwell Tovey

Legend. Ever since meeting him on a NYBB course, I will never I forget the wit, the charm, the intelligence, the pure genius of the man that could control the emotion of any music purely with his little finger.

He used to conduct the last note a hymn tune to warm down at the end of a rehearsal using the baton to eek the very last bit of performance concentration out of us.

We never left rehearsal anything other than exhilarated.

6. Carol Vorderman

Appealing to the mathematician inside me.

Not only is she a smart, sophisticated woman, but seeing her on talk shows and in other circumstances, she's proven to have great wit and humour, with countless funny stories to tell!

And to tell the truth, she's a fine looking woman!

7. Jeremy Clarkson

I need to explain this one?

We can talk about cars, mock the current events of the world, cars, dish dirt about all the celebrities he's had on Top Gear…and more cars!

As long as I don't mention I ride a motorbike I'm sure we'll get on fine...

8. James Burton

He was the conductor of the Hallé Choir when I was a member. He really inspired me and influenced a lot of my early music training.

Doing many concerts at the Bridgewater alongside the orchestra, it really helped me develop as a performer, and Jamie was the key man behind it all.

Just like Bram, you know you're under a great conductor when you don't realise 2 hours have just passed, because you're enjoying yourself so much!

Such a classy guy too.

9. Tim Minchin

Between the time Matt White put the CD on in my car in Bolton, until the time we arrived in Taunton, I had never laughed and cried so much in my entire life.

There are many comedians in the world, but it's rare to have one who has incredible musical ability too. His mind works in such complex ways.

He is a strange, strange man, and I doubt that anyone would leave the table without having had a dirty limerick or collection of highly outrageous adjectives and events to describe them - but what an entertainer.

10. Nigella Lawson

To have someone described as 'The Queen of Food Porn' to cook for us all, I doubt that anyone would have complaints.

The recipes are delicious when I cook them myself, so God only knows how good it must be when cooked by her own hands!
---
Previous dinner guest lists:
Previous guests have included the 4BR selection; Chris Wormald; David Read; Pete Meechan; Alan Jenkins; Derek Broadbent; Philip Harper; Peter Roberts; Frank Renton; James Shepherd; Dr Roy Newsome; Paul Lovatt-Cooper; Bramwell Tovey; Kevin Crockford; Morvern Gilchrist and Lesley Howie; Richard Evans; Simone Rebello; Ian Porthouse; David Daws; Alan Morrison; Alan Wycherley; Mark Bousie; Steven Haynes; Simon Dobson; Ian Buckley;, John Roberts; Cai Isfryn; James Stretton; Harmen Vanhoorne, Bad Ass Brass, Lewis Musson, Tom Hutchinson and Jeremy Wise.