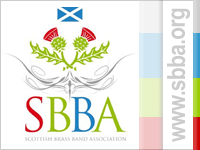 The Scottish Brass Band Association is run on a rewarding mixture of purposefulness and pragmatism.

That much seemed clear at their Annual Conference/AGM in Livingston on the weekend. It's an organisation whose ambitions are tempered by reality.

Ryan Giggs

Being asked to deliver their keynote speech this year was something of an honour for the 4BR Editor – and something of a gamble for SBBA: A bit like Ryan Giggs being offered the chance to give an inspirational speech to the Scottish Marriage Guidance Council.

Thankfully, it seemed to go well enough given the response it generated in a lively question and answer session that followed.

Based on the theme of future ambitions it addressed the need for senior Scottish banding to take a long hard look at itself in the contesting mirror – and seriously consider the question of a complete overhaul of its current grading and registration structure.

Bones

A few choice bones of contention were thrown into the mix of flattery and untapped potential – the results of which was an open floor debate full of sharp observations and well-informed opinions – many aimed back to the 4BR Editor!

There was even a quick straw poll, which although totally unscientific, saw an overwhelming show of hands in support of the need to re-grade.

Where the issue goes from here will be interesting to see.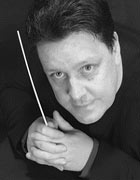 Other issues

Before 4BR took to the rostrum, SBBA had other issues to attend to, and chaired by George Burt, business was conducted with those two abiding tenants of purposefulness and pragmatism very much to the fore.

After the initial welcomes, the representatives sat back in their plush seats in the auditorium of the Howden Park Centre to listen to the presentation given by the recently appointed Development Manager, Andrew Duncan (right).

Andy's baptism into the job previously held with such purposeful distinction by Alan Edmond has seen him having to learn fast – and on the job.

Past, present and future

His presentation mixed past achievements with present developments and future ambitions, with an emphasis on clearly defined aims and objectives.

Some of these, such as the development of a sustainable brass band culture in the north and western areas of the country and a bilingual approach to incorporate the indigenous Gaelic language into SBBA's mainstream activities, are already in hand and showing encouraging results.

Others, such as the continuing development of the youth championships and links to Scotland's educational establishments and university sector are now based on longer term objectives.

Buzzword

Meanwhile, the 21st century government buzzword of 'sustainability' underpins the goals and targets surrounding the National Youth Band, new community based bands and even that thorny question of re-grading.

Andrew Duncan's style and the approach may well be different to that of his predecessor, but on the initial impressions gained from his analysis of where he believes the future of Scottish banding's prosperity lies, it too appears to be in purposeful, pragmatic hands.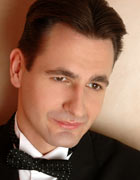 Making Music

A slightly different approach to long term sustainability came with an interesting presentation delivered by Craig Roberts (right) of 'Making Music' – the nationwide organisation which as their mission statement proclaims, has been 'supporting and championing voluntary music' in the UK for well over 70 years.

The Welsh conductor is one of their regional development officers and he outlined the history and achievements of a body that may well offer a great deal of future benefit to the banding movement throughout the UK.

Resourced and funded, his presentation provided food for thought as he defined its remit, as well as the additional support it brings, especially at a time when funding cutbacks are having lasting effects on many voluntary bodies.

Child Protection

Just before the coffee break Jennifer Fox presented a short progress report on Child Protection issues, which highlighted the ongoing developments its implementation will have on bands.

It provided further evidence of SBBA's increasingly proactive approach to addressing major issues, which also saw further reports given in the afternoon's Annual General Meeting from George Burt on the UKBBA and on the work of SBBA's Development Committee.

Five year plan

The group has the remit of developing a five-year strategy for Scottish banding from 2011 onwards, and it was clear in the précised presentation by SBBA Vice President Alan McClaren that it is a group that has not rested on the laurels of past achievements.

Areas of concern as well as those of ambition were addressed: Cutbacks affecting instrument tuition in schools and retention of young players to funding streams and the possibly hosting of the 2014 European Championships (which is clearly dependent on securing government funding – although SBBA is confident of receiving the support).

Long hard look

The Development Committee has taken a long, hard look at what the future holds and their approach should ensure solid, incremental progress at all levels of Scottish banding – both domestically and nationally.

It was a well thought out document based on realism – not one laughably founded on the fantasyland rhetoric of 'a band in every postcode'.

Cracking

To round off the day, a cracking open forum discussion, 'Band of the Year' presentations, elections and the draws for the forthcoming Scottish Open, Shield and Youth Championships – all held with a welcome degree of openness and transparency.

Views and opinions were shared, discussed and argued – especially on some notable ideas that came up from individual representatives.

However, it was noticeable just how the passion was tempered with a realism that for all that Scotland has achieved in the past few years, the future still held imposing challenges – especially at senior level.

Robust

The debate could have gone on for a very long time – some of the ideas (play-offs, guest player rules, registration, composite European representative bands) deserved detailed discussion. But perhaps that is for another time.

For Scotland the future looks robust, challenging and ambitious. That rewarding mix of purposefulness and pragmatism ensures it.

Iwan Fox