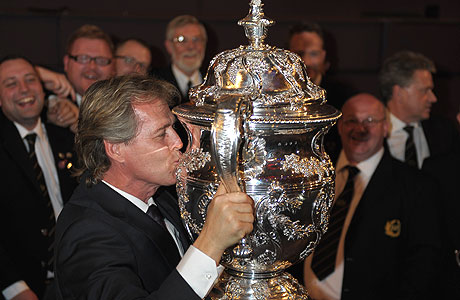 Repeat performance - David King gets hold of that famous trophy again...
Pictures by Ian Clowes (www.pbase.com/troonly/brass)
As the results of the 100th National Brass Band Championships of Great Britain were being announced, Professor David King stood in the crepuscular darkness of one of the small exit ways leading from the stage of the Albert Hall.

Hidden from view, smiling nervously and accepting the good wishes of the hard working stagehands, he had waited backstage very nearly from the moment Brighouse & Rastrick had completed their defence of their title off the number 16 draw.

Force of will

He later revealed that he had been drawn back almost be a force of will to be close to the denouement of a contest that he knew had seen his band thrill the audience in the vast auditorium with his compelling interpretation of Paul Lovatt-Cooper's 'Breath of Souls'.

As the contesting fates were revealed he remained impassive, until the moment arrived and the announcement that Brighouse & Rastrick was the 2011 Champion Band of Great Britain echoed from the stage.

Then, and only then, did he show his emotions – joined in a heartfelt hug of celebration with his partner Rosie.

It was an unexpected private insight into just what it meant to the man whose well-practiced public professionalism can hide his deep-seated emotional core.

Later, he spoke of his belief that he felt the presence of Dr Roy Newsome was with him throughout the day.

Mentor's delight

Whatever helped change his mind and draw him back to the stage before the results (he is usually conspicuous by his absence – but on this occasion he was accompanying Adrienne, Lady Stewart, from the Federation of Australasian Brass Bands) you could still imagine his great mentor's delight at seeing him claim his second successive Stanley Boddington Memorial Trophy as the winning conductor.

The public face of David King certainly enjoyed the accolades that came his way as he joined his players in celebrating their achievement.

Composed, confident and equally compelling as he had been just a few hours before in front of his band, he took time to accept the thanks and congratulations from a multitude of well wishers and fans.

The lasting impression of this success however was still that private cameo of celebratory emotion.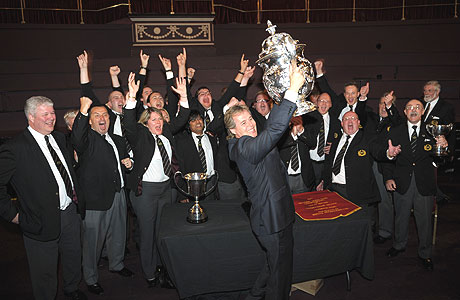 Out of the darkness...

Not unexpected

Brighouse's victory was not unexpected – although even their engrossing performance was sprinkled with moments of uncertainty and error.

Boldly coloured yet delicately crafted, it brought a sense of musical stature to a test piece that until that point had found even the best prepared bands wanting.

Played with a free flowing viscosity it very nearly stumbled in the lyrical section where a small fissure of ensemble uncertainty and some lead line tremors momentarily loosened the grip on their title defence.

However, it soon regained its sense of technical control and musicality (helped by high quality solo playing and precise section work) to build to a thunderous climax.

With only Foden's of the pre-contest bookies favourites to come, the audience almost instinctively knew it was the performance to beat – and shortly after their northwest rivals disappointingly faltered in their attempt – perhaps so too did David King.

No wonder he found himself heading towards the darkened bowels of the Albert Hall stage.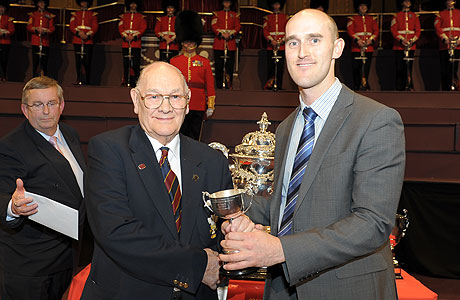 Third place finish for Cory

Uncharacteristic

With Cory having to display their public face of professionalism in the post-contest concert, the results took some time to be announced.

The Open champions had earlier found the pressure of claiming their first National title in over a decade too much to bear.

With uncharacteristic individual errors adding to noticeable moments of imprecise ensemble work, not even a tour de force display of technical brilliance in the closing sections could make up the lost ground on their Yorkshire rivals.

In fact the die was cast for the Welsh almost as early as that experienced by their rugby playing counterparts in New Zealand.

Consolation will be gained by the fact that with Beaumaris upsetting the formbook in coming fourth (Tredegar came fifth), Wales will send four bands to the finals in a year's time.

Maybe not for Cory though: The well back pre-contest favourites won't take much solace from this unexpectedly disappointing result.

Return to form

The Welsh trio was beaten by an impressive return to form by Fairey (Geneva), who put behind them a disappointing British Open to claim their second successive podium finish and their best result at this contest since winning in 2003.

Russell Gray's musical approach certainly took risks, and had its moments of uncertainty in leading lines, but whilst it didn't appeal to everyone, the free flowing musicality, subtle colourings and the MDs appreciation of tasteful elasticity of phrasing found favour in the box to come runner up.

They continue to knock loudly on the major contest winning door.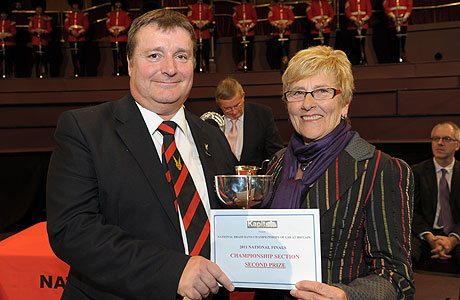 Return to form for Fairey in second place

Post contest emotions

Beaumaris and Tredegar will have had slightly different post contest emotions – the North Walians celebrating long into the night after claiming an unprecedented fourth place.

With the judges looking to reward a combination of technical security, intuitive musicality and cadenza solidity, Gwyn Evans approach ticked all three boxes for adjudicators David Read MBE, Luc Vertommen and Rob Wiffen.

Despite a slightly hesitant start the technical confidence grew, whilst the emotive approach from the MD certainly impressed the judges with its slowly meandering lyrical flow.

To cap it all though came a sublime display of euphonium artistry from Glen Van Looy to take the 'Best Instrumentalist' Award.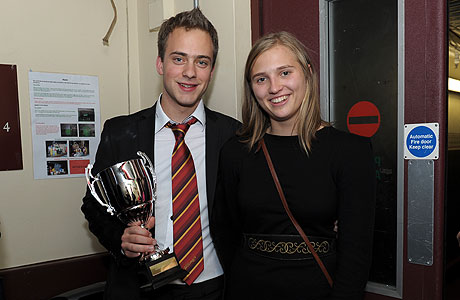 Winning pair: Glen Van Looy enjoys another prize with his girlfriend

Cohesive

Put together it was cohesive and contained – and gave the judges the earlier marker they were looking for.

Fourth may have been a surprise, but for the judges (and many in the hall) it was a performance of substantive quality and merit.

Tredegar followed their compatriots onto the stage and delivered a boldly coloured, intensely vibrant account of the PLC work.

Just a few too many minor errors cost them the chance of a podium finish, although their compact ensemble work was perhaps the best of the day.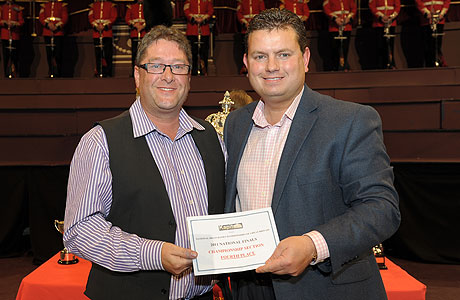 Welsh smiles for Beaumaris in fourth

Disappointment

There was a sense of disappointment for Carlton Main too; despite claiming their second top six finish at consecutive majors.

Philip McCann drew a subtle, flexible performance from his band – one that was enhanced by fine individual contributions and solid ensemble work.

Many listeners had them as potential winners, but perhaps the slight drop in stamina levels in the final quarter just cost them a place or two in the judge's final deliberations.

For the adjudicators the difference between the 'clear winners' and the rest of the top six was small but marked, whilst those separating second to sixth were less defined.

It was interesting, as well as welcoming to hear David Read reveal that there was considerable discussion and debate in trying to reach a consensus – and not just with the prize winners either.

Small errors in execution, choices of tempi and cadenza artistry were just three areas up for debate: Given what had been heard all day, they certainly had plenty to talk about.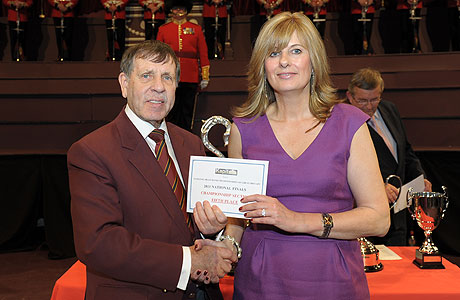 Rule of thumb

That rule of thumb certainly put pay to Foden's chances of victory. They sounded knackered.

A Friday night concert at Regent Hall followed by an hour's rehearsal had drained even their considerable resources of stamina, and despite a deliberate opening statement of intent, they fell away like London marathon runner hitting the dreaded wall.

They knew their chances had been sunk in a sea of lip sapping lactic acid.

Happy bands

Although it proved just enough to beat the purposeful accounts of Flowers, Hepworth and Co-operative Funeralcare, those three bands will have left Kensington much the happier.

Both Flowers and Hepworth may count themselves a little unlucky that their intelligently portrayed accounts under Paul Holland and Michael Fowles didn't quite have enough sparkle about them to push for a top six finish.

A slight harshness in Flowers bold sound and Hepworth's obvious use of mutes may have just cost them a place or two.

They were not that far off the podium pace though.

Meanwhile, the Scots will reflect on an early draw and a growing error count in coming 10th, despite the cleverly manipulated prestidigitated approach of their MD, Dr Nicholas Childs.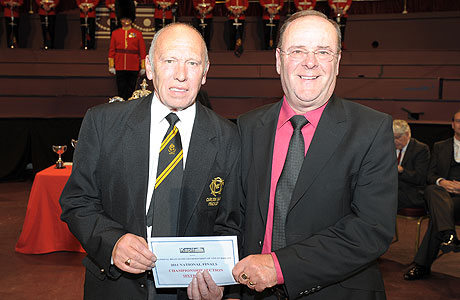 Sixth place for Carlton Main

Put pay

With such demanding technical restraints placed upon the competitors, it came as little surprise that errors, forced or unforced, put pay to the hopes of those who eventually ended in the midfield places.

Redbridge and Virtuosi GUS opted for cerebral interpretations under Jeremy Wise and John Berryman – in contrast to the more emotion driven approaches of Ray Farr and Michael Bach with Reg Vardy and Exchange Communications Whitburn.

Rothwell's persuasive high octane mix of both elements under Dave Roberts almost took the roof off the hall.

All five will know that the quality of execution didn't quite match the high ambitions of their intentions: They could have come in just about any order.

Not many people had them in the and around the prizes though.

Mix and match

The bottom quarter of the results table was a mix and match zone of ensemble struggles and individual frailties – a potent cocktail of misfortune that invariably consigns hopes of a single digit finish to the adjudicator's bin of also rans.

Pemberton Old DW Wigan, EYMS, Woodfalls, Thoresby Colliery and Zone One gave of their best and benefited from well through out interpretations (especially Zone One under Richard Ward), but the litany of errors and waning stamina was too pronounced to see them come any higher than they eventually did.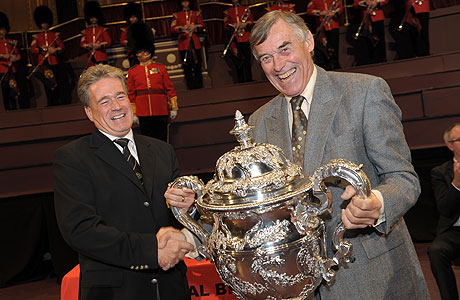 Purple power for Brighouse & Rastrick for a ninth time

Glory

For David King, the plaudits and the glory once more.

For Brighouse & Rastrick, their ninth title and the opportunity to make history in 2012 with their first ever Nationals hat trick.

How nervous do you think the Australian will be then if he finds himself in a dark place awaiting the announcement of the results?

Iwan Fox