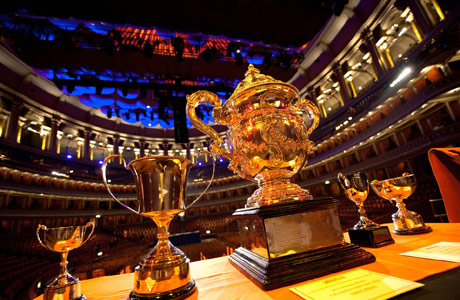 All to play for for the 100th time...

There are sure to be mixed emotions on display at the Royal Albert Hall this weekend.

The intoxicating joy of the 100th winner's celebrations will contrast with the obvious sadness felt by all those present reflecting on the recent news of the passing of Dr Roy Newsome.

25 years ago

Almost 25 years to the day after he led Williams Fairey Engineering to the title, his loss will be as keenly felt as those other Albert Hall giants of recent vintage - Major Peter Parkes and James Watson.

Each left their indelible mark on the Championship's history.

It's hard to think of a single competitor this weekend that in some way has not benefited directly or indirectly from the talents of these great men:
That in itself is an achievement worthy of 100 years of the National.

Strangely, it also means that only three conductors who have tasted success at the contest more than once since 1900 are still alive; Allan Withington, Nicholas Childs and Geoffrey Brand.

Exclusive club

There is of course a distinct possibility that this rather exclusive club may be joined by another member on Saturday afternoon, with former winners in Russell Gray, David King and Robert Childs leading well backed contenders, but it does go to show just how hard it is to lead a band to victory here.

Whoever manages to lift the famous trophy above their heads for the cameras to capture for posterity will have done so on a test piece that must rank as one of the more controversial of choices of the past 100 years.

Not since 'Songs for BL' has a test piece so polarised opinion.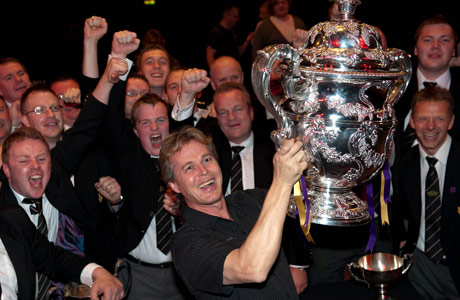 The 99th King of London...

Here and now

Paul Lovatt - Cooper's, 'Breath Of Souls' may well be a composition of the here and now in terms of style and structure, but it has certainly evoked age old complaints about its suitability from players, conductors and listeners alike, ever since it was heard on CD at its official 'launch' at Black Dyke's bandroom in July.

We may never know what Parkes, Watson and Newsome may have thought of it, but the brass band chat rooms and facebook sites have been full of informed as well as misinformed comment and opinion.

Extra frisson

What is certain is that it has given the 100th Championship an extra frisson of pre-contest anticipation that can only have added quite a few extra bums on seats – something the great National entrepreneurs such as John Henry Iles and Vaughan Morris would have been delighted about.

That may or may not have been a factor in its choice by Kapitol Promotions (the rumours are that it was not the pick of the Music Panel), but with crowd pullers such as Black Dyke and Grimethorpe missing this year, the organisers would not have wanted a repeat of the race for the exit signs 'Songs for BL' created in 1995.

'Breath of Souls' may not be everyone's cup of tea then – but you suspect it will not only do its job of finding a winner very well, but will also ensure that even the less fancied bands are not faced with a hall that is as much a supporter free zone as the English rugby team's welcome home party.

Charged batteries

It has certainly charged the emotional batteries to such an extent that the sparks may well fly as bands try every trick in the book to conceal as well as reveal their contesting strengths and weaknesses – from part swapping to mute camouflage and more beside.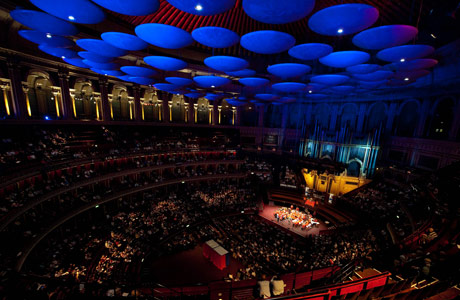 An iconic venue for an iconic contest

Added celebrations

Being the 100th Championship, there will be some added celebrations this weekend.

For the committed Nationals aficionado it all starts on Thursday night with a Salvation Army event at Regent Hall, followed on the Friday by lunchtime and afternoon concerts as preludes to the now traditional 'Composer's Talk' and pre Nationals concert – this year given by Foden's under the baton of Allan Withington.

After the heat of battle has drawn to a close, five time winner Cory will provide the pre-results entertainment, which promises to contain a solo contribution to match any that has been heard at the championships in the past 111 years, with David Childs performing the Karl Jenkins 'Euphonium Concerto'.

French sniper

Meanwhile, Frank Renton will breathe a bit easier safe in the knowledge that a disgruntled French sniper won't be hiding in the rigging of the famous Albert Hall mushrooms, following England's defeat by 'Les Bleus' at the rugby world cup.

It is rumoured he will take to the stage in full Lord Nelson regalia, for the rousing finale of 'Battle of Trafalgar', despite the fact that even Johnny Wilkinson could hit him with a bullet hidden in a 40 yard drop goal. It should be plenty of fun.

Fitting presentation

All that and more before the historic announcement of the 100th National Championship winner, and the most famous trophy in the banding world is fittingly presented to the victorious band by John Iles – the grandson of the man who started the championships off in 1900.

You wonder what emotions he will feel too.

Iwan Fox