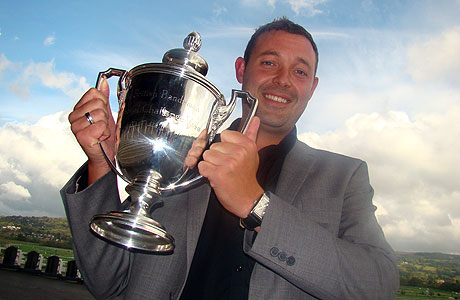 Light fantastic: Lee Skipsey clasps the National Trophy

Richard Grantham's enjoyable 'Darkness Visible' proved to be a stern, but fair test for the Third Section bands.

The composer stated that it was music that could be interpreted in a number of ways – the most obvious being a straightforward journey from darkness into light.

Interpretations

There were more personal esoteric interpretations – from the quasi religious to the quasi bonkers of all things Masonic, but written as it was in a very accessible format, thinking too deeply about its possible inspiration wasn't that enlightening.

Echoes of Danny Elfman's 'Batman' music to Ennio Morricone's 'The Mission' sat comfortably together, linked by a patchwork of lyrical melodies and rhythmic structures – some developed, many standing alone.

It was music of the here and now – a well written example of the current vogue for filmatic pastiche.

Pro judges

The adjudicator's Philip Harper and Paul Holland certainly gave informative explanations of just how and why they reached their eventual decision – almost 10 minutes worth in fact.

No one was left in any doubt what they were looking for – from personal inspirations to alternative bass fingering.

It was an example of two judges knowing their jobs and their responsibilities and acting upon them with professionalism. .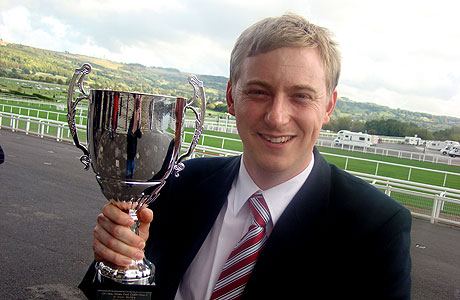 Pool of talent: Principal cornet and Best Instrumentalist Award winner, Tim Pool

Yorkshire class

The two bands that provided them with just what they were looking for came from Yorkshire – with City of Bradford and Horbury Victroia proving high class, if somewhat contrasting renditions under the batons of Lee Skipsey and Duncan Beckley.

It was no wonder that the hall broke out to cries of 'Yorkshire, Yorkshire' at the announcement of the results – and not just because Section Controller Peggy Tomlinson led the celebrations by unfurling a craftily concealed Yorkshire flag.

You could forgive her – the last time her Area had tasted success at this level was back in 1993.

No doubt

There was no doubting City of Bradford's claim to victory: They were outstanding.

Lee Skipsey led a performance of contrast, drama and security that ticked all the stylistic boxes and in the process brought a sense of deep rooted emotion from the score.

Principal cornet Tim Pool took the 'Best Instrumentalist' award for a commanding personal contribution (just as he did at Bradford in March) but he was ably supported by a whole team of principal players including ex Dyke stalwart, Claire Allen who was a thrilling counterpoint on soprano.

By its close, the MD even allowed himself just the merest hint of showboating – a 45 degree turn to the audience that was more a display of emotional satisfaction than misplaced hubris.

You couldn't begrudge him for a moment – it was a performance that deserved all the plaudits.

Yellow baton

The extent of any sign of showboating from the vastly experienced Duncan Beckley with Horbury Victoria came with a yellow baton that shone like the stick of plutonium Homer throws away at the beginning of an episode of the Simpsons.

Whatever the reason, it led a performance full of richly timbred darkness, that eventually bloomed into quite spectacular brightness to claim a deserved runner up spot.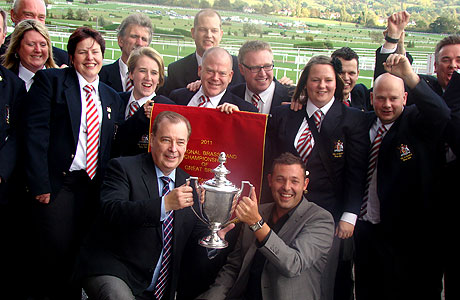 Yorkshire, Yorkshire: City of Bradford celebrate

Where Bradford opted for the colourful drama, Horbury produced austere shades of growing menace, edgy and flowing.

Both MDs controlled the tempos and dynamics expertly, only allowing the full glare of bright redemption to revealed at the appropriate climax. They were a good length ahead of their rivals.

Mature

The best of those (and they were very good) was the Welsh contenders Goodwick.

Twelve months ago they finished runner up, and whilst they will feel a little disappointed that they couldn't go one better on this occasion, their podium finish showed that they are continuing to mature into a high quality band under the talented Matthew Jenkins.

Trio of talent

Behind the podium finishers came a trio of performances of merit, led by the Lancastrians of Whitworth Vale & Healey.

John Binns' band produced an account that was a little variable at times, but certainly appealed to the two most important people in the hall – the gentlemen in the box - to end fourth.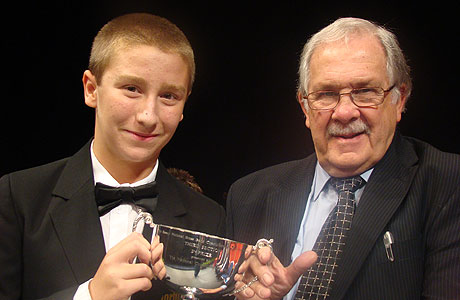 Smile of satisfaction for Horbury Victoria

Well worked

Meanwhile, Lynda Nicholson gave Scottish banding morale a timely boost after her well thought out account inspired Brass Sounds Inverclyde to produce a well worked rendition to end in fifth, whilst another returnee from 2010 also showed that despite the result they had made distinct musical progress to come sixth.

Sidmouth finished in the top three a year ago, and whilst on this occasion they may have been a bit disappointed, the evidence of Adrian Harvey's intelligent direction was clear to hear in a performance that slowly but surely came to life.

Risk taking

Throughout the contest a number of bands missed the opportunity to really try and create a sense of growing atmosphere and expectancy with the music – missing out by not quite having the confidence to take a few well placed risks.

Hoover Bolton was a case in point in seventh – a performance based on solid foundations that just lacked that touch of sparkle, whilst Ripon City started so well before losing self confidence in their ability to back themselves to illuminate their solid ensemble work with a touch of more exuberant colour.

A confident York Railway delivered a quality marker off the number 1 draw and may count themselves unlucky they didn't feature on the edges of the top six, whilst the Celtic duo of St David's Brass and Treherbert & District delivered performances of interest and potential that just lacked that extra touch of refinement to make a more lasting impression in the box.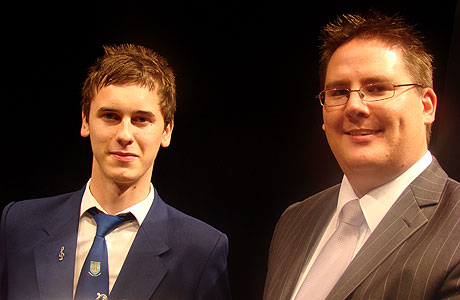 Welsh wonders: Goodwick Brass claim another podium finish

Variable contesting days

The quintet of BAE Systems, Amington, Daventry, Hangleton and Downton had variable contesting days that consigned them to their final placings.

BAE's appealing approach was blighted by annoying little errors, whilst Amington's safety-first approach had the potential but lacked the drive to create a growing sense of tension.

Daventry certainly went for the dramatic input but found a few too many execution problems, whilst Hangleton's potential and Downton's obvious lapses found critical ears in the box, if not in the hall.

Yorkshire day

The day though belonged to Yorkshire - and Lee Skipsey's City of Bradford in particular.

The former YBS Concert Band has taken its first concrete contesting step on what appears to be a very promising future.

You suspect that Peggy Tomlinson may well have to keep that White Rose flag about her person on a few more occasions in the coming years.

Malcolm Wood