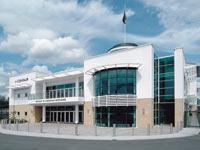 Saturday 24th September
Start: After the Third Section awards presentation
Test Piece: Henry V (Vaughan Williams)
Adjudicators: Stan Lippeatt & Barry Thompson

Section Controller: Brian Elliott
Registry Supervisor: David Hobbs
Presenter: Peter Bates

Once more unto the breach….

Or if you are a soprano cornet player of a slightly nervous disposition at the thought of the opening few bars: Once more unto the nearest gent's toilets.

Difficult test

Never mind giving the French a good old thrashing, this Henry V will also put the Scots, Welsh and various banding armies of England through the mincer too.

It is a very difficult test for the Fourth Section.

The origins of the Ralph Vaughan Williams work are a bit hazy. It wasn't found until 1979, hidden in the dusty vaults of the British Library.

Why it was written, and for who, has never quite been fully established:

It certainly wasn't for anyone French.

Thankfully, even if the provenance is a sticky as the mud at Agincourt, where Henry almost came a cropper and was saved by the French forwards launching into suicidal attacks in a field that made the Somme look like a well manicured bowling green - the musical inspiration is brilliantly clear.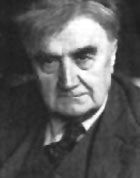 Puff out the chests

This is old Ralph (right) writing to puff out the chests of every proud Englishman on the planet, whilst also sticking two fingers up to those who Homer Simpson once so memorably called, '….those cheese eating surrender monkeys' from across La Mange.

It's music to make any Frenchman choke on his morning croissant.

Stirring stuff

It's stirring stuff; a touch of lyrical thoughtfulness leading into the prelude to battle, the French giving it their best go, before the stiff upper lip and bulldog spirit overcome them with typical English pluck (with a little bit of help from Welsh longbowmen who legend has it were the first to show off a 'Harvey Smith' – the V sign to indicate they still had the use of their bowstring fingers).

The finale based on the Earl of Oxford's march celebrates the victorious Henry returning to London in a blaze of glory after giving the order to slaughter the majority of French prisoners.

Poetic justice

There may be a bit of poetic justice however in the fact that on a later trip to duff up the French he returned in a coffin after catching a nasty bout of dysentry from a 15th century version of a contest day field toilet.

That should give any nervous sop player a bit of comforting food for thought....
Domestic battle

This domestic battle will commence in Cheltenham, with 19 well-matched contenders (with six returnees) to the Fourth Section crown.

Last year it was the House of Lancaster that headed home with the spoils after Hazel Grove delivered a knockout punch off the number 1 draw, closely followed by Besses Boys and Farnworth & Walkden.

North West

The standard of the Fourth Section in the North West is very strong, so much will be expected of champions Besses (runner up last year), Boarshurst Silver, Ramsay Town and Golborne as the region looks to claim a fourth victory in the last five years.

2011 form suggests that it may not come as a surprise if one, two or even all four push their way into the top six come the results.

West of England

The West of England has also gained a well-deserved reputation for producing highly competitive ensembles over the years, with the last victory coming in 2009.

This time hopes rest on the shoulders of the trio of Area champion Hatherleigh Town, New Forest Brass and Bratton Silver, who had to battle themselves though a massive field of rivals at Torquay (and a boomy acoustic) to book their place in the starting line up.

Hatherleigh return with the added experience of their appearance last year (they ended in 18th), whilst both New Forest Brass and Bratton are bands on an upwardly rising curve of success.

Odds on a local victory may be a touch generous at the bookies but a top six place for one of the trio may not be a bad bet.

Midlands

The Midlands also send down a competitive trio after Burbage Buxton, Ireland Colliery Chesterfield and Rushden Town made it through from a tough 20 band qualifying field at Bedworth.

All three are solid, competitive outfits with equally solid contesting track records of late from Butlins to Bolsover in 2011.

It's 10 years since the last winner came form these parts, so a victory is overdue.

Yorkshire

There may be the odd Brummie eyebrow raised in Cheltenham if the title heads to Yorkshire via Dronfield, after the Butlins champion made a successful first appearance in qualifying at Bradford.

They were well worth it too, although they couldn't quite do enough on the day to beat an inspired Dinnington Colliery, who really showed character in taking the Area title without the baggage of Sue Perkins and the cameras of the BBC in tow.

Dinnington should be looking to move into the top 10 after coming 9th last year, whilst Dronfield is a good value each way bet for a possible podium finish.

Wales

The last Welsh title victory was back in 2000, and with Henry V born in Monmouth there could be something appropriate about a victory celebration if one of the strong pairing of Melingriffith 2 or Abertillery & District Youth come out on top.

The M2 Band may be the best bet after they delivered a high quality account to qualify as champions in Swansea, whilst Abertillery is starting to enjoy the fruits of the hard work of the talented MD Dean Evans.

North of England

Talking about the fruits of hard work, watch out for the youngsters of NASUWT Concert under the direction of Brian Tait.

In just a few years they have made remarkable progress and with another year of musical maturity under their belts they will be confident of moving up the results table from last year's 15th place.

They were also excellent value for their Darlington victory and with the improving Kingsway Printers Cleethorpes joining them after building impressively from a disappointing appearance at Butlins, a top six finish may be on the cards for at least one of them.

London & Southern Counties

A reduced field of just 16 bands at Stevenage means that for the second year in succession there are only two bands from London & Southern Counties.

Quality not quantity then in the form of returning champions LGB Brass, who were good value for their 8th place finish last year, and Harwich RBL who beat off some pretty strong opposition to claim their finals berth.

The last London winner was Potters Bar in 2004, and whilst it may just be a bit of a long shot for another win, don't be surprised if one or even both make it into the top 10.

Scotland

That just leaves the Scots – or Scott as the case maybe, as only champions MacTaggart Scott Loanhead make the trip down from north of the border.

The flourishing youth band development of the last few years in Scotland has yet to deliver its first down payment at senior level, but it is only a matter of time. And talking of time – the last Scottish winner here was way back in 1973.

A victory is long overdue, and whilst it may not be this year, a possible top 10 finish may well be on the cards for the MacTaggart clan.

Iwan Fox
---
Regional form guide: How the Areas have done 2000 - 2010
Region
2000
01
02
03
04
05
06
07
08
09
10
London & Southern Counties
11/15
/16
3/13
/19
10/12
/15/20
13/16
/21
1/19
/20
5/16
/18
9/13
/14/22
7/9
/19
6/16
/19
4/12
7/8
/20
Midlands
3/6
1/5/6
6/9/18
2/9
/12
7/11
/15
12/17
10/11
/20
2/10
/13
3/18
/20
2/5/
16
4/10
/16/17
North of England
8/20
8/15
16/17
5/20
16/17
14/15
4/6
6/14
7/17
7/19
12/15
North West
5/12
/17
9/14
2/4
/14/17
1/4
/10
9/12
/13
1/4
2/8
/17
1/12
/16
1/2
/15
3/6
/9
1/2/3
Scotland
7/9
16/17
8/13
18/19
14/21
7/9
18/21
11/20
5/11
14/18
11/19
Wales
1/18
4/18
5/7
6/8
4/18
10/11
3/19
15/17
8/14
8/11
6/21
West of England
2/4/19
2/7
/12
1/3
/19
7/14
/15/17
2/10
/15
6/13
/19
5/7
/15/16
4/8
/18
4/9
/10
1/13
/15
5/14
/18
Yorkshire
13/14
10/11
11/21
3/11
3/6
2/3
1/12
3/5
12/13
10/17
9/13
---
4BR Prediction:

A hard one to call given the difficulty of the test piece, but we think it could turn out to be something of a red and white battle.

In the red rose and dragon corner, the North West contenders of Besses Boys and Boarshurst should be joined by Melingriffith 2, whilst in the white rose corner the likes of Dronfield CMW, Dinnington, Ireland Colliery Chesterfield and Rushden.

Once more unto the breach it is then….

1. Besses Boys
2. Dronfield CMW
3. Melingriffith 2
4. Rushden Town
5. Boarshurst Silver
6. Ireland Colliery Chesterfield

Dark Horse: Dinnington Colliery