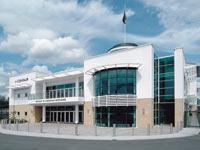 Sunday 25th September
Test Piece: Overture - La Forza del Destino (Verdi arr. Wright)
Adjudicators: John Berryman & Malcolm Brownbill

Presenter: Peter Bates
Controller: John Slater
Registry Supervisor: David Hobbs

Starts: Following completion of Third Section awards

The 2011 National Finals will come to a close with an overture.

That may seem a little odd, but given that it's Verdi's 'La Forza del Destino' there is something poetically appropriate about it all.

Fitting

It's rather fitting that the destiny of the National Challenge Trophy and £1,000 in prize money is in the forceful grasp of 18 well-matched bands – and a brass band arrangement that despite its flaws and idiosyncrasies is still a pretty stern, if somewhat short, test of character.

Verdi's (right) rather abstract take on 'fate' is a tale of multiple homicides spiced by deceit, denial, betrayal, plus the composer's own take on Rolf Harris's 'Two Little Boys', that would test the forensic skills and Christian faith of Jessica Fletcher and Mother Theresa combined.

It may well be a rambling, pretty bonkers plot, (it was called the 'Force of Coincidence' by critics) but Verdi knew how to write a great tune and rack up the drama.

Those tunes come thick and fast – from the use of the flugel in the beautiful 'Holy Mother, Have Mercy' to the horn and cornet in 'Thy Menaces Wild' and the 'fate' motif which of course is thumped out at the very beginning – just in case you needed reminding what the whole caboodle is about.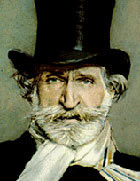 The Plot

In a nutshell then:

Don Alvero and Leonora decide to elope, somehow managing to kill her father on the way.

With his last breath he curses his daughter to suffer a fateful destiny…

Somehow the newly weds manage to lose contact with each other (a bit careless given the circumstances) with the lad joining the army and the girl opting for life of chastity as a hermit in a cave, living off take away food from local monks.

Then, the force of destiny intervenes:

Leonora's brother, who has vowed to kill his sister's errant hubby, ends up on the wrong end of a kicking from local yobbos, only to be rescued by a dashing army type with room on his horse for two.

As a result they swear undying comradeship to each other, only for the brother to rifle through his new friend's pockets and stumble upon his true identity.

Scrap

Don Alvero scarpers and joins the local branch of the 'Madonna del Angeli' monks, only to be found five years later by the brother once more (he didn't look very far it seems).

They have a scrap in which the brother is mortally wounded and Don Alvero (now known as Father Raphael) heads up the nearest mountain to seek absolution for his sins from the local female hermit as his former bezzy-mate lies dying.

Surprise, surprise, they recognise each other, but before they can kiss and make up for five years of conjugal absence and poor housing, the lass tends to her dying brother, only for the ungrateful wretch to stab his sister in the heart and kill her.

He then pops his clogs, leaving a by now, pretty miserable, Father Raphael/Don Alvero to contemplate the force of destiny and a future without a best friend/occasional sparring partner/wife/lover/hermit in his life.

He throws himself over a handily placed cliff top.

Stella Artois

Thankfully, the overture, which replaced the original 1861 prelude to Act III in a rewrite of 1869, is a bit easier to digest, although it does contain a few moments when things are open to bit of liberal interpretation.

With all that in mind, which of the 18 bands will be walking away to enjoy a celebratory pint of Stella Artois, and which bands will be looking for the nearest Cheltenham cliff top ledge?

Winners?

Last year it was Friary Guildford who took the honours – the first ever London & Southern Counties champion, whilst in the past decade there have been winners from Wales (2009 & 2008), Yorkshire (2007, 2005 & 2001), Midlands (2006, 2002 & 2000), North West (2004) and the North of England (2003).

Neither Scotland nor the West of England has produced a champion since the First Section came into being in 1992 – so will that change this weekend?

Scotland

Back in the first weekend of March it was Scotland who provided the first finalists, when Kirkintilloch Kelvin and Broxburn & Livingston booked their place via solid performances of 'Le Carnival Romain' in Perth.

Two strong performers with experienced MDs at the helm, they are outsiders at the bookies, but may be a decent bet for a top six place or better.

West of England

The West of England contenders should be confident of a mention off the stage, with David Johnson and Aldbourne something of overture specialists in 2011 after victory at Torquay was followed by another Berlioz win at the Senior Trophy in Blackpool.

Bournemouth also look a good bet after coming 6th last year and delivering solid performances on their 2011 travels.

Wales

Wales has a fine record of late and both Pontardulais Town and City of Cardiff (Melingriffth) will look to take the National Trophy back across the Severn Bridge for the third time in four years.

'The Bont' struggled to make an impression last year and didn't shine at the Senior Trophy either, so may be a bit of an outside bet for glory, although 2009 Second Section National champions City of Cardiff continue to build impressively under the baton of Gareth Ritter.

Results in 2011 have confirmed their progress, and they could well be in the mix if they hit top form.

London

Can London lightening strike twice?

A charged up East London Brass may well be the best bet under Jayne Murrill, although they will know they will have to enjoy a bit more contesting luck than they had at Butlins earlier in the year.

Area winners Haverhill claimed at top 10 place at Skegness, whilst Bedford Town has been a bit quiet on the contesting front after their Stevenage qualification, so the odds of pints of London Pride being gulped down in celebration may be a bit of a long shot.

Yorkshire

Yorkshire pride certainly took a bashing last year as the region's representatives ended in the bottom two places, so can Hammonds Saltaire and Yorkshire Imperial Urquhart do any better this time around?

The bookies certainly think so, especially if they can repeat the form shown at Bradford, where they produced two high-class qualification performances.

Hammonds have had ups and downs this year on the contesting front whilst 'Imps' (champion here in 2005) have continued to progress under David Nesbitt's command with a confidence boosting 5th place at the recent championship level Doctor Martin Contest.

North West

The last time the North West celebrated success was in 2004, so another victory is perhaps overdue.

Freckleton's came close last year, so hopes will be high that one of the solid duo of Area champions Roberts Bakery and Longridge can return with even more impressive silverware.

The vastly experienced Colin Cranson will look to lead his baker boys and girls to success, whilst Mark Peacock will look to build on Longridge's podium finish at Butlins earlier in the season.

North of England

Harrogate and Westoe Brass lead the challenge from the North of England, with both bands enjoying solid 2011 contesting form.

Harrogate recently claimed victory in the rain at the famous Hardraw Scar contest, whilst Westoe will be looking to celebrate their 100th anniversary with a few pints of special contest ale they have brewed for themselves.

Midlands

The Midlands can always be relied on to provide a strong challenge and this year the honour falls to the trio of Area champion Phoenix West Midlands Brass and compatriots Hathern and Ratby Co-operative.

All three are solid contesting outfits with decent form under their 2011 belts – although much will depend what their experienced trio of MDs can draw from their charges if they are to up their form from top 10 contenders to possible podium finishers.

Iwan Fox
---
Regional form guide: How the Areas have done 2000 - 2010
| | | | | | | | | | | | |
| --- | --- | --- | --- | --- | --- | --- | --- | --- | --- | --- | --- |
| Region | 2000 | 01 | 02 | 03 | 04 | 05 | 06 | 07 | 08 | 09 | 10 |
| London & SC | 7/14 | 2/14 | 14/16 | 5/15 | 3/16/18 | 2/12/15 | 12/13 | 12/15 | 15/16 | 3/11 | 1/13/15 |
| Midlands | 1/5 | 5/10 | 1/4/6 | 7/9 | 15/17 | 13/17 | 1/6/14 | 4/13/14 | 6/7/11 | 15/16 | 5/11/12 |
| North of England | 12/17 | 15/16 | 8/18 | 1/6 | 10/12 | 11/14 | 15/17 | 7/10 | 3/17 | 2/13 | 7/9 |
| North West | 2/13 | 7/8 | 5/9 | 2/3 | 1/6 | 3/9 | 2/3 | 3/5 | 5/12 | 8/9 | 2/14 |
| Scotland | 8/9 | 6/9 | 12/17 | 10/17 | 4/11 | 7/8 | 4/16 | 16/17 | 13/14 | 5/12 | 4/10 |
| Wales | 10/16 | 3/12 | 2/11 | 13/16 | 2/13 | 5/10 | 8/10 | 2/11 | 1/9 | 1/10 | 3/16 |
| West of England | 3/4 | 11/13 | 3/7 | 11/12 | 9/14 | 4/16 | 5/7 | 6/8 | 4/8 | 6/7 | 6/8 |
| Yorkshire | 6/11 | 1/4 | 10/15 | 4/13 | 5/7 | 1/6 | 9/11 | 1/9 | 2/10 | 4/14 | 17/18 |
---
4BR Prediction:
A difficult one to nail the 4BR colours to this year, with no real stand out pre-match favourite.

Yorkshire pride was severely bruised last year, but that may be about to change this time around with Hammonds Saltaire and Yorkshire Imps battling it out for glory if they reproduce the form shown at Bradford.

We think the West of England duo of Aldbourne and Bournemouth will push them all the way, whilst East London Brass, Longridge and dark horses Kirkintilloch Kelvin should be hot on their heels.

1. Yorkshire Imperial Urquhart Travel
2. Hammonds Saltaire
3. Aldbourne
4. Bournemouth Concert Brass
5. East London Brass
6. Longridge

Dark Horse: Kirkintilloch Kelvin