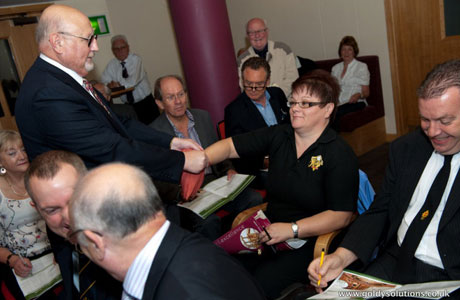 Take your pick... Foden's rep cam up with number 15
More Ian Clowes images at: www.pbase.com/troonly/110903_british_open

A bit like a swan gliding serenely across a millpond, the hard graft of looking good in motion takes place far away from prying eyes.

Windowless gloom

I was posted by 4BR to witness some of that 'unseen' motion in action in the windowless gloom of the subterranean world that is to be found backstage at Symphony Hall.

Here a different contest unfolds – one of timetables and testosterone, nerves and notices, last minute rousing speeches and whispered directions, back slapping and back bending lifting and carrying.

No worry

It's here that Frank Hodges and his great team of unpaid helpers ensure that all the bands have to worry about is the music that they are about to perform on stage.

Registration cards are marked and checked, doors opened and closed, stands moved to new locations, percussion retuned, and band's wished good luck.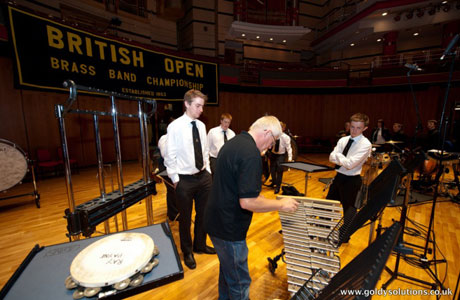 Payne in the.... Ray Payne sorts out any percussion troubles

Crack of dawn

From the crack of dawn till almost dusk, they make sure everything runs to time – fuelled by occasional cups of tea and the odd snatched sandwich.

Any unforeseen issues are dealt with without fuss in the same way as Ray Payne attends to any needs or questions the percussionists have for him.

There are comings and goings; from the BBC's Terry Carter and Frank Renton to the odd visitor who just wants a nose at the last minute preparations of their favourite band.

Clock ticks

Meanwhile, the clock on the wall ticks with metronomic certainty as a long contest day is broken into repeated passages of administrative cohesion.

It all goes on almost unnoticed by the MDs and players alike.

They themselves spend the vital few minutes before their stage entrance in some sort of cocooned bubble of self-absorption; minds focussed on the 15 minutes or so of music ahead.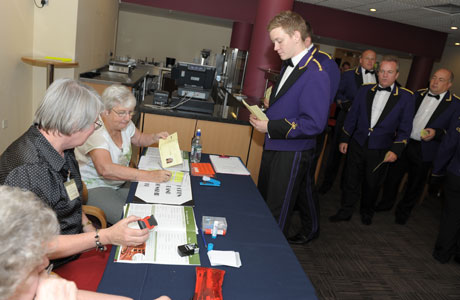 Signing on for Brighouse...

Circles of concentration

Observing player's last minute preparations for the ultimate test of contesting nerve is mesmerising.

After the opportunity of a warm up in the sound proof rehearsal room just a few yards away from the main stage, they emerge to meander like lost souls, aimlessly wandering in ever tighter circles of concentration.

Jokes are cracked, bow ties straightened, instruments kept warm despite the heat, the nearest toilet visited for an umpteenth time.

Frozen smiles

Then, the inner door is opened and the audible reflection of a rival's performance pours into pricked ears – applause, and lots of it.

Frozen smiles of apprehension appear on nervous faces and final messages of good luck are exchanged before a line of players snake their slow way into the limelight.

Only then is the waiting over.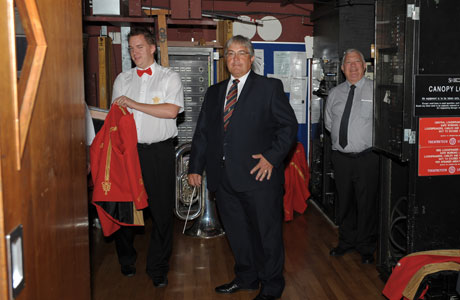 Last minute wait for Bob Childs and Cory

Now or never

For some it is a debut, for others a farewell; for many more, another chance to prove themselves to themselves once more.

The MD waits his turn, before Bob Kerwick as always, settles things down with his short announcement and final – 'Good luck band number….'.

It's now or never.

Sacrificial lambs

And whilst the band in question gives of their all on stage, the busy traffic of yet another challenger makes its way into the waiting pen – like sacrificial lambs to the slaughter.

The same rituals are repeated and Frank Hodges and his team once again go through the motions; quietly, professionally, courteously - and to the players and conductors, almost invisibly.

At the other side of the stage the post mortem analysis begins in earnest as the competing bands take leave of the acclamation afforded them by a knowledgeable audience.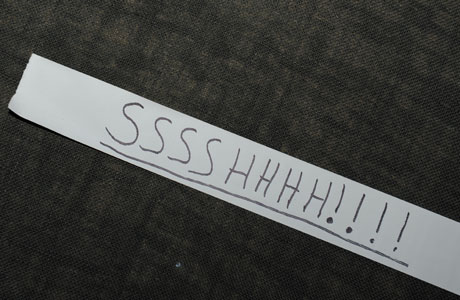 Quiet please!!!

Immediate responses are sought and discussed, faces, some illuminated by a feeling of euphoria, other creased with personal disappointment make their way back to their dressing room.

Conductors do the rounds; shaking sweaty hands and slapping backs, a well thumbed score tucked under their arm, their musical fate decided in a box at the other end of the hall.

For them it is all over now.

Tension abates

Finally, tension abates, gallows humour returns, shoulders are shrugged, mobile phones turned on to find out what the critics at 4BR have said….

All they can do is wait.

Results

And so it comes to the results – and a 19th century tradition of paperwork is uploaded onto a 21st century computer print out.

Care – extra care in fact, is taken with the collation of the results.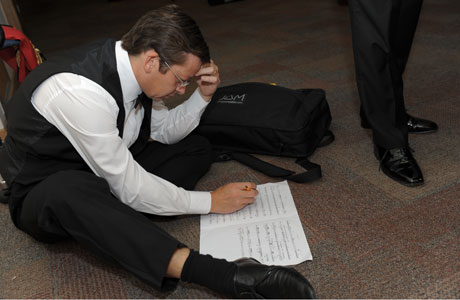 Last minute check list...

Nothing is given away. Not a smile, not a nod, not a wink or even a raised eyebrow from Derek Atkinson that could be misconstrued as a giveaway.

Press gaggle

The gaggle of press hacks hang malevolently at the side of the hall – hoping that their opinions on performances heard from a different vantage point are replicated by the men in the box.

The announcement made, the celebrations begin.

The winning band dances to the stage, the losers seek out their remarks and placing. It's another job that has to be done by the hard working backstage team.

Work continues

Finally, the stage clears, but the work continues.

Stands and banners are put away for another year, percussion loaded on to Ray Payne's van, any lost property picked up and kept safe until forgetful bandsmen remember to reclaim it.

Finally backstage, the British Open is over for another year.

Malcolm Wood