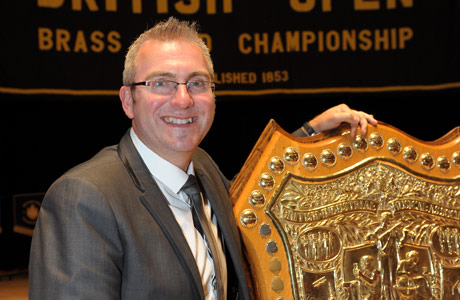 The smile tells it all: The 2010 winning conductor, Ian Porthouse of Tredegar

Can the British Open have something up its sleeve to surprise us once again?

It would be one heck of a storyline if it could come up with an ending to top Tredegar's win last year – which saw them able to boast a rather unique trophy cabinet containing both the Open and Grand Shield next to each other – but you won't put it past the old girl.

Looking at the history books, it seems that its around every 15 years or so that the contest really lets one rip from left field – City of Coventry in 1981 & Marple in 1996 - so perhaps the traditional leviathans will reassert themselves once more.

No long shot

The defending champion is no longer a romantic notion long shot though.

Tredegar's victory may have been a little unexpected, but wasn't really a 'Marplesque' surprise as under Ian Porthouse they had enjoyed a remarkable run of form leading up to the contest.

Twelve months on and they have certainly built on that success too.

Their performances at the Europeans, and their subsequent Masters victory confirmed their hard-earned 'elite contender' status.

With confidence borne of intensive rehearsal graft they now display that touch of stage arrogance that separates the best from the rest at the majors.

A successful title defence is a distinct possibility – and you can bet their rivals will have to prise their grasp off the trophy with a musical crowbar.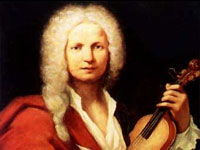 Blagger's tool

That particular blagger's tool of choice comes in the form of Philip Wilby's 'Red Priest' - a work written for Black Dyke to perform at the European Championship in Linz in 2010.

As priests go, Vivaldi (right) may not have quite been up there in the Rodrigo Borgia class of wickedness and debauchery, but he did have his moments.

Rabbi's health warning

Thankfully, Philip Wilby's portrayal of the ginger cleric isn't as hammed up as Jeremy Irons comic book take on the lecherous old Pope (so OTT it comes with a Rabbi's health warning), but it is just as brilliantly operatic.

Multiple layers of intrigue and detail, textured nuance, choreography and subtle wit (as dry as a Dorothy Parker single olive Martini) are glued together with elegant craftsmanship.

It is a superb test of technique as well as musical character.

Birmingham may well boast more miles of canals than Venice, but this is still a wonderful celebration of all things Venetian rather than all things Bull Ring… and will take some playing.

So who may be celebrating come Saturday night with an appropriate Four Seasons pizza and a glass or two of Valpolicella wine?

Impressive credentials

Tredegar's credentials are impressive, but so too are those of other elite contenders – headed by Black Dyke themselves.

Up until the English National they would have had to indulge in a spot of simony to claim victory, but that impressive success, where they were a class apart, may well have liberated them from their run of contesting bad luck.

They will of course know the piece very well, but it is a work that quite a few of their rivals will fancy their chances on too.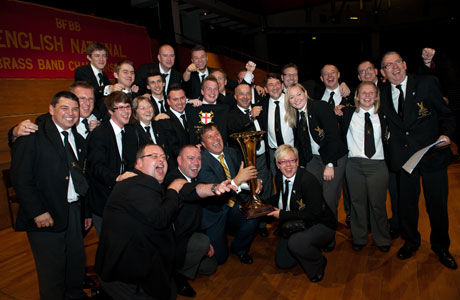 Back to winning ways for Black Dyke at Preston

Cory will be champing at the bit – especially after losing their grip on their European crown.

Their record in recent years is remarkable and their desire to claim a fifth victory under Robert Childs is palpable.

With such a strong line up of players and with the ability to step on the turbo booster just when others start to lag, they will surely be in the mix once more.

Desire

You suspect the same desire is coursing through the veins at Foden's, especially as they know they can also help Allan Withington create a little piece of personal history by winning a long overdue Open title.

Their contest form has been a touch patchy of late though – and they were a well beaten second at Preston, but if they can perform with the same relaxed brilliance they invariably show on the concert stage, the title could be heading back to Sandbach.

What then of National champions Brighouse & Rastrick?

The Open hasn't been the happiest of hunting grounds – you have to go back to 1978 for their last victory, and they certainly rode their luck a little at Preston.

However, any band with David King at the helm (given his record) should be feared, and if they have been able to integrate recent personnel moves and changes then look out.

What a story a purple and gold victory would be this weekend.

One off specialist

Fairey (Geneva) meanwhile will be glad to see the return to a 'one off' test piece format after their somewhat schizophrenic efforts over the two legged events in Montreux and Preston.

Distilled into a single performance, not many can deliver like the Stockport outfit under Russell Gray, and with the personnel to back up his musical gifts to extract melody from the miasma, they will be confident of going one better than last year's runner up spot.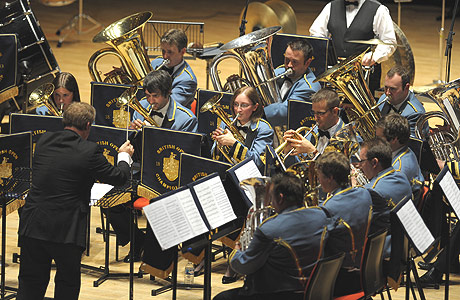 Can Fairey's go one better this year under Russell Gray?

Say it quietly, but could this be Grimethorpe's year?

20 years have now elapsed since they last took home the famous shield, but for the first time in a quite a while they come to Birmingham close to peak contesting condition. The recent tour to Australia has rejuvenated them, and with Garry Cutt at the helm they are sure to be well prepared.

You never quite know of course, but there is a sneaking suspicion that Grimey may be about to deliver something special.

Contenders

The starting odds at the Bull Ring bookies suggest that the eventual winners may well come from this septet, but there are others contenders who could force their way into the podium reckoning.

Chief amongst them is Rothwell Temperance – although their immensely committed performances can be a bit like musical marmite to listeners both in and out of the box.

Preston was a case in point: Bold, purposeful and solid to some (4BR included) brash, over wrought and insecure to others.

They can be hit or miss, but as last year showed here, when they do hit they tend to leave a lasting impression on the taste buds.

European names

There is yet to be a European name engraved on a Mortimer Maestro Trophy that goes to the winning conductor at the Open, but there is sure to be a strong challenge posed by both Michael Bach and Luc Vertommen at Hepworth and Kirkintilloch respectively.

Bach is some talent, and if he has found Yorkshire life to his liking Hepworth could well push for a top six finish and banish any thoughts of possible relegation.

Preston showed they still have the ability to mix it in top class company under the right command.

Meanwhile, Luc Vertommen is sure to bring a sense of musical elegance to Kirkintilloch's performance – and that could add an extra layer of class to a band that showed immense commitment and confidence in making an immediate return to the Open at the Grand Shield.

Grand Shield elan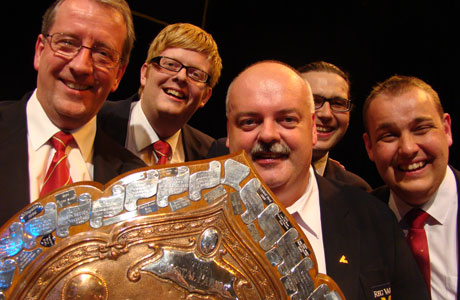 Stylish elan from the lads at Reg Vardy

Reg Vardy won that contest with a touch musical élan, and they also produced a very stylish (if rather unlucky) account of themselves at Preston too.

It's a bit of a long shot at the bookies for another Grand Shield/Open double, but the odds are much better for a comfortable midfield finish at least.

Another band that welcomes an overseas visitor to the helm is Leyland, although Jason Katsikaris is no stranger to the bandroom.

It's a move that may well be worth the extra air miles as they have been in patchy contesting form of late, and a return to the top six for a third time under his command is a distinct possibility.

Time to deliver

Two bands that know they will have to deliver are Virtuosi GUS and Tongwynlais Temperance – as both may hear the dreaded creak of the Grand Shield trap door under their feet if they end up repeating last year's 13th & 14th places.

The Welsh outfit has been a bit patchy form wise – although they could count themselves unlucky at the Masters, whilst GUS has been solid and confident – booking their place at London in some style and producing a quality performance to come runner up at Kettering.

Both know they have work to do, but should be confident are keeping their elite status for another year.

Intriguing trio

That leaves the intriguing trio of Carlton Main Frickley, Co-operative Funeralcare and Desford – all three more than capable of claiming top six finishes if they click on the day.

All have just enough breathing space to rid themselves of potential relegation doubts unless things go disastrously wrong, and with experienced top class musicians at the helm in Philip McCann, Michael Fowles and Nigel Seaman, you sense they should be capable of settling down to a comfortable midfield finish.

Carlton Main showed in qualifying for London this year that they have the personnel to really catch the ear of the men in the box, whilst Co-op and Desford can also make a persuasive impression now and again.
---
As for a winner?
A hard one to call – with a clutch of inform bands all capable of leaving Birmingham weighed down with a heavy gold shield in the back of the band bus.

Dyke's return to winning ways in Preston was borne of self belief and hard labour and should stand them in good stead on a piece they know better than anyone else, whilst Cory will be back to their proper fighting weight after their rather bloated attempt at retaining their European crown in Montreux.

Foden's have a contesting point or two to prove under Allan Withington and may just be about to do just that on this occasion, whilst Grimethorpe could well a band rejuvenated after their enjoyable sojourn to Oz.

Tredegar will be determined to show that they are worthy reigning champions, whilst Fairey (Geneva) will be confident of another top six finish or better.

It may seem odd to give Brighouse & Rastrick the dark horse tag, but no one really knows quite what form they are in after their serendipitous podium finish at Preston.

4BR Prediction:

1. Foden's
2. Cory
3. Black Dyke
4. Grimethorpe
5. Tredegar
6. Fairey (Geneva)

Dark Hose: Brighouse & Rastrick