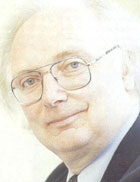 Philip Wilby's sixth British Open test piece is an elegant, affectionate portrait of a somewhat troubled musical soul.

That Vivaldi died aged 63 years of age is remarkable.

Illness

He was baptised on the day of his birth (a sign that he was not of the most robust health) and whilst he managed to survive infancy, he was afflicted with severe asthma for the rest of his life – a debilitating illness that forced him to give up celebrating Mass soon after his ordination in 1703.

His youthful compositional talent was as recognisable as his red hair, which earned him the sobriquet of 'Il Pretto Rosso' - 'The Red Priest' – although by the time of his death in Vienna in 1741 it was remarked that his startling locks had long lost their vividness – as was his reputation, his health and his finances. He was buried in a pauper's grave.

To his contemporaries it was his amazing skill as a virtuoso violinist that brought fame, although his compositions of sacred music are regarded of the highest quality, with his setting of the psalm 'Nisi Domiunus' perhaps the finest expression of his talent.

Prolific

Although his modern fame rests primarily on a handful of compositions (most notable 'The Four Seasons') he was a prolific writer – notching up well over 500 concertos (at one time at the rate of two or more a month) – although he was very adept at plagiarising his own works on more than a few occasions.

It is his association with Venice that provides Philip Wilby with the geographical backbone to his own finely structured composition.

Vivaldi may have travelled extensively in his lifetime, but he was always drawn back to the city.

Wilby's masterful understanding of the composer's work permeates throughout – from the notable elements of the 'Four Seasons' and the fugue from 'L'Estro Armonico' to the more oblique, subtle ciphers of 'Nisi Dominus' and 'Gloria'.

Homage

'Red Priest' is therefore something of a homage to the complexities of Vivaldi's life and work, (it is subtitled – 'Concerto after Vivaldi') and although technically not as severe a test as say 'Masquerdae' or 'Vienna Nights', in terms of colour and texture it speaks a musical language that is immensely difficult to master.

Subtle, elegant nuance abounds – from the more obvious choreographed solo pairings of cornet and euphonium, flugel and horn to the delicate texture and colour of the internal balances that appear in combination throughout the complex score.

Vivaldi's use of 'Concerto Grossi' sees the cornets and trombones stood in 'choirs' at either side of the main ensemble, but throughout the work other sections are used in the same manner; less clearly on the eye, more clearly on the ear.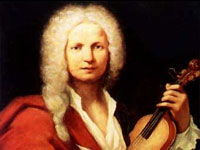 Workload

Tubas are given a hefty workload, as are the trombones (which does include some severe technical passages), whilst the soprano is used as an instrument of delicate beauty – not a single banzai moment of pyrotechnical brashness from start to finish.

Dry wit

And that start gives us the first glimpse of an added dimension to the work – the subtle, dry as a bone wit of the composer.

It is suggested that the opening bars are the rumblings of the aircraft tyres on the tarmac as Wilby's plane leaves Bristol airport to fly to Italy for what appears to be a weekend break (the piece lasts just over 13 minutes).

He lands in Aeroporto Marco Polo in the middle of Winter and travels to Venice where the tinkling sounds of the 'Four Seasons' permeate the crystal clear air.

Inadequate clothing

It also appears to permeates the composer's inadequate clothing too as, 'trembling with cold' thanks to 'a horrid glacial wind' he runs with 'stamping feet' and 'chattering teeth' into the sanctity of a local church to find spiritual as well as musical warmth – leading him to fall into the arms of Morpheus and 'beloved sleep'.

It is wonderfully descriptive, subtle writing: Detail – immense detail abounds – from the shuddering bone jarring double tonguing in the Eb tuba to the sly 'slip on the ice' glissandi from the trombones, the dry ice spookiness of the palette of mutes, all topped by a lilting barcarolle as if the waves of the Venice lagoon lap the steps of St Mark's Basilica.

Classic Wilby

The fugue that follows is classic Wilby – beautifully constructed, poised and balanced. It demands to be played with the same type of elegant dressing you see on Italian women of a certain age – the more obvious bling offset by the sharp cut of the dress and tasteful accessories.

The extravagance is held back to the end (at Rehearsal marking S) when the pacy climax is brought to life at a Ferrari charged 150 plus beats a minute as the composer races to the airport in the back of a Venetian taxi.

After he boards his plane he sits back to hear the shuddering rubber on the airport tarmac once more, he flies home to Bristol with an exclamation of all things Vivaldi impressed on his mind.

It's a superb work from a superb composer for brass.

Vivaldi would have been proud to have written it himself.

Iwan Fox