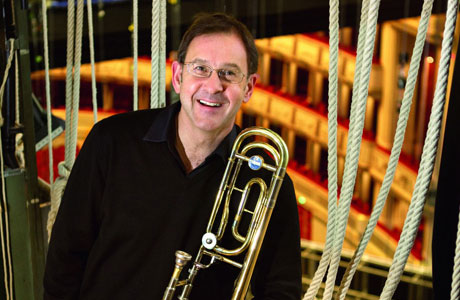 Knowing the ropes - Ian Bousfield in relaxed pose

Well, let's start with a day off, rather than a day at work.

A day off for me is unfortunately a rather too infrequent occurrence.

What with my commitments with the Vienna Philharmonic, Vienna State Opera, Vienna Hofkapelle Orchestra, my many masterclasses and solo playing, I don't get the chance to breath out very often.

With my new appointment as Professor at the Hochschule der Künste Bern, things, for the time being, are not about to get much more relaxed either!

Late nights and early mornings

The older I get, the less I can sleep in like I used to.

Even if I get back from an opera at 11:30pm, I still don't sleep much past 7:00am now.

So, the day starts invariably with one or two coffees made by my beloved Pavoni espresso machine, and often includes the ceremony of me hand-grinding the coffee to start with.

After a leisurely breakfast, I usually try and catch up on a few emails, then have a warm-up for 30-40 minutes.

Paradise

I live in a cyclist's paradise in the Vienna Woods and have been bitten by the bug myself, so if it's a nice day, I get on my racing bike (which is far too good for me!) and beat myself around the local villages for up to 1.5 hours.

As I have to organize all of my travel myself, a free day also usually involves making sure flights are booked and hotels and hire cars are organized.

In March of this year I did a once-around-the-world trip on my own, and the organization for that was rather hair-raising.

It's so much easier when you just hand yourself over, sheep-like, to an orchestral organization team!

Garden work

The afternoon will invariably include some garden work, usually catching up on what I haven't done, because I've been away from home so much.

I'm a passionate vegetable gardener and never feel as if I live somewhere unless I've planted something.

This year there are three different types of beans, potatoes, three different types of pumpkin, carrots, parsnips, zucchinis, lettuce, fennel, beetroot and all manner of herbs and chillies (indoors).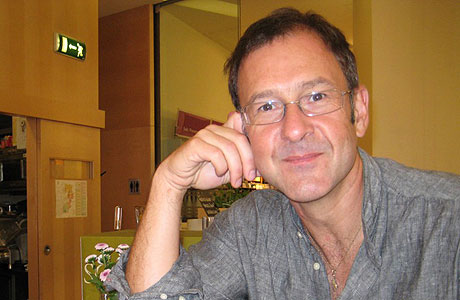 Time to relax...

More practice

Later in the afternoon there usually follows another practice session.

I'm a very incentive-based practicer; because I've worked so hard over the years, I tend not to do any more practice than I absolutely have to.

The benefit of experience helps me to calculate pretty much how to prepare for whatever is coming up as economically as possible.

I tend not to take days off practicing, but sometimes I will only do the 30-40 minute session in the morning. When you work as hard as I do, it's important to rest the muscles sometimes as well:

So, the afternoon practice session could be anything up to two hours if I've got something tough to play.

Relaxing

The free day invariably finishes with cooking a nice meal and enjoying a good bottle of wine with it.

I suppose for me the act of cooking a meal is symbolic of relaxing. I often wonder how my life would be if I didn't have so many commitments.

If I truly get some free time, I am afraid to confess that every now and then I simply don't know what to do with it.

A working day...

I get the feeling sometimes that all I know to do is work.

The work that I do is, of course, wonderful, and it's a great privilege to be living this life that I'm living, but it is a little unsettling sometimes to realize that I never have to think about what to do with my life or how to fill my time.

A fairly normal workday in Vienna will consist of rehearsals morning and afternoon, and then an opera performance in the evening: At weekends, it's one Philharmonic concert during the day and an opera in the evening.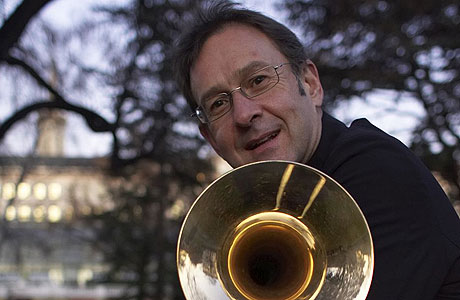 Never without his tools of the trade...

Opera rehearsals

We tend not to rehearse operas very much.

The Vienna State Opera is a repertoire orchestra, and standard repertoire like the Ring Cycle, all of the Strauss operas and all of the Verdi operas fly by on a very regular basis.

So, part of the day will involve me having a bit of a think about what I have to negotiate in the evening.

Tricky repertoire

Doing reasonably tricky repertoire without rehearsal requires quite a different mindset, because you don't get the chance to play your way in.

Obviously also on days like this, I need to think about protecting my lip and not draining it too much.

Not only do I have to think about what I have to play in the evening, but also I have to be aware that a few moments' negligent playing could knock my preparations back for something I need to do in 3 or 4 days.

At the moment I'm in Salzburg playing some great stuff, and I must say, it requires a heck of a lot of discipline to hold back in rehearsals and not to "dip my bread in", as Geoff Boycott would say!

Philosophy

I really do have to operate the philosophy of "you only have to get it right once".

There are no medals handed out for getting it right in the rehearsal.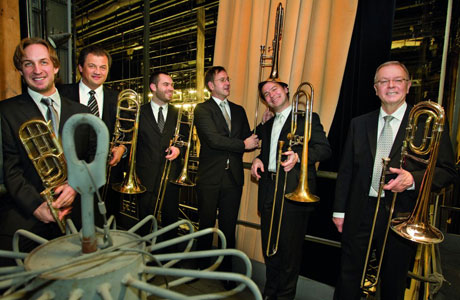 Men at work: Ian and the trombone section of the Vienna Philharmonic Orchestra

If I'm on the road doing masterclasses or solo playing, the challenge for me there tends to be more a question of getting my head straight, making sure I can take things in my stride.

Keeping cool

Playing long solo concerts is very much a question of keeping cool and not panicking, just in the same way that a tightrope walker never looks down.

I try not to make a big deal out of things these days and try never to treat something as special or important, instead just thinking of things as another day at the office.

Indeed, when I gave the first performance of the Jonathan Dove Concerto with the London Symphony Orchestra and Michael Tilson Thomas, I was collecting a hire car from Euston Station one hour before the concert.

Very often these days concert promoters greet me nervously 10 minutes before the start of a concert – it's just the way I've learnt to deal with things these days.

Things I would miss

I think were I ever to leave orchestras, probably the thing I would miss the most about it is the camaraderie.

Certainly when I was in the LSO, we used to laugh until we cried on a regular basis, and I'm happy to say that I'm building a young team around me here in Vienna, whose company I really enjoy.

And apart from enjoying playing together, we're also having a lot of laughs these days.

Ian Bousfield
---
All pictures used in this article are with the kind permission of Ian Bousfield

For further information on Ian, go to: www.ianbousfield.com/