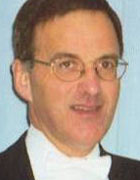 Dr. Keith Wilkinson, now based in the USA, but equally well known for the many successful years he enjoyed in UK banding, recently played host to trombone star Brett Baker on what was his seventh trip to Ohio.

Keith, who has lived in Ohio for the last fifteen years, has made a huge impression on brass banding in the region.

Straight into action

Brett arrived from Manchester and rushed straight to a rehearsal with the Dublin Concert Band.

This new ensemble was only formed in January 2011 and boasts 90 players.

After the rehearsal Brett had time to relax before giving lessons on the Tuesday as well as rehearsing with Brass Band of the Western Reserve, some two hours drive north of Columbus.

Workshop

The following day, Brett provided a workshop in Scioto School in Dublin (a suburb of Columbus) as well as being guest artist with Dublin Concert Band conducted by Jeff Chesser.

Black Dyke's principal trombonist was on superb form, featuring the 'Vivo' from the Philip Sparke's 'Concerto' and 'Londonderry Air'.

The knowledgeable audience enjoyed every aspect of the performance both from the band and the soloist.

The band performed the 'Second Suite in F' by Holst, the 'Star Spangled Banner', 'An Irish Rhapsody', 'Scenes from the Louvre', 'Tijuana Brass in Concert', and the march 'Rolling Thunder' in which Brett joined the band's trombone section.

After the concert Brett was able to spend some time with the audience and talk about his work with Black Dyke as well as his numerous recordings.

Upstate

On Thursday Brett travelled upstate to Michigan for a workshop at a local school situated in Dearborn Heights, a suburb of Detroit.

There he worked with the Dearborn Heights Salvation Army Band under Bandmaster Tom Hanton, where he joined forces with the band for an evening concert.

The eclectic programme featured band pieces 'To the Chief Musician' and 'Faithfulness' by William Himes, featuring Alan Tolcher and Thomas Jobson as well as 'Shine Down' by Andrew Blyth, and a low brass ensemble conducted by Brett who impressed the audience with Broughton's ensemble composition 'Power'.

The work was made up of pupils from the school who performed it after only one hour's worth of rehearsing from scratch and an hour's tuition by Brett!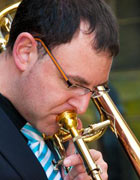 Brett (right) meanwhile performed 'Annie Laurie' by Arthur Pryor, 'Largo' from Vivaldi's 'Winter', 'Fantastic Polka' and 'Ye Banks and Braes' all arranged by Keith Wilkinson who directed the solos.

The band completed the concert with 'Exultation' by Andrew Mackereth, and 'Benediction' by Thomas Hanton.

Long drive back

After a long drive back to Columbus, Brett had some time to relax on Friday before teaching lessons at Worthington Woods Salvation Army Chapel, and then, on Saturday morning, a rehearsal with Chapel Brass.

That evening he took part in a concert with Brass Band of the Western Reserve, conducted by Keith Wilkinson, in Akron, near Cleveland in Ohio, to a very enthusiastic audience.

Expectations

As it was the seventh such visit to the band, expectations were high – and the audience was not disappointed.

Brett's performances of 'Rhapsody in Blue', 'Capriccio', 'Smile', 'Fantastic Polka', Puccini's 'O Mio Babbino Caro' in a brand new arrangement by Keith Wilkinson before being joined by the trombone section of BBWR for 'I Will Follow Him'.

Meanwhile, the band delighted the audience in renditions of the overture 'Beatrice and Benedict', 'Enter the Galaxies', 'Jubilee Overture', 'Mission Impossible', 'Processional', 'All You Need Is Love', 'Armenian Fire Dance' and 'Bacchanale'.

Brett further delighted the audience after a prolonged standing ovation with 'Teddy Trombone' whilst the band completed the concert with Brett joining the trombone section in Fillmore's 'Rolling Thunder'.

Completion

On the Sunday Brett completed his mini concert tour with a church service at Worthington Woods Salvation Army Corps playing 'Ye Banks and Braes', and 'Nothing But Thy Blood'.

That evening, Keith's own Chapel Brass undertook their first concert with Brett where he thrilled the audience with a further rendition of 'Annie Laurie', 'Largo' from Vivaldi's 'Winter', as well as 'Atlantic Zephyrs'.

Brett also played with the band's trombone section in 'There Is A Redeemer' arranged by Ralph Pearce and closed with Joy Webb's 'Come Into Our World'.

Great thrill

To conclude the evening Brett again joined the trombone section for 'I Will Follow Him' following which the band sent everyone home in exuberant mood with 'Ein' Feste Burg'.

At the end of a busy trip Brett commented to 4BR: "It is always a great thrill and pleasure to work with Keith Wilkinson. He is an inspirational and demanding yet flexible musical director and bandmaster, the difference he has made to the ensembles he is involved in is truly exceptional."