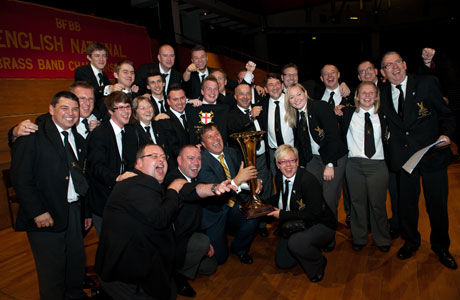 Back in the winning business...

In theory Black Dyke is back in the major contest winning business. The reality is that they have never been away.

This English National victory was a repayment of the Black Dyke faith: Disciplined, decisive, prepared, organised and delivered. It bore the stamp of authority as well as determination.

Champion characteristics

A contest of high-class competitive music making had ended with a champion who epitomised those characteristics in full.

Dyke dug deep – perhaps deeper than ever before under Dr Nicholas Childs' tenure to claim victory.

The decision to forgo the enjoyable Whit Friday cash cow may have upset the traditionalists amongst local supporters, but this success was about a much bigger contesting stage – the desire to return to the European Championships.

In the process the Queensbury sceptics have been silenced (although they will never be too far away) – the run of six barren contest appearances ended. On this form the floodgates may well have been reopened.

Clear cut

It was a clear-cut victory – winning both legs of a very English version of the European format sought to that.

Martin Ellerby's delightful, deceptive 'Elgar Variations' was delivered with stylistic as well as technical aplomb.

The MD set out his musical stall; considered, purposeful, measured, under a tight rein of dynamic and tempi control.

The leash was slackened only when necessary: Best Instrumentalist winner Richard Marshall delivering his main solo contribution with artistic elasticity. The ensemble, compact and cohesive, retained its self-discipline throughout.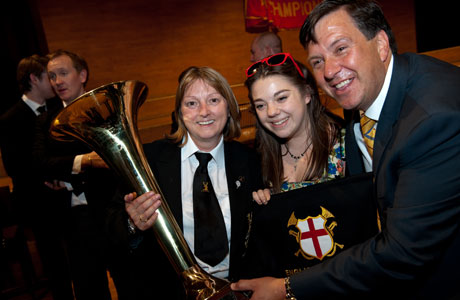 Family smiles for Black Dyke's MD

Contest playing

In contrast to its main rivals, it was inherently conservative in approach. It was however, overwhelmingly exceptional contest playing.

In the afternoon the musical leash was lengthened: Solo lines in Wilby's 'Vienna Nights' played with growing confidence, the ensemble building up a head of steam, that finally exploded to startling effect in a tour de force Turkish romp.

This was Black Dyke close to its very best – the MD allowing himself a final flamboyant flourish as the last chord rang out.

As he left the stage, his face bathed in sweat, his heart racing, you saw him clench his fist as he congratulated each of his players in turn.

He knew it would take something very special indeed to deny him a long overdue taste of contesting glory.

It never quite materialised.

New model army

In the battle for Rotterdam, Allan Withington headed Foden's cavalier troops against Nicholas Childs and his Cromwellian New Model Army. The result was the same.

A flamboyant, swaggering 'Elgar' of modernism was paired with an equally ornate, almost theatrical 'Vienna Nights' that left you catching your breath at the sheer audacity of its musical purpose.

At times, both renditions teetered on the edge of cohesive destruction, without ever taking that one step too far.

It was thrilling musicianship, although a touch 'trompe l'oeil' in approach, in the opinion of the judges.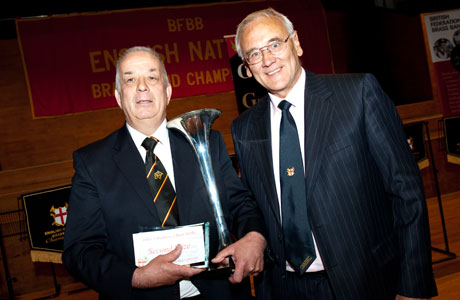 Second place for a thrill a minute Foden's

Contrasts

The contrasts between the two bands were intriguing:

Where Black Dyke's performances were as neatly laid out as a pensioner's ironing basket, Foden's was a mix and match of a bohemian new age traveller.

One MD tempered his natural inclinations knowing full well the amount opprobrium that would be heaped upon him in contesting failure; the other revelled in it.

Just reward

Second place overall was just reward, although you were left wondering just how it was beaten by Brighouse & Rastrick in the own choice section.

A hastily revamped National champion will have returned to West Riding pleased that the record books will not record that they enjoyed a fair slice of good fortune in coming third.

David King's 'Elgar' was a complex character portrait – painted from a palette of very individual colours and timbres.

Engaging, cultured and restrained on one hand, mischievous, emotional and overtly powerful on the other. It may not have been to everyone's taste (it ended the morning in 4th) but it certainly left an indelible mark on the mind.

'Concerto Grosso' did the same – but not for the same reasons. It was a dog's dinner of a mess.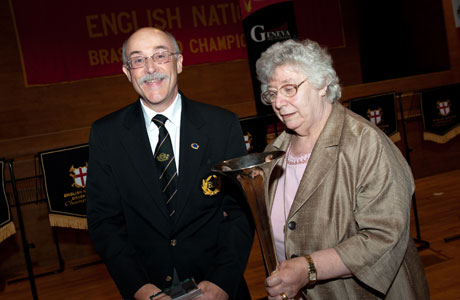 Third place and a happy smile from Brighouse & Rastrick

Gracious

The MD graciously acknowledged his soloists before leaving the stage (especially the outstanding Lucy Murphy on flugel horn), but he must have departed knowing that at times, the ensemble teetered on the brink of self destruction.

It is not often you see the Australian beating time like this – and you can be sure you won't see it again too often either.

It was a performance that never came close to the sum of its individual parts.

That it came third to secure a podium finish was a real surprise. It was a result that would have raised even Dennis Healy's eyebrows.

Too much ground

Reigning champion Fairey (Geneva) once again left themselves too much ground to make up over the two legs - something of a reprise of their European experiences in Montreux.

An 'Elgar' that started with such youthful musical promise, sagged with middle age spread before finding its emotional libido once more.

Russell Gray found just the right musical blue pill of choice to close with a flourish, but it was an enjoyable performance that lacked purposeful discipline.

Spanker

In contrast, a riveting 'Symphony of Colours' was a spanker: Bold, detailed, kaleidoscopic, it was played with such verve and understanding that it was like immersing yourself in a rainbow shower.

It should have been enough to secure a podium slot, but despite coming second in the afternoon it was pipped by Brighouse's serendipity.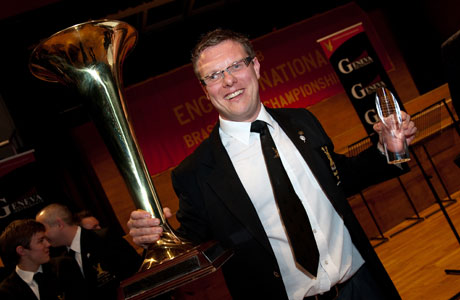 Best Man - Black Dyke's principal cornet Richard Marshall

Supporting evidence

Behind the top four, supporters of the remaining five bands all could have provided ample evidence to support their claims for a top six finish, such was the high standard of their performances.

In the end Hepworth claimed fifth thanks to a brace that although uneven under the direction of Ian Porthouse showed that they remain a potent contesting force when on the very best of form.

Third place on the set work may have come as surprise given some of the more obvious short comings that seemed to bypass the box (the use of a muted cornet to play the main flugel solo line for instance) but it was a rendition of admirable purpose and control.

And whilst a lack of stamina in 'Music of the Spheres' just saw them tail off in the afternoon, they would have headed for home delighted by the end result after their recent travails at Kettering.

They remain a band intriguingly poised in their current musical development.

Hard nosed

So too Leyland, who claimed sixth overall without ever really hitting consistent form under Richard Evans.

A disappointing 'Elgar' was riddled by unforced errors in the morning, whilst a full blown, riveting rendition of 'The Legend of King Arthur' didn't quite find as much favour in the box as it did in the hall in the afternoon.

Confident, but a little uncontrolled, they sounded a band that is still searching for that hard nosed contesting discipline to go with their undoubted musical strengths.

Stakhanovian

In contrast Rothwell under Dave Roberts will wonder with some justification, just why their Stakhanovian approach certainly failed to resonate with both sets of judges.

Perhaps the rigidity of their very traditional portrait of 'Elgar' cost them in the morning, despite the excellence of the main solo lines and detailed ensemble, whilst the series of small, but damaging unforced errors in the 'Nativity' section of an otherwise engrossing '…Dove Descending' were too inherent to ignore.

Both performances had the hallmarks of detailed contest preparation, although the desire to provide error free renditions may just have robbed them of the opportunity to really show off their underrated musical qualities.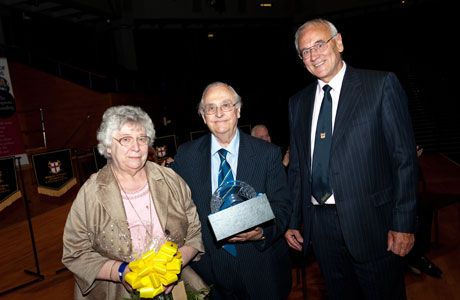 Wonderful service. Dr Roy & Muriel Newsome accept the BFBB Award

Impressive

Despite coming eighth overall, Reg Vardy's result may have left an increasingly impressive Grand Shield burgeoning with confidence.

Their 'Elgar' was a little messy around the edges, but still had something about it to engage the listener from start to finish, although it was the reprise of 'Titan's Progress' that showcased their emerging excellence.

Full of detail and technical security it also benefited from Ray Farr's wonderfully intuitive, subtle reading of the score – enhanced by tasteful nuance and delicate craftsmanship.

They are a band in real form with the British Open and Nationals to come.

Eighth at either of those contests won't be a surprise if they perform like this again.

Well worked

For Pemberton Old Wigan DW, a result that was perhaps predictable, but one that also saw them deliver two well worked performances under the baton of Mark Bentham.

The 'Elgar' was a little nervous and pedestrian in places, but 'Spiriti' was delivered with a purposefulness that brought a complex, multi faceted score to life.

Expectation

There may well have been a sense of relief permeating the ranks of Black Dyke supporters at Preston, but a deserved victory, led by an MD who stamped his contest winning control over his charges from first note till last, now means that it has been replaced by a growing sense of expectation for the British Open to come.

On this form those contest winning floodgates have well and truly been blown open.

Iwan Fox