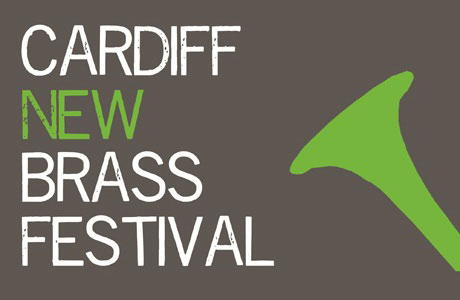 The dramatic surroundings of the Metropolitan Catholic Cathedral, right in the very heart of the Welsh capital will host the Cardiff New Brass Festival this weekend.

The innovative event will see some of the brass world's leading young composers, bands, ensembles and soloists take to the stage at various city centre venues to promote new brass music in the Principality and, hopefully, beyond.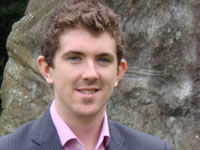 Thought provoking

Led by Artistic Director Tom Davoren (right), MD of the BTM Band, it promises to be an exciting, and at times thought provoking couple of days of music making.

Tom Davoren has ambitious plans for the Festival, now in its second year, and hopes that its desire to showcase musical excellence through accessible concert formats will draw an appreciative audience to the music provided by an eclectic selection of performers.

World premieres

The event boasts four world première performances, a masterclass, fringe concerts and internationally renowned soloists, as well as ensembles and bands from Wales, England and Norway.

The Festival centrepieces are a brace of Gala Concerts at the Metropolitan Cathedral – an imposing monument to Victorian Catholicism, which will ring to its rafters with the sound of contemporary brass music making, rather than the murmured chants of repenting souls.

Inquisitive listener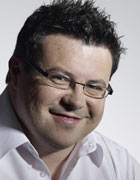 And there promises to be a great deal to enjoy for the informed, as well as the inquisitive listener, with the Friday evening 'Ensemble Explosion' concert showcasing the talents of the Fanfare Team of the Central Band of the RAF – just a couple of weeks after they performed to the world as part of the Royal Wedding Service at Westminster Abbey.

In addition the audience can sit back in their pews and enjoy the compact musical qualities of the RAF Brass Trio, the formidable Wormshead Brass, the brass quintet, Euphony and the Symphonic Brass of the Royal Air Force.

Saturday's 'Continental Brass' meanwhile will feature euphonium star David Thornton (right) and trumpet virtuoso Dean Wright accompanied by the BTM-X Ensemble, as well as the Norwegian visitors from Oslofjord Brass, conducted by Simon Dobson.

Intriguing music

The music to be performed is equally intriguing as well as inventive, and in the majority of cases, brand spanking new.

The RAF Fanfare Team will open the Friday concert with 'Valiant and Brave', the fanfare composed by Wing Commander Duncan Stubbs, and the first music heard by the Duke and Duchess of Cambridge as a married couple.

Meanwhile, the larger Symphonic Brass ensemble, consisting of 6 trumpets, 4 French horns, 4 trombones, 2 tubas and percussion, will provide a varied contribution that will include music by Gareth Glyn, Vivaldi, Simon Whiteside, John Barry, Prokofiev, Mussorgsky and Dyson/Davies, as well as new work by Liz Lane entitled 'Antiphonary'.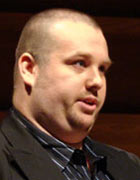 Brace

Wormshead Brass will also provide the audience with a brace of world premieres too – including 'Those Echoes Around' by Sarah Lianne Lewis and 'Velvet Black Sunshine' by Matt Hall.

In addition, the students of the RWCMD, which is situated just up the road from the main concert venue, will perform a new work also entitled, 'Euphony' by young composer James Flight.

Virtuosi talents

The virtuosi talents of David Thornton and Dean Wright, the Principal Trumpet of the Orchestra of Welsh National Opera, headline Saturday's concert.

Both are performers of rare quality and have chosen works of intense musicality and technical pyrotechnics, backed by the BTM-X ensemble conducted by Nigel Seaman.

The euphonium star will perform Peter Meechan's demanding 'Requiem Paraphrases' as well as Cai Isfryn's atmospheric 'Blizzard' and Lucy Pankhurst's engaging, 'Tiamat'.

Meechan (right) is regarded as one of the leading contemporary composers for brass of his generation, and the trumpeter will be faced by his immense 'Apophenia', a work of startling originality and stamina sapping fiendishness.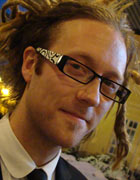 Tickle the fancy

Oslofjord Brass will close the festival with a programme that is sure to tickle the fancy of the listeners.

Led by young Cornish composer and conductor Simon Dobson (right), they have chosen, works as diverse as Philip Wilby's fanfare to his leviathan, '…Dove Descending' to Torstein Aagaard-Nilsen's breathless 'Circius' and his equally engrossing 'Artic Funk' and 'Norwegian Dance'.

Then there is the soft west coast jazz of Pat Methany's 'First Circle' and the crepuscular 'Sleep' by Eric Whitaker.

Innovative voices

A brace of works that will certainly intrigue come from the pens of Idar Torskangerpol and Paul McGee, two of the most innovative young compositional talents either side of the North Sea.

'Blamann' and 'A Slow Fade through a Soft Cut', a work inspired by the psychological film 'Jacob's Ladder', about the effects of hallucinogenic drugs on unsuspecting American soldiers in Vietnam, will keep listeners on their toes for sure.

With other fringe events on show, including an afternoon concert at the Wales Millennium Centre by Oslofjord and the BTM junior Band on the Sunday, and David Thornton's eagerly awaited masterclass on the Saturday, Cardiff will be echoing to the sound of high class brass all weekend and beyond.

4BR will be reviewing the Festival throughout the weekend with further video reports and interviews, galleries of images and concert reviews.

Further information about the event can be south at:www.cardiffnewbrassfestival.co.uk/
---
Festival programme

Cardiff New Brass Festival 2011

Friday 10th June
Ensemble Explosion

Fanfare Team of the RAF

Valiant and Brave - Wing Commander Duncan Stubbs

RAF Brass Trio

Riff Figures - Tom Davoren

Young Performers Platform: Euphony

Euphony - James Flight

Wormshead Brass

Those Echoes Around - Sarah Lianne Lewis (World Premiere)
Velvet Black Sunshine - Matt Hall (World Premiere)

Interval

Symphonic Brass of the Royal Air Force

Dolbadarn - Gareth Glyn
Allegro from Concerto Op. 3, No. 9 - Vivaldi
Antiphonary - Liz Lane (World Premiere)
Humouresque for Brass Quintet - Simon Whiteside
Out of Africa - John Barry arr. Steve Rockey
3 Movements from Romeo and Juliet - Prokofiev
Great Gate of Kiev - Mussorgsky arr. Howarth
Royal Air Force March Past - Dyson/Davies
---
Saturday 11th June
Continental Brass

David Thornton & BTM X

Requiem Paraphrases - Peter Meechan
Blizzard - Cai Isfryn
Tiamat - Lucy Pankhurst

Dean Wright & BTM X

Apophenia - Peter Meechan

Interval

Oslofjord Band
Conductor: Simon Dobson

Fanfare from Dove Descending - Philip Wilby
Circius - Torstein Aagaard-Nilsen
Sleep - Whitaker, arr. P Hannevik
Blåmann - Trad. I Toskangerpol
A Slow Fade through a Soft Cut - Paul McGhee (World Premiere)
First circle Pat Metheny, arr. Farr
Norwegian Dance - Torstein Aagaard-Nilsen
Arctic Funk - Torstein Aagaard-Nilsen
---
Fringe Events:

Ensemble Explosion: Symphonic Brass of the RAF, Wormshead Brass, Young Performers Showcase - 7.30pm, Friday 10th June, Cardiff Metropolitan Cathedral. Full Ticket £7.50, Concessions £5.00.

Continental Brass: David Thornton Simon Dobson, Oslofjord Band, Dean Wright (Principal Trumpet WNO), - 7.30pm, Saturday 11th June, Cardiff Metropolitan Cathedral. Full Ticket £7.50, Concessions £5.00.

Weekend ticket available, Full ticket £12.50, Concessions £7.50.

Fringe Concerts: Oslofjord Band - 3 .00pm, Sunday 12th June. BTM Junior Band - 3.00pm, Sunday 19th June. Glanfa Stage, Wales Millennium Centre. Free Entry.
---
World Premieres:
The composers have provided 4BR with the following programme notes to their world premiere works.


A Slow Fade Through a Soft Cut (Paul McGhee)

'The only thing that burns in hell is the part of
you that won't let go of your life.
Your memories, your attachments................
They burn them all away.
But they're not punishing you,
they're freeing your soul.

If you're frightened of dying and you're holding on,
You'll see Devils, tearing your life away.
But if you've made your peace, then the Devils are really Angels, freeing you from the earth.'

The text is from a film called - 'Jacob's Ladder' and inspired the piece and it's intentions.

The piece has a mirrored structure and finishes how it began, although in a new guise.

A battle is fought throughout the piece between motoric and static elements, each often occurring at the same time whilst the music morphs from what it was to that of which it was resisting.

Paul McGhee


Antiphonary (Liz Lane)

At the heart of Berkeley Castle in Gloucestershire is The Morning Room, formerly the Chapel of St Mary, where a glass cabinet displays the Berkeley family antiphonary, a large and beautifully illuminated book of liturgical texts and chants dating back to about 1457, and the inspiration for the title of this work.

Berkeley Castle is the oldest building in the country still lived in by the same family who built it over 900 years ago.

As a modern visitor, I was inspired by the historical timeline which traces the castle's history from its Norman origins to present day existence as a family home, tourist attraction and fairy tale wedding venue, imagining the many generations of visitors and their role at the castle.

Influences in the music include the 18th or 19th century harness bells, displayed in the 14th century Buttery (used on horse drawn vehicles so that visitors could be heard in darkness or fog), a painting in the Picture Gallery 'Old Berkeley Hounds find in Bricket Wood', circa 1820 and The Great Hall, the magnificent centrepiece of the Castle, with its beautiful tapestries, stained glass windows and minstrel's gallery.

In 2002, a volume of Italian music manuscripts was discovered in the archives of Berkeley Castle.

Amongst these were some Vivaldi arias (thought to be the only known copies), from his opera La Costanza Degli-amori e de gl'odii (The triumphant constancy of love and hate); excerpts from these are incorporated throughout the work in the flugel horn.

The jaunty melody of Dentro al sen del sol ch'adoro (Deep within the sun that I adore) evolves from the texture towards the end of the piece, and other extracts quoted or alluded to are: Lascia almen che ti consegni (At least let you surrender), Parto con questa speme (I leave with this hope) and Per Scorgere (To forsee truth).

I am very grateful to Mr David Smith, Berkeley Castle Archivist, for his research support, and to Mr John Berkeley for his permission to use quotations from these manuscripts.

Liz Lane


Those Echoes Around (Sarah Lianne Lewis)

Those Echoes Around was composed specifically with the Cardiff Metropolitan Cathedral in mind; the sustained notes and repetitive motifs in the piece are intended to echo around the space and linger as the new material emerges quietly from the reverberations.

The chordal sequences both open and close the piece in a stately manner reminiscent of a sombre fanfare, a memory and a glimpse of those people past, present and future who worship at and walk through this beautiful and holy place.

The slow progression of chords gradually become imbued with a sense of direction from underlying semiquaver movement, helped by the subtle shifts and changes in dynamics, and gradually builds to the triumphant conclusion of the piece, whilst maintaining at atmosphere of stately solemnity.

Sarah Lianne Lewis


Velvet Black Sunshine (Matt Hall)

Velvet Black Sunshine is a shrouded in intrigue as its named suggest.

A high adrenaline, riff-fuelled piece with influence taken from the colouristic world of Synesthesia (where any form or state can be interpenetrated, involuntarily as colour).

Matt Hall