Over the past 15 years the 'Essential Series' has proved to be the most successful recordings Black Dyke has produced.

However, the most successful CD is unquestionably, 'Cathedral Brass', conducted by James Watson.

Best selling

Black Dyke's current MD, Dr Nicholas Childs, was fortunate enough to be the producer of that recording and consequently worked closely with both James and Philip Wilby on the selection of the programme chosen for that best-selling album.

Even the thought of that project brings a smile to Nick's face: "After such a big success, no one will be surprised to learn that, certainly for the past five years, the requests for me to come up with a suitable follow-up have grown ever more pressing."

Wait over

Well the waiting is over and Nick is glad that it is since in addition to having the chance of making another top-seller it gives everyone connected to Black Dyke Band the opportunity of paying homage to three men who gave so much of their talent to the band and have recently died – Maurice Murphy, James Watson and Major Peter Parkes.

In discussing the programme for this special CD, Nick noted that he didn't want a repeat even of such a succesful formula: "Many items chosen on 'Volume I' were by demand and Volume II follows in a similar vein.

Although 'Volume 1' was a big success I realised that it would not be sensible for us to stand still and merely repeat the same formula, which is why this time I have tried to add a further dimension."

Magical

He added: "Although I accept that hymns have always contained a magical ingredient when played by a brass band, on 'Cathedral Brass Volume II' we have the band playing some hymns on its own whilst being joined in others by the Bristol Cathedral Choir supplemented by the magnificent Cathedral organ."

One of the most successful items on the first 'Cathedral Brass' was the 'Finale' from Saint-Saëns 'Organ Symphony No. 3', which utilised two pianos and brass band, with the organ played by Philip Wilby.

On this latest album Philip has assisted in the selection of music and Mark Lee, Director of Music at Bristol Cathedral plays the organ.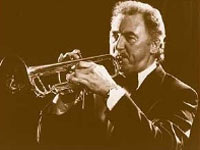 Dyke icons

The Black Dyke MD is also pleased that the recording enables Black Dyke to pay homage to a trio of Dyke icons.

"The album is dedicated to three legends at Black Dyke, who sadly died within the past year. Maurice Murphy (right), the legendary trumpet and cornet player had an influence in my thoughts on both the Prayer from Boëllmann's 'Suite Gothique' and Elgar's beautiful 'Nimrod'.

Yes, it is true that Maurice will always be remembered for the swashbuckling sounds he delivered in the John Williams films, but his lyrical tone was also utterly spellbinding."

Fond memories

The great James Watson (right) is fondly remembered too: "My first experience of James Watson's extraordinary talents was on Dyke's 'Revelation' CD. The album opened up with the 'Toccata' from 'Widor's Symphony No. 5', which was breathtaking.

Jim guided the players on what to play, what to leave out and edited the percussion parts to fantastic effect. This memory has remained with me and in contemplating the sadness of his all-too-early death I thought it would be an appropriate tribute if I started the programme with the same work."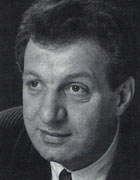 Nick opted for a slightly different route though, as he explained: "Whilst I decided not to go on exactly the same route as Jim by using two pianos I did add the wonderful organ.

The other specific track where I firmly had James in my mind was Walton's 'Crown Imperial'. In the mid 1990s he won the accolade of 'Best Orchestral Recording' with Black Dyke featuring the music of William Walton."

Although this item was recorded on the band's latest DVD, Nick didn't want to miss the opportunity of also adding Dr Roy Newsome's specially produced organ part to the CD.

The Godfather

For many years, Black Dyke's MD has affectionately referred to Major Peter Parkes (right) as 'The Godfather of conductors' and so he was especially pleased to be able to pay a personal dedication to the Black Dyke legend as he explained.

"He was always 'The Godfather' during my lifetime. He was a good friend of my father, which swayed me to put my dad's arrangement of 'Praise My Soul' onto this CD in acknowledgment of their friendship."

Many classics

There are many other classics on this album, including two new arrangements by Philip Wilby including Ketelbey's 'In a Monastery Garden', which Nick especially enjoys.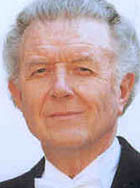 "It's a lovely piece that has the monks chanting in the middle section and Mendelssohn's 'O for the Wings of a Dove', which, according to the arranger, is played 'poetically' by Richard Marshall.

That is sure to conjure up many memories for lots of people," he concludes.

This piece is dedicated to the memory of Stephen Thornton, a cornet player who had tremendous virtuosity and the most lyrical sense of phrasing,

Emotional core

For the MD then, a recording that holds an emotional core that is centered on the Balck Dyke ethos of excellence, as he acknowledges.

"Cathedral Brass II' is an emotional journey from Widor's 'Toccata' to Elgar's 'Nimrod' that allows us to meet once again four remarkable musicians whose remarkable talents we salute. I hope people find it a worthy successor to the first Black Dyke 'Cathedral Brass'".
Alan Jenkins
---
The CD can be purchased through 4BR at: www.4barsrest.com/shopping/cd_detail.asp