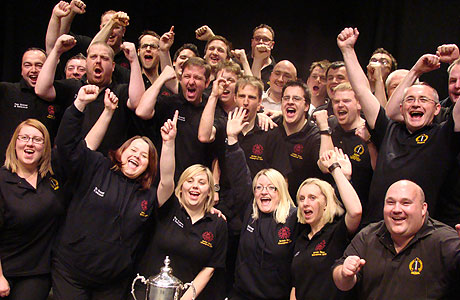 A warm victory spirit from a cold blooded win for Tredegar

There was a noticeable flow of cold-blooded efficiency coursing through the veins of Tredegar's 2011 Masters victory.

Ruthless

This was a very cerebral contesting success – a ruthlessness borne of collective confidence that comes when a band is able to implement their conductor's musical wishes without recourse to emotional spasm.

It's what separates the major players in the contesting business from the rest.

Tredegar left the stage of the Lighthouse Theatre with the look of a band that knew it had gone about its business in a highly impressive, clear headed manner.

They won the title and picked up the £4,000 first prize by a length or two.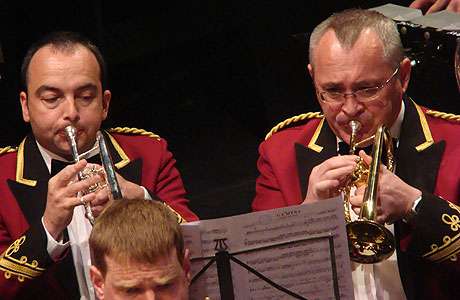 No hair line fractures for the Welsh winners

Arrogant authority

Their drip feed of performance adrenaline was measured and controlled: from an opening featuring contrasting dynamic variance and lyrical solo lines, through the powerhouse ensemble work and carefully constructed solo interludes that followed, to the final flourish of almost arrogant authority to close.

The evidence was compelling. Only the best contesting ensembles are able to win in such a manner: And Tredegar is now one such band.

Elsewhere, too many rivals relied on spasmodic emotional hopefulness to try and overcome the harsh realities of the contesting brain in search of victory – not a great plan of action on a set work that was a rather puzzling amalgam of unfulfilled ideas.

Flawed

Despite its demanding technical challenges, 'Gemini' failed to provide the competitors with enough developing substance to craft and mould with musicality.

As hard as they tried, the end result was a host of technically flawed renditions of variable musical merit.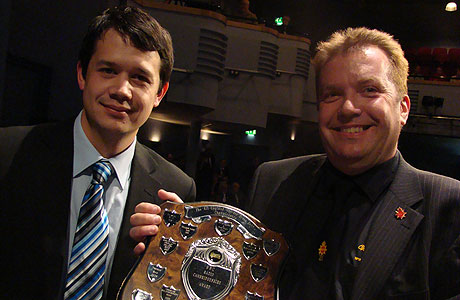 Purposeful smile from Shawn Pagington of Virtuosi GUS

Notable exception

The other notable exception came from Virtuosi GUS, who purposefully imposed a clear margin between themselves and the rest of the contenders.

Although the quality of the ensemble playing couldn't quite match the classy delivery of the main solo interludes (especially James Fountain on his farewell appearance on principal cornet) it was a performance that became increasingly cerebrally controlled after a opening that sent a shiver of apprehension through the fast beating hearts of the baritones and horn.

John Berryman is building a very solid contesting outfit at GUS – and one that is becoming more cold-blooded on the contest stage with each major outing.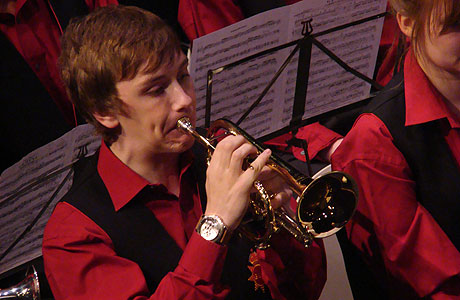 Farewell flourish from James Fountain at Virtuosi GUS

Solid

Behind the Midlanders came Marsden Silver in third, with a 'Gemini' of solid artisan virtues under Glyn Williams.

Bold and purposeful, it lacked the finesse and detail of the top two, but was musically coherent and was certainly delivered with authority.

Marsden's potential is being fulfilled, thanks to an MD who understands the need to do so with an intelligent sense of realism.

This was the best result they could have hoped for on the weekend – and by playing to their strengths and not over exposing their weaknesses, it was one they achieved.



More silverware for Marsden in third

If other MDs had used that calculating mid set then the contest wouldn't have been littered with pretty gruesome accounts, churned out with such depressing, adrenaline fuelled regularity.

Deviations

Although there were stern tests in 'Gemini', competent Championship Section bands should have had the ability to overcome them.

Deviations from the stated intentions of the score were employed even by the winners, whilst other MDs also got away with depping the odd bit of high flugel work, dividing the cornet solo in two or getting the solo trombone to mimic the opening bass trombone solo line.

Camouflage

The better bands manage to camouflage their deceptions, but elsewhere others couldn't hide the lack of ensemble balance and detail, poor choices of tempi and the intemperate dynamics that blighted their renditions.

The much debated homage to Maurice Murphy proved to be a strenuous ask for the cornet players - and perhaps explained why the judges gave the 'Best Instrumentalist' Award to the artistic euphonium playing of Lee Harrelson of Fountain City.



Giving it his all - Marsden's top man do his bit and more...

None delivered a flawless rendition, although David Geogeghan of Zone One came very close indeed – portraying it with a lovely hint of arrogant swagger.

Notable efforts also came from James Fountain at GUS, Clare Taylor of Thoresby and Cliff Pask at Redbridge amongst a handful of others – although none sounded as if they were truly 100% secure.

Sistine Chapel

Meanwhile, the misplaced instruction allowing MDs to opt out their principal cornet players and utilise the soprano in their place proved to be a huge mistake – both by those who allowed it, and those who implemented it.

As homages go, it was like asking Rolf Harris to recreate the ceiling of the Sistine Chapel with Crayola felt tip pens.

Some efforts were inept, with no pretence to make them link or sound complimentary.

Variable standard

With such a variable standard in the 17 band field, the general level of mediocrity gave David Read MBE, Ronald Holz and Dennis Wilby a difficult task in picking a clearly defined order of merit.

It was much to their credit that despite having an easy task picking the top two, they took a considerable amount of time finalising the other top six places and below.

A short 15 minute break was announced after the last band played, but it was not until close to half an hour that they emerged from the tent.

There must have been some head scratching going on.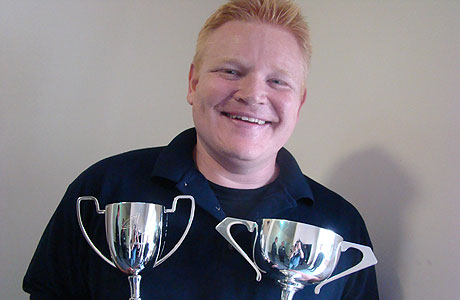 Best Man - Lee Harrelson with a shiny pair of wedding gift trophies

Uneven accounts

In the end they opted for Fountain City, Newstead Brass and Jaguar Land Rover respectively in fourth to sixth.

Each delivered uneven accounts – the Americans full of stylish swagger (with a wonderful flugel to go with the prize winning euph), but undermined by a high unforced error count and ensemble laxity.

Joseph Parisi let the music flow, but rarely was the fluidity totally unhindered by discomfort.

Newstead meanwhile delivered an early marker that resonated in the box, but not too much elsewhere in the hall (although there were not many in the hall at times).

Heart

Duncan Beckley's sensible direction drew out quality elements, but overall it seemed a rendition that should have been subsumed into midfield mediocrity.

That it wasn't told a great deal about the standard of playing on show on the day.

Once again Jaguar Land Rover benefitted from the intelligent direction Dave Lea in a 'Gemini' that deservedly held its own in the top third of the results table.

The heart did rule the mind in a few places with some uneven execution, but the desire to clearly define the musical intentions was a rarity on the day.

Frustrated frowns

As always some bands left Kettering happier than others, with Tongwynlais Temperance and Redbridge wearing frustrated frowns borne of performances that although not without error, certainly had the hallmarks of ensemble quality and solo security.

The Welsh outfit's enjoyable 'Gemini' was colourful, driven and very rhythmic. Not everything quite came off, and perhaps the desire to add clearly defined percussion strata to the ensemble balance may have cost dearly in what was a rather dead on-stage acoustic. 8th was unlucky.

Redbridge may also look back on a couple of nasty moments – a completely AWOL tuba entry for instance and some ensemble work that lacked clarity and detail, but there was still a great deal to admire about the approach. 11th was a touch harsh.

Mediocre

Elsewhere, the fast beating hearts ruled the precise calculating heads.

Despite the mitigating circumstances of the recent Spring Festival weekend, these were mediocre performance in anyone's book – a number were very poor.

Pemberton will look back on a rendition of potential but a bucketful of problems in execution, whilst Aveley & Newham, Zone One and Thoresby fell into the same boat.

Each had moments when things seemed to be on track, but too often the delivery wobbled on the very edge of cohesion.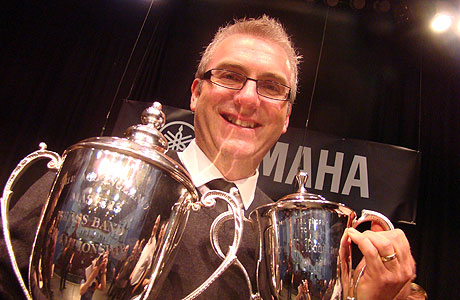 Potts for Potts - Ian Porthouse with more silverware for Tredegar's trophy cabinet

Potential

Friary Guildford were stylish but somehow lacked a commanding presence to end in 13th, whilst Sovereign just about held its own without ever suggesting they were ever going to really deliver something memorable.

Hepworth left knowing that the prize winning potential of Michael Howley's well crafted account lost focus in a race to the finishing line fuelled by an adrenaline rush that would have powered a drag racer at the nearby Santa Pod Raceway track.

Contrasts

All that can be said of NASUWT Riverside and Wantage was that they departed knowing they had performed well below expectations.

Both were as poor as we have heard them for a considerable period of time.

In contrast Tredegar headed back to Wales with the Masters title to their name amid the warm glow of satisfaction that comes from a cold-blooded job well done.

Iwan Fox