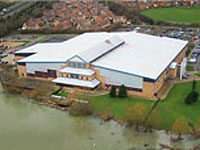 The Masters does like to do things a little bit differently.

Over the years, its been musically varied too – test pieces ranging from the bespoke to the reprised, the contemporary to the classic.

Gemini

Now we have 'Gemini' by Darrol Barry.

And whatever the 17 contenders (Buizingen has now pulled out) may think of it (and there have been a few choice words) – it is certainly a work that will test them all to the full.

That then is no different to any other major contest in the world.

Fluid nature

The fluid nature of the Masters line up means that 10 bands return from 2010 – although not the champions Co-operative Funeralcare or any former winners for that matter.

A new name will be engraved on the trophy.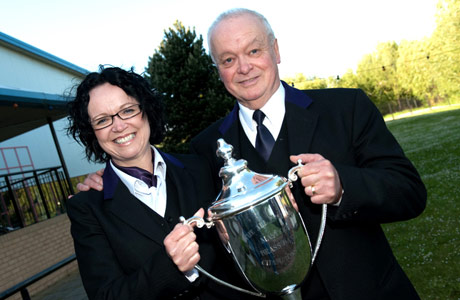 No Co-op return in 2011

The runners and riders

So who could it be?

As was said in the introduction, some pretty tired ensembles will make the trek to Kettering.

A fortnight ago a dozen of these bands were battling it out at the Spring Festival and in doing so invested a great deal of time, money and energy into trying to get to Symphony Hall.

Confident duo

None managed it from the five who competed in the Grand Shield, although Redbridge and Pemberton Old Wigan DW came tantalisingly close.

These two confident, very competent top section outfits are enjoying excellent seasons, thanks in no small part to the musical direction employed by Jeremy Wise and Mark Bentham respectively.

How they do this weekend will depend not just on how much detailed work they have been able to put in after the rigours of 'Titan's Progress', but whether or not they still have something left in the tank marked 'enthusiasm for the task' too.

Getting the competitive juices flowing in such a short space of time is a big ask, although you suspect that they both have something left in reserve.

18th & 11th last year, they won't want to be making up the numbers again.

Grand Shield trio

The three other Grand Shield contenders are Thoresby Colliery who came 9th, Jaguar Land Rover (10th) and Newstead Brass (15th).

All put in a great amount of effort into their Blackpool performances, with Thoresby and Jaguar in particular coming away with encouraging results, although Newstead didn't really play to their recent form.

Again – much depends on the amount of detailed preparation work invested in the past fortnight if they are to make an impression this weekend.

The Masters hasn't been a happy hunting ground for all three.

Jaguar came last 12 months ago, whilst Thoresby, who last appeared here in 2004 and Newstead (2009) haven't really made much of an impression on previous visits.



Can Glyn Williams and Marsden claim more silverwear?

Stylish Marsden

One band that will be on a contesting high is Marsden Silver.

They won the Senior Cup in some style, and according to the judges, by some margin.

Glyn Williams should have no problem in maintaining the enthusiasm levels then, as they seek to make an impression on their second Masters appearance.

Revitalised

A revitalised Aveley & Newham will also travel with renewed confidence as they make their 15th consecutive appearance at this event.

Their Senior Cup promotion will have given them a huge boost of confidence as they seek to improve on last year's 16th place.

Quality

There is a growing quality about London banding at present, as shown by Friary Guildford's impressive 5th place at the Senior Cup - just missing out on promotion.

Since their First Section Harrogate victory they have become a competitive top level force and will be keen to show those qualities on their Kettering debut.

So too Wantage, who although not quite impressing as they would have hoped at the Senior Trophy where they came 8th, has made remarkable progress in the past few years under Phil Bailey.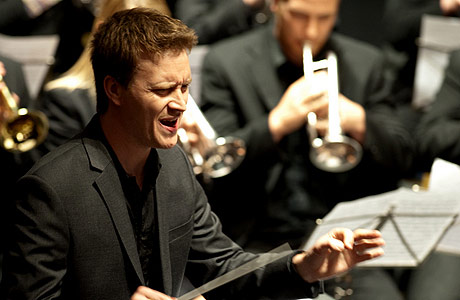 Not quite in the zone at Blackpool for Zone One and Richard Ward

Disappointing

Zone One meanwhile will be looking to put behind them a disappointing trip to the Golden Mile, which was paved with Senior Cup disappointment in coming 11th.

They were 5th here last year and have shown in qualifying for the Albert Hall, they have the ability to mix it in very good company on their day.

Chip mark

Two bands that also didn't enjoy Blackpool were NASUWT Riverside and Sovereign Brass, who came 16th and 18th respectively in the Senior Cup.

The North of England contenders make their Masters debut keen to show that 'Prisms' was a mere chip mark on their contesting ambitions, whilst Sovereign returns for an eighth appearance looking to improve on last year's encouraging 8th place.

English champion?

If there is to be an English Masters Champion, many people are tipping it to come from either Virtuosi GUS or Hepworth – both of who should have been able to concentrate fully on their contest preparation.

Virtuosi GUS has been rocked by the news that they are to lose principal cornet James Fountain to Grimethorpe after the contest, so will be determined to show him just what he might be missing as he heads north.

Highly competitive

John Berryman has developed GUS into a highly competitive outfit at the majors, posting improving returns here in the last three outings.

4th place last year came from another solid performance and more of the same could well see them crowned champion on their 19th appearance.

Hepworth will of course have one eye on the English National in a few weeks time, but after a period away from this contest (their last appearance was in 2008) they have been solidly rebuilding.

They should pose a major threat this weekend.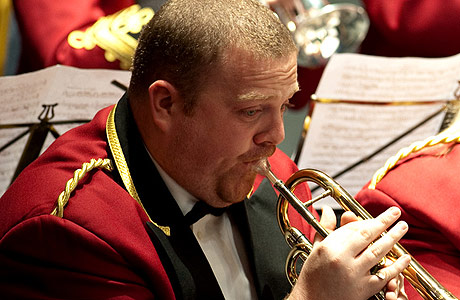 Welsh raider - Dewi Griffiths leads Tredegar's assault

Welsh raiders

The Welsh raiders of British Open champion Tredegar and Tongwynlais Temperance head the 'overseas' challenge. (it is a foreign land to most Englishmen)

Tredegar came runner up last year (the second time in three years) and will be keen to add the title to their impressive CV after their excellent performances at the European Championships in Montreux.

They are the short priced favourites at the bookies, but won't be taking anything for granted as they make their way to Kettering via an appearance at the Champions League Final at Wembley.

Tongwynlais meanwhile could be the dark horse of the contest – especially if they can repeat the level of performance that saw them narrowly miss out on a place at the Welsh Area earlier in the year.

Free of further contest distractions in their build up, they are a confident outfit keen to make a real mark on their Masters debut.

Overseas challengers

As for the real overseas challengers?

Fountain City makes a welcome return to these shores for the first time since winning the Scottish Open in such splendid fashion in 2009.

They have undergone quite a few changes in personnel since then, and despite missing out on the North American National title earlier this year, they remain a highly impressive band, full of talented musicians, superbly led by Joseph Parisi.

They won't have made the long trek for their second Masters appearance unless they were fully prepared and keen to improve on their 9th place of 2007.
---
Who will win?

Those who didn't have to make the trip to Blackpool will have had the extra time to really tighten the nuts and bolts of this piece – something that should pay dividends.

Tredegar and Virtuosi GUS look like the two quality thoroughbreds in the field, with a re-emerging Hepowrth and a confident Tongwynlais not far behind.

Buizingen would have posed a real threat to become the first 'International' winners of the Masters but have pulled out, so Fountain City may be in with an outside chance.

However, in form duo of Redbridge and Pemberton Old Wigan DW should be in the mix if they can just squeeze out another quality performance before they collapse through contest exhaustion.

4BR Prediction:

1. Tredegar
2. Virtuosi GUS
3. Hepworth
4. Tongwynlais Temperance
5. Redbridge
6. Pemberton Old Wigan DW

Dark Horse: Fountain City