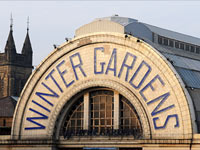 From Montreux to Blackpool; from the whiff of unspent millions in unnamed bank accounts to the sniff of uneaten burgers in unclean gutters.

The European Championships may well have been the most expensive ever held in the history of the event, but all the Swiss Francs in the world still couldn't buy you what the Winter Gardens on Saturday has to offer the competing bands: Qualification to the British Open.

Majority of bands

Let's not get too dewy eyed about things; but ask the majority of bands making the trip to the Spring Festival what they would like to see written on their contests CVs as musicians, and you can just about guarantee that the majority would still plumb for an appearance at the oldest brass band championship in the world in Birmingham rather than an expensive half term break in a convention centre on the banks of Lake Geneva.

Well worth a visit

Montreux was very nice indeed, but with the Winter Gardens having a few quid spent on it, the Spring Festival is an event well worth a visit too – even if the bands are in their own way desperate to get away from the place.

And which eight will make a their first move away from the delights of the Golden Mile from the Senior Trophy and Senior Cup, and which two will walk through the doors to Symphony Hall in September thanks to Grand Shield qualification is an intriguing one this year.

Fantasy

60 contenders take to the stages in the three-tiered event – all with the ambition to try and make their dreams come true; dreams that became a fantasy for Tredegar last year as they became the first band in Spring Festival history to go and win the British Open itself.

If they can do it, they will be thinking - then so can we…

Filling gaps

It also explains why each year, the hard working Frank Hodges and his team have very little problem in filling the gaps left by any bands who drop out – with Hade Edge and City of Coventry taking the places that were initially pencilled in for Hebden Bridge and Kibworth.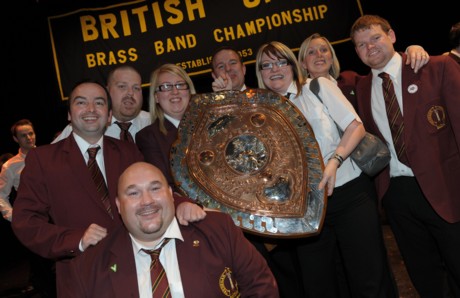 Start of the fantasy - 2010 Grand Shield winners Tredegar

Desperate

The Grand Shield boasts seven London qualifiers, and any number of ambitious outfits all investing huge amounts of time, energy (and no little hard earned cash on conductors) in a desperate bid to get to Birmingham, whilst there are London and Cheltenham bound bands in the Senior Cup and Senior Trophy too.

The reality of course is that the Spring Festival remains the hardest of all contests to break free from and the easiest to be held captive in for years to come.

In theory a Senior Trophy competitor is just three performances away from the Open; in reality it could be three decades or more.

Lucky duo

Only two bands will be lucky enough (and luck plays a huge part in here) to lay their hands on those priceless Symphony Hall places, but all 60 competitors will still believe that they have the ability to deserve them – either this year or in the future.

That's what makes this event so compelling.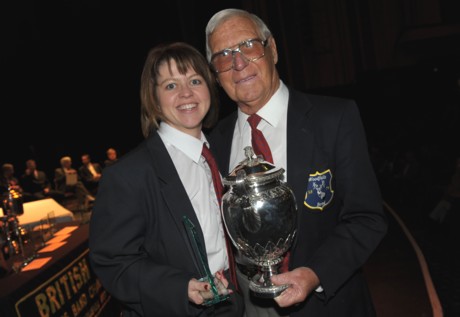 Senior Cup winners Woodfalls
Musical hurdles

The first of three musical hurdles to overcome this year is provided by Dr Christian Jenkins' new take on the classic Berlioz overture 'Benvenuto Cellini', for the bands in the Senior Trophy, with Peter Graham's 'Prisms' making a welcome return in the Senior Cup.
Titan

Meanwhile, those bands who think they are realistic 2011 British Open material will have to overcome the immense challenges posed by Hermann Pallhuber's fantastic, 'Titan's Progress' – a work that only a handful really got to grips with at the Open itself in 2009.

It is a test piece in every single aspect. The two qualifiers that do make it through will know that they will have done it by working their socks off. It is also work that is 'Titanic' in its ability to sink the best laid plans and aspirations too.

Judges

As always there is just as much intrigue in the list of judges who will decide the Blackpool fates – and this year it is a pick between Derek Broadbent, Frank Renton, Dave Roberts, Lynda Nicholson, Stan Lippeatt and David Read.

Which two will be in which section is a closely guarded secret.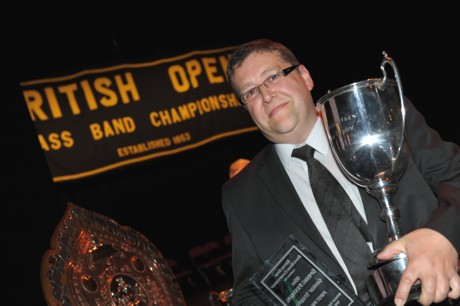 Senior Trophy winners Beaumaris

4BR coverage

4BR will be there once again to bring you the action with our usual 'live' coverage and Twitter comments, with the Grand Shield kicking off at 10.00am, followed by the Senior Cup at 10.45am and the Senior Trophy at 11.15am.

Hopefully all three events will finish around about the same time so that the prizes can be handed out in the Opera House accompanied by the usual cheers of delight and groans of near miss disappointment.

Montreux may have had the unmistakable whiff of money in the air, but it still can't match the priceless success some bands will enjoy here on Saturday evening.

Iwan Fox